BA (Hons) Production & Technical Arts Top-Up
Stand out from the rest with our exceptional and rewarding BA (Hons) Top-Up degree.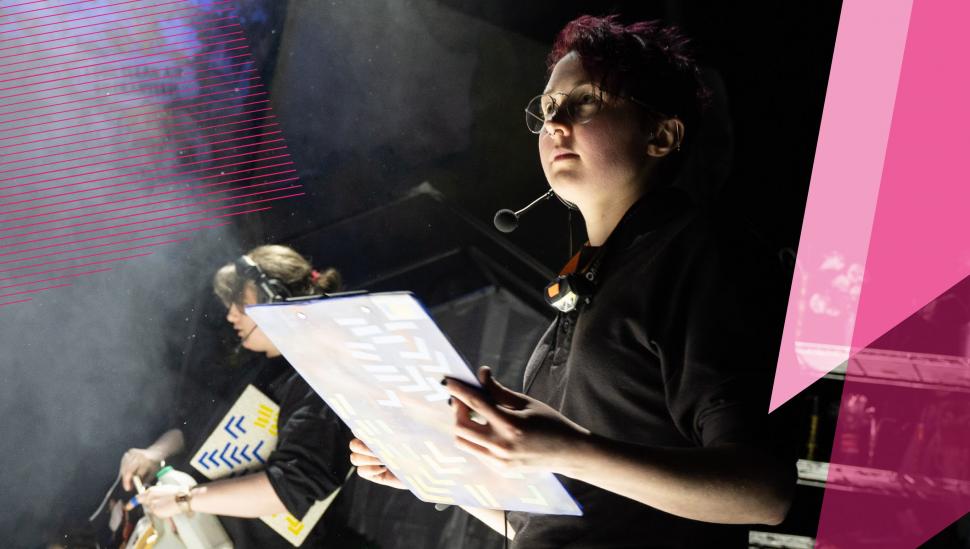 Minimum age
18
Academic requirements
Foundation Degree in relevant subject, or equivalent professional experience
Course length
One year
Tuition fees
For academic year 2020/21:
UK: £9,250 per year
International students: £20,870 per year
Applications
Are now open
Application deadline
31 May 2021
Admission process
Application and interview
Degree awarded by
University of Kent
Is this course for me?
You'll have to be dedicated and determined to succeed and demonstrate how you can apply your passion for your chosen career in production and technical arts. You'll also need to be able to work under your own initiative and collaboratively, and have the creative spark to bring a new way of thinking to your chosen field in production and technical arts.
This production course is designed to build on your existing experience and knowledge. On this course, you'll choose one of the following specialisms:
Lighting  
Sound  
Stage Management  
Production Management  
Scenic Construction  
Screen & Audio
You will need to have a Merit at Foundation Degree level in a relevant subject, or be able to demonstrate equivalent learning in a professional environment.  
You need to be a fluent English speaker. Non-native speakers do not need to provide an English language test report when they apply as we assess English at the interviews. However, you'll need to provide a valid IELTS test report with an overall score of seven if you're offered a place. We can only accept IELTS for UKVI.
Autumn Term
Monday 13 September 2021 - Friday 17 December 2021 
Spring Term
Monday 10 January 2022 - Thursday 14 April 2022 (Some students will finish production a week later) 
Summer Term
Tuesday 3 May 2022 - Friday 1 July 2022 
Tuition fees
For academic year 2021/22:
UK: £9,250 per year
International students: £20,870 per year
Course fees confirmed in an offer letter may be increased in further years of study by an inflationary amount determined in accordance with measures set by government.
Application and interview fees
First round interview fee: £12
All about the course
During this one-year technical arts course, you'll undertake a production role, which you will have selected, in your chosen specialism on one of our productions or short films.
With our support, you'll undertake a significant work placement project where you'll develop further professional practice and make vital connections within the industry.
The third requirement is a dissertation module, where, with our help, you will choose, define, research and complete a project of your own. You can either produce a 12,000-14,000 word dissertation, or a 6,000-7,000 word dissertation alongside a practical project and a 1,000 word report.
If you are a current or prospective student for 2020/21 or 2021/22, then your experience at LAMDA may differ from some of the information you will find on this page. LAMDA will be following the government's guidance and measures as they evolve, in order to keep students, staff and visitors healthy and safe. This means the teaching, learning and assessment of our courses may alter.
If we are required to make changes, we will update you about these changes on our dedicated page here.
When we receive your application, our admissions team will send you up-to-date information about what you can expect from the process. If you have any questions, you can reach the team on [email protected].   
This page features a breakdown of all the course modules for this course. You may also find it helpful to read LAMDA's COVID-19 Amended Delivery Overview. This document contains more information about our commitment to the students attending LAMDA in 2020/21, their experience and the way we intend to deliver courses. We hope it will help you make an informed choice about your studies.
We expect to be using blended learning methods in 2020/21 and 2021/22, and we may need to update the specific nature of delivery as guidance from UK and local government evolves. By accepting an offer and enrolling on to a course in 2020/21 or 2021/22 you are agreeing to the changes we make to course delivery for the sake of Covid-19 security. You can find further information about this on our FAQ page.
Current students should note that alongside the website, LAMDA will use email and our intranet, LAMDA World, to let you know about changes to the content, syllabus, mode of delivery, term dates and timetable, in line with our terms and conditions.
What will I get out of the course?
Once you've completed the course you will: 
Be equipped with all the necessary skills and experience for a rewarding career at the relevant technical level in the entertainment industry
Gain a thorough knowledge of the performing arts industry and feel comfortable working as part of a professional theatre company or film production team
Be able to apply research and presentation skills successfully in order to enhance your professional practice
This course normally has an intake of around ten. Most tuition will take place in small groups, so you'll be working closely with the teacher , but you'll also have plenty of time to get personalised one-on-one training and some sessions will involve the whole group.
All teaching staff are experienced and active industry professionals. In addition, many key staff hold, or are working towards, Fellowship or Senior Fellowship of the Higher Education Academy (now Advance HE).
Teaching takes place at LAMDA in Barons Court, west London, and our scenic workshops in Bermondsey, although course components may be offered either by blended learning (a mix of online and onsite delivery) or entirely online.
An outline timetable will be shared with you before you course starts, so that you can start planning your time. There are three terms per year, starting in September, January and April.
Our student and academic services team provides access to a full range of appropriate academic support, including study skills, support for learners with dyslexia or dyspraxia, and other physical equipment or software needed to support you.
Student and academic services also arrange access to any specialist help needed to support your physical or mental wellbeing, such as physiotherapy, vocal health or counselling. You'll also have free online support with our digital health and wellbeing platform - Togetherall.
How will I be assessed?
You'll be assessed continuously throughout all your classes and projects. There will also be a summative (final) assessment which takes place at the end of each module.
Credits: 120 Credits in total  
Final degree outcomes are calculated on the basis of marks from the year, weighted according to the credit value of each module. 
LAMDA's higher education qualifications are all currently awarded by the University of Kent. However, we're undergoing a process which may result in LAMDA awarding its own degrees. If this is the case, we'll let you know, and if you're already enrolled with us you'll be able to choose whether you would prefer to receive your award from the University of Kent or from LAMDA directly.
We're here to help
At LAMDA, we're a family. We'll make sure you get all the support you need to feel at home. Read on for more information about accommodation, visas, healthcare, housing, insurance and student support.
Your future career
Your work placement may be a useful opportunity for gaining professional experience in the area of your choice. And you'll have other opportunities to network with current industry practitioners (this may be online, onsite or a combination of the two), and we will ensure you're prepared both for interviews with employers and self-employment.
You'll also have access to the Genesis LAMDA Network when you graduate which provides mentoring and a bridge into the industry.
Apply now
Applications are open. Applying to LAMDA can be done quickly and easily. You can pause and resume your application at any time. Just make sure you submit your application by the deadline.
Apply now