BA (Hons) Production & Technical Arts Top-Up
Stand out from the rest with our exceptional and rewarding BA (Hons) Top-Up degree.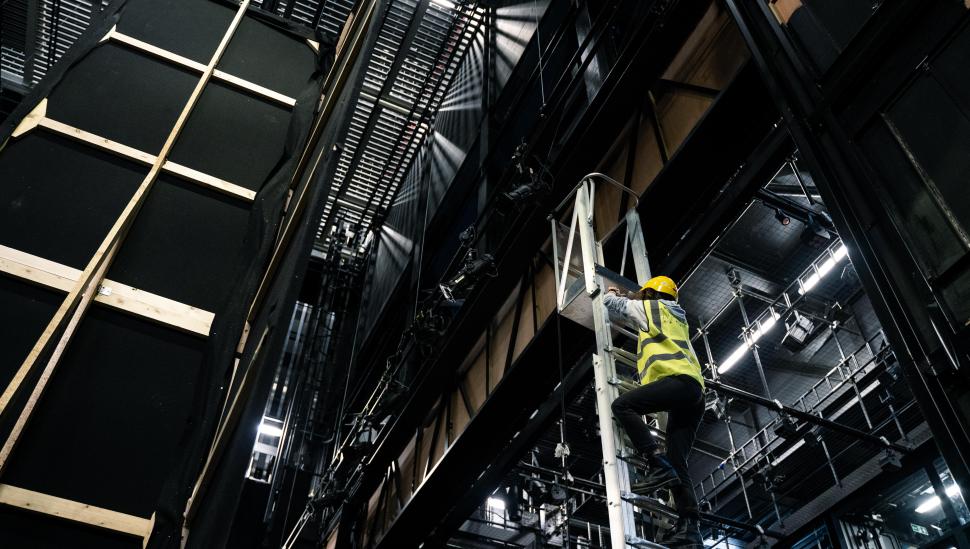 Applications are now open for 2023/24 entry
Tuition fees
For academic year 2022/23:
UK applicants: £9,250 per year.
International applicants: £23,005 per year.
There isn't an application fee for Production & Technical Arts courses.
Application deadline
Sunday 1 July 2023 at 5pm
Interviews
Interviews will be held from November 2022 through to July 2023, we encourage early applications.
Admission process
Application form and interview, find out more on our How to apply page.
Production & Technical Arts Open Days
If you're interested in applying for one of our technical courses, join us for one of our open days on Saturday 17 December 2022 or Saturday 18 February 2023.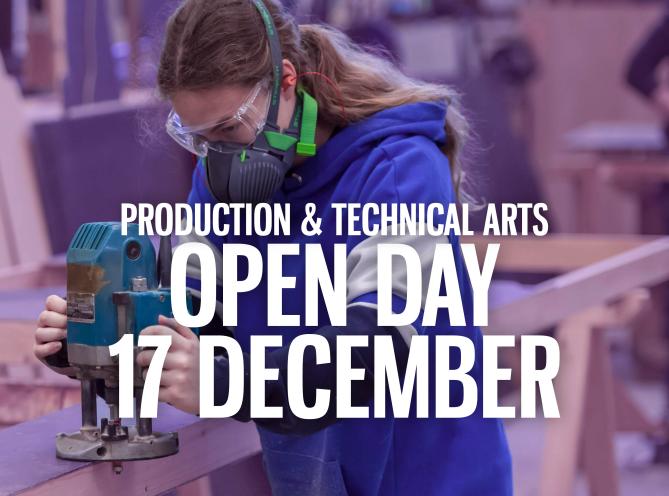 About the course
During this one-year technical arts course, you'll undertake a production role, which you will have selected, in your chosen specialism on one of our productions or short films.
With our support, you'll undertake a significant work placement project where you'll develop further professional practice and make vital connections within the industry.
The third requirement is a dissertation module, where, with our help, you will choose, define, research and complete a project of your own. You can either produce a 12,000-14,000 word dissertation, or a 6,000-7,000 word dissertation alongside a practical project and a 1,000 word report.
You'll have to be dedicated and determined to succeed and demonstrate how you can apply your passion for your chosen career in production and technical arts. You'll also need to be able to work under your own initiative and collaboratively, and have the creative spark to bring a new way of thinking to your chosen field in production and technical arts.
This production course is designed to build on your existing experience and knowledge. On this course, you'll choose one of the following specialisms:
Lighting  
Sound  
Stage Management  
Production Management  
Scenic Construction  
Screen & Audio
Teaching takes place at LAMDA in Barons Court, west London, (just 30 minutes from central London), and our scenic workshops in Bermondsey, although course components may be offered by blended learning (a mix of online and on-site delivery).
Once you've completed the course you will: 
Be equipped with all the necessary skills and experience for a rewarding career at the relevant technical level in the entertainment industry
Gain a thorough knowledge of the performing arts industry and feel comfortable working as part of a professional theatre company or film production team
Be able to apply research and presentation skills successfully in order to enhance your professional practice
You will need to have a Merit at Foundation Degree level in a relevant subject, or be able to demonstrate equivalent learning in a professional environment.  
You need to be a fluent English speaker. Non-native speakers do not need to provide an English language test report when they apply as we assess English at the interviews. However, you'll need to provide a valid IELTS test report with an overall score of seven if you're offered a place. We can only accept IELTS for UKVI.
Tuition fees
For academic year 2023/24:
UK: £9,250 per year
International students: £23,005 per year
Course fees confirmed in an offer letter may be increased in further years of study by an inflationary amount determined in accordance with measures set by government.
How will I be assessed?
You'll be assessed continuously throughout all your classes and projects. There will also be a summative (final) assessment which takes place at the end of each module.
Credits: 120 Credits in total  
Final degree outcomes are calculated on the basis of marks from the year, weighted according to the credit value of each module. 
An outline timetable will be shared with you before you course starts, so that you can start planning your time. There are three terms per year, starting in September, January and April.
This course normally has an intake of around ten. Most tuition will take place in small groups, so you'll be working closely with the teacher , but you'll also have plenty of time to get personalised one-on-one training and some sessions will involve the whole group.
Your future career
Your work placement may be a useful opportunity for gaining professional experience in the area of your choice. And you'll have other opportunities to network with current industry practitioners (this may be online, onsite or a combination of the two), and we will ensure you're prepared both for interviews with employers and self-employment.
You'll also have access to the Genesis LAMDA Network when you graduate which provides mentoring and a bridge into the industry, as well as our LAMDA Connect platform, find out more about support beyond LAMDA here.