FdA Production & Technical Arts: Stage & Screen
Industry-supported training for successful careers in theatre, film, television, and live events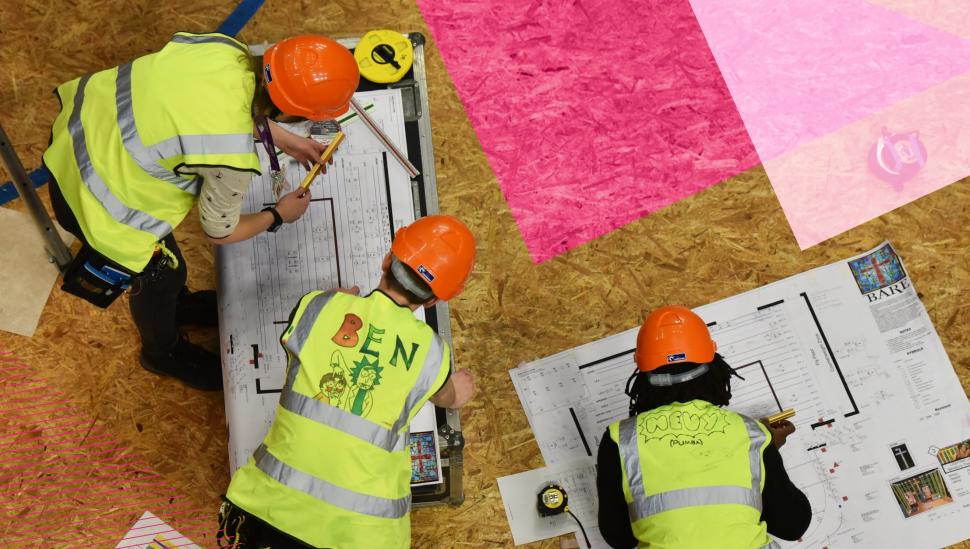 Minimum age
18
Academic requirements
N​​​​​​one, but practical experience necessary
Course length
T​​wo years
Tuition fees
Academic year 2021/22:
UK students: £9,250 per year
International students: £20,870 per year
Tuition fees are reviewed annually
Applications 
Applications for 2021/22 entry have now closed. Applications for 2022/23 will open in the autumn.
Application deadline
31 May 2021
Admission process
Application and interview
Degree awarded by
LAMDA
Is this course for me?
If you're looking to explore the backstage professional world, and develop your expertise in stage management, production and technical theatre through in-depth training in technical and managerial competencies, this course is for you.
You'll need to be a creative, independent minded individual with a passion for the dramatic arts, with a flexible, dedicated and hands-on approach to work.
There are no academic requirements for this course but you must demonstrate a determination to learn, and have some experience of working backstage on a production, whether that's through school or in an amateur or professional production setting. Entrance to the course is determined via an interview. 
You need to be a fluent English speaker. Non-native speakers do not need to provide an English language test report when they apply as we assess English at the auditions and interviews. However, you'll need to provide a valid IELTS test report with an overall score of seven if you're offered a place. We can only accept IELTS for UKVI.
First year students
Autumn Term: Monday 13 September 2021 - Friday 17 December 2021 
Spring Term: Monday 10 January 2022 - Thursday 14 April 2022 (Some students will finish production a week later) 
Summer Term: Tuesday 3 May 2022 - Friday 1 July 2022 
Second year students
Autumn Term: Monday 13 September 2021 - Friday 17 December 2021 
Spring Term: Monday 10 January 2022 - Thursday 14 April 2022 (Some students will finish production a week later) 
Summer Term: Tuesday 3 May 2022 - Friday 1 July 2022 
Tuition fees
Academic year 2021/22:
UK students: £9,250 per year
International students: £20,870 per year
Course fees confirmed in an offer letter may be increased in further years of study by an inflationary amount determined in accordance with measures set by government.
Application and interview fees
First round interview fee: £12
All about the course
This comprehensive vocational training will qualify you to be the best in the industry: capable, creative and highly sought-after by employers.
In this industry-leading two-year course you'll develop the skills, knowledge and experience you need to have a successful and long-lasting career in theatre, film, television and beyond.
Exploring the capabilities of LAMDA's three professional theatre spaces and our range of workshop and studio facilities, you'll work side-by-side with experienced industry professionals to create and run LAMDA's productions.
If you are a current or prospective student for 2021/22, then your experience at LAMDA may differ from some of the information you will find on this page. LAMDA will be following the government's guidance and measures as they evolve, in order to keep students, staff and visitors healthy and safe. This means the teaching, learning and assessment of our courses may alter, though at time of writing (May 2021) we are happy to say that we have been enjoying being back in our building for in-person classes since the end of March.
If we are required to make changes, we will update you about these changes on our dedicated page here.
When we receive your application, our admissions team will send you up-to-date information about what you can expect from the process. If you have any questions, you can reach the team on [email protected].   
This page features a breakdown of all the course modules for this course. You may also find it helpful to read LAMDA's COVID-19 Amended Delivery Overview. This document contains more information about our commitment to the students attending LAMDA in 2021/22, their experience and the way we intend to deliver courses. We hope it will help you make an informed choice about your studies.
We expect to be using blended learning methods in 2021/22, and we may need to update the specific nature of delivery as guidance from UK and local government evolves. By accepting an offer and enrolling on to a course in 2021/22 you are agreeing to the changes we make to course delivery for the sake of Covid-19 security. You can find further information about this on our FAQ page.
Current students should note that alongside the website, LAMDA will use email and our intranet, LAMDA World, to let you know about changes to the content, syllabus, mode of delivery, term dates and timetable, in line with our terms and conditions.
In your first year of this technical theatre course, you'll develop a firm grounding in production and technical arts. You'll explore four core disciplines: stage management, scenic construction, lighting and sound, and you will be introduced to the elements involved in stage, screen and audio production.
Throughout the year, you'll develop your management skills, learn prop making, health and safety, first aid, fire safety and AutoCAD and WYSIWYG.
You'll also get to know the different roles within theatre, television and radio, and will quickly gain practical experience on LAMDA's productions, working with other students to collaborate on innovative and creative work.
In your second year, you'll take it a step further as you undertake senior production roles on LAMDA shows staged in one of our three performance spaces.
Senior roles will also be available on our film and radio projects, which are shot, recorded and edited by industry professionals.
You can choose either to specialise in one area or keep your options open and work across a broader range of roles. The range of modules include options in Stage Management; Lighting; Production Sound; Scenic Construction; Production Management; LX Design; Sound Design; Screen & Audio.
You'll also undertake a six-week placement. Your placement will give you the chance to put the skills you have learnt into practice in a professional environment. This will be an invaluable opportunity for you to expand on your skillset and make important industry contacts.
What will I get out of the course?
Once you've completed the course you will: 
Be equipped with the necessary skills and experience to kickstart a rewarding career in the entertainment industry
Have worked within a busy theatre and on professional productions
Know how to research and deliver the ideas presented by directors and designers 
Have experience of managing a budget  
Have experience of working with state-of-the-art technology
This course has a maximum intake of only 28. Group sizes are small and are normally only six or seven students so you'll be working closely with the teacher and will receive constant, personalised feedback and support.
All teaching staff are experienced and active industry professionals. In addition, many key staff hold, or are working towards, Fellowship or Senior Fellowship of the Higher Education Academy (now Advance HE).
Teaching takes place at LAMDA in Barons Court, west London and our scenic workshops in Bermondsey, though course components may be offered either by blended learning (a mix of online and onsite delivery) or entirely online.
You'll be expected to train for a minimum of 35 hours per week and all classes are compulsory. During production periods the weekly hours are likely to increase significantly.
Our student and academic services team provides access to a full range of appropriate academic support, including study skills, support for learners with dyslexia or dyspraxia and other physical equipment or software needed to support you.
Student and academic services also arrange access to any specialist help needed to support your physical or mental wellbeing, such as physiotherapy, vocal health or counselling. You'll also have free online support with our digital health and wellbeing platform – Togetherall.
How will I be assessed?
You'll be assessed continuously during all your classes and projects. There will also be a summative (final) assessment which takes place at the end of each module.
In every module, you will be assessed in two areas: technical skills and common skills.
Technical skills (45% of the mark) are those that make up the nature of the work, e.g. rigging and focussing for electrics. Some particular elements within technical skills assessments are pass or fail only. These include elements where safety legislation must be complied with.
Common skills (55% of the mark) are those that apply to any work you do and are what the industry will be looking for in a potential employee.
Credits: 240 credits in total (each year is 120 credits)
Year one (30% of your final degree mark)
You will undertake four of these five modules (all modules are 30 credits):
Year two (70% of your final degree mark)
Compulsory Module: Placement (20 Credits)
Optional Modules (all are 25 Credits) you will choose four production roles from areas such as:
LAMDA has been granted the right to award degrees, with effect from 1 August 2021.  All students beginning courses after that date will be working towards qualifications awarded by LAMDA.  All continuing students enrolled on degree courses starting before 1 August 2021 will be given a choice between graduating with a LAMDA qualification or a qualification from our current validating body, the University of Kent.
We're here to help
At LAMDA, we're a family. We'll make sure you get all the support you need to feel at home. Read on for more information about accommodation, visas, healthcare, housing, insurance and student support.
Your future career
The nature of this vocational course means that you will be preparing every day for a professional career within the entertainment and events industry. We focus on developing your practical skills alongside principles.
During your first term you'll begin to put the skills you've learnt into practice by staging a small production. From this point on you will continue to receive classes but will also start to get involved in LAMDA's productions – either workshops or performances.
You'll also undertake a professional work placement to gain experience in an area of your choice.
In addition, you will have opportunities to network with current industry practitioners, to ensure you're prepared both for full-time employment and for freelancing.
Applications for 2021/22 entry to FdA Production & Technical Arts: Stage & Screen have now closed. Applications for 2022/23 entry will open in the autumn.