Milly Roberts
Access & Widening Participation Officer
I first became involved with LAMDA when I trained on the BA (Hons) Professional Acting course from 2015-2018. I'd always wanted to be an actor and work in the performing arts industry and had attended The BRIT School before getting in to LAMDA. As I came from a low-income household, I received an audition fee waiver for my audition which was a huge help, as well as a scholarship in my final year from the South Square Trust.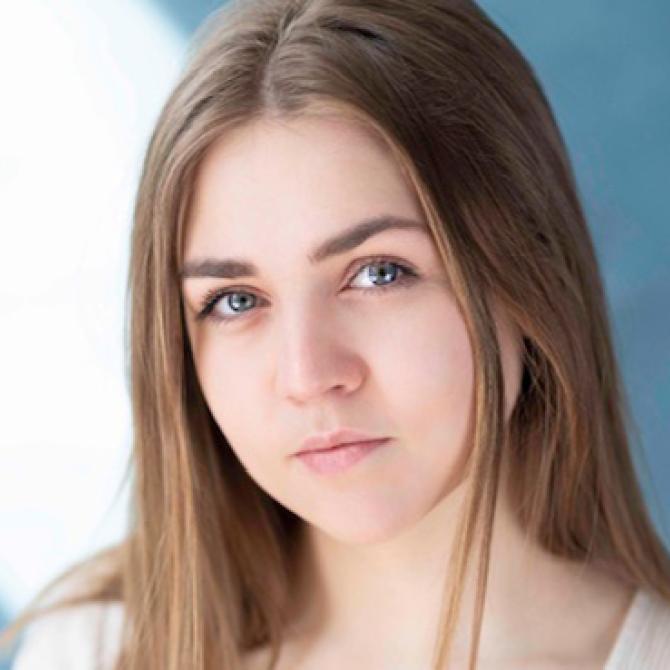 As a scholarship and audition fee waiver recipient, I first became involved with the Pathways Programme after I graduated from LAMDA. I'd assist workshops and other Outreach activities, delivering Q&As and offering insight to the participants about life at LAMDA and my experience of training and working in the industry. Soon enough, I became involved in co-ordinating the Pathways programme and ended up as Access and Widening Participation Officer alongside my freelance work in the industry as an Actor and Facilitator, as well as running my theatre company, Flat 4 Theatre.
What's important to you about Access and Widening Participation?
I've always loved engaging with young people and facilitating workshops. Breaking down barriers for young people who aren't able to access drama school training is such vital and exhilarating work and also informs my professional practice in the industry. I'm really proud to say that we currently have around 25 students at LAMDA who applied to us via the Pathways Programme. It is so exciting watching them develop as actors and technicians, from their first Pathways workshop right through to graduation and then into the industry!
It's also really fascinating being at the forefront of discussions about Access and Inclusion in the arts. So many of the changes in the industry begin in drama schools and I feel very honoured to be a part of this work. I'm particularly interested in improving access to drama training for disabled artists, as well as developing my own theatre-making practice in relation to creative access.
What are the key goals and objectives of the Access and Widening Participation plan?
The aim of the Pathways Programme is to break down barriers to drama school training for young people who might be from a low income household, from the Global Majority, identify as D/deaf or disabled, care experienced or a care leaver, and / or live in an area where participation in Higher Education is low. We are committed to improving accessibility, diversity and inclusion at LAMDA, which will, in turn, improve representation and enrich the performing arts industries as a whole. Further detail of these goals can be read in LAMDA's Access and Participation Plan.
Many of the young people we engage with have never heard of drama school, let alone LAMDA, so visiting them at their schools, colleges and youth arts organisations, offering free workshops, Q&As, show tickets and auditions, is how we encourage them to get involved and audition or interview. If a Pathways participant isn't sure if they want to apply to LAMDA, we still hope to empower them to access other drama schools and universities, and support with ensuring that a career in the performing arts is open and accessible to them.
Read the Access and Widening Participation plan
What does your day to day look like within the Access and Widening Participation team? 
I co-ordinate the Pathways Programme which is LAMDA's Outreach Programme aimed at young people aged 16-25 who face barriers to drama school training. This involves liaising with our Pathways Partners all across the country (about 40 of them!) to arrange free workshops and Q&As led by LAMDA tutors and graduates, setting up complimentary tickets for LAMDA productions and organising the audition and interview fee waivers for Pathways applicants. I also work pastorally with current Pathways students, supporting them throughout their time at LAMDA. Occasionally, I can be found teaching on LAMDA's Acting courses and each year I produce the Shakespeare in Schools tour which takes place around Hammersmith & Fulham.
Although, most of the time I'm not sat at my desk: you'll find me on trains travelling up and down the country, delivering Pathways workshops and engaging with hundreds of incredible young people at Pathways partner schools, colleges and youth arts organisations. I love it!
What's special about the Pathways Programme and

Access and Widening Participation

workshops?
Each partnership with a school or youth theatre is bespoke, so every workshop is different. We always make sure that workshops are delivered by LAMDA tutors, audition panellists and graduates, so the participants are always getting the most authentic experience possible. Pathways workshops always include a Q&A where participants can ask a recent graduate about training at LAMDA and how they can apply. Every participant who engages with a Pathways activity is eligible for an Audition / Interview Fee Waiver – the whole thing is free!
Learn more about:
Access & Widening Participation LAMDA's Pathways Programme
If you are interested in being involved in the Pathways Programme, please email [email protected] and we will signpost you to your nearest Pathways Partner organisation.