Discover our Production & Technical course
Production & Technical Arts Open Days
If you're interested in applying for our Production & Technical Arts Courses, join us for one of our in-person open days or an online session where you can discover more about the courses on offer.
What to expect
Find out more about the courses on offer at LAMDA on one of our open days. Explore the studio, workshop and theatre spaces to get a feel for the school. Leave feeling inspired, with a new understanding of what LAMDA offers.
Who can attend?
Anyone interested in applying for one of our Production & Technical Arts courses as well as their parents/guardians, relatives or friends.
How do I secure my place?
Scroll down and click the Book Now button for the date you'd like to attend. Book 1 free ticket for each person attending.
How to find us
LAMDA is based in Hammersmith, London. The nearest stations are Hammersmith and Baron's Court, which are 30 minutes from central London by tube.
10am Welcome from Rob Young, Head of Technical Training. 
Find out more about the staff leading our open day sessions here.
Attendees will then be split into groups and rotate between sessions on the following topics. The order of the following sessions will be different for attendees depending on the group you are placed in, however all topics will be covered from 10:15. 
10:15 A talk on the Stage Management elements of the course lead by Emma Hansford, 
10:40 A talk hosted by the Screen & Audio department on the screen element of the Production & Technical department and upcoming changes for LAMDA. This talk will be lead by Michelle Bonnard and Ross McKenzie.
11:05 A session hosted by Amy Richardson from the Admissions team, covering the application process.
11:30 Break
11:50 A talk on the Construction and Production Management elements of the course lead by Meghan Sorohan.
12:15 A talk on the Sound elements of the course lead by Chris Drohan.
12:40 A talk on the Lighting elements of the course hosted by Anna Matthews & Jake Mawhinney.
13:00 Tours of the LAMDA building, theatre spaces, workshops and studio spaces in small groups.
13:30 Q&A with Tutors, Graduates and current Students. 
14:00 Open Day ends.
Saturday 18 February 2023 [10am - 2pm]
Visit our award-winning building for an insight into the training that LAMDA offers, and how it can prepare you for a backstage career in theatre, film, television and live-events. Meet our course leaders, tutors and students, who'll be able to answer all your questions about courses, industry-support and student life.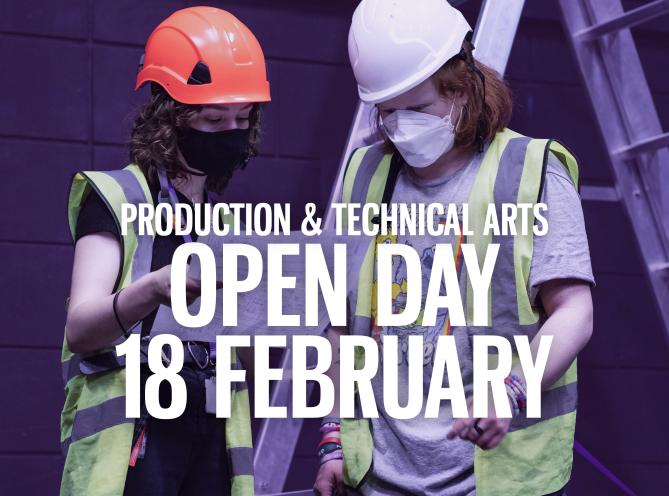 Booking Information
Our in-person Production & Technical Arts Open Day on Saturday 18 February 2023 is now fully booked. To be added to the waiting list, please email the Box Office on [email protected]
Booking for Saturday 17 December closed on Friday 16 December at 4:30pm [GMT]. Booking for Saturday 18 February will close at 1pm on Friday 17 February.
Can't make an open day or online event? Fill in this form to register your interest for future events.
Visit our What's On page to find out more about our productions featuring our final year acting students, supported by our Production & Technical Arts students, or step inside LAMDA with our Virtual Tour.