Rehearsal studios
We have a number of rehearsal rooms available to hire. Please take a look below at the types of spaces we offer.
All our studios are equipped with sprung vinyl flooring suitable for dance, movement and stage combat. We offer Studios in our East Wing with mirror walls and ballet bars (one of these was the rehearsal space where ballet stars, Margot Fonteyn and Rudolf Nurevyev, used to rehearse when this part of the building was part of the Royal Ballet School!).
Our studios also come equipped with folding trestle tables, chairs, Wi-Fi and portable sound systems.  We can also provide TVs and Zoom stations if needed. For any other requirements, please include these in your enquiry.
Please be aware, due to LAMDA's timetable, availability during Term time is extremely limiting. For any queries about daytime hires during the week, please contact us directly.
For space measurements and rates, please look at our spaces displayed below:
*Please be aware these spaces are currently not wheelchair accessible
The Georgia Oetker Studio*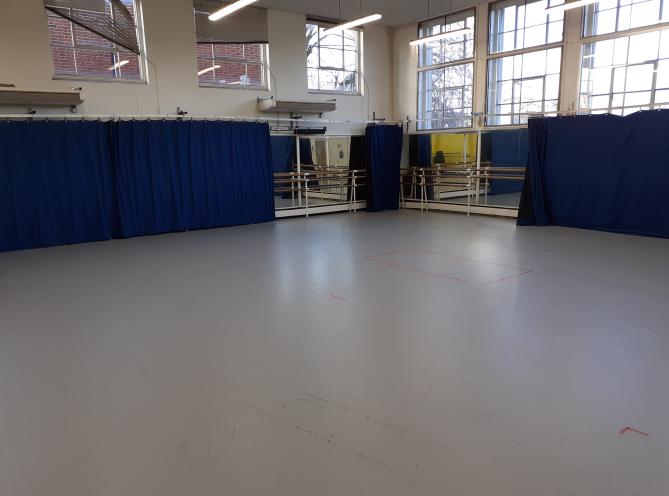 The Weston Studio & The Caroline Collins Studio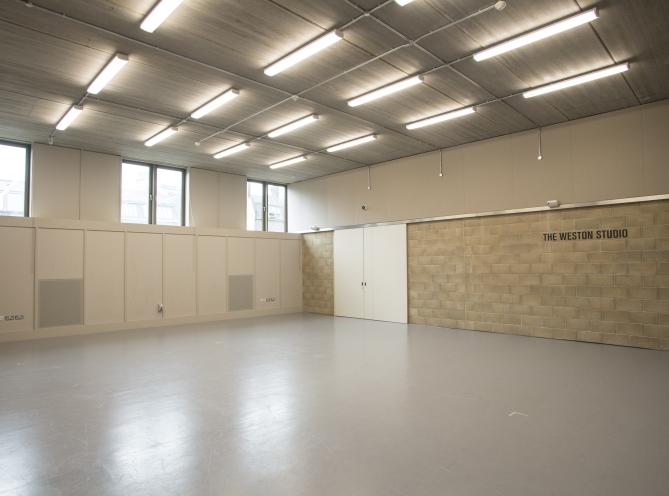 | | Evenings (Monday – Friday, 6pm - 9pm) | Full Day Weekends | Half Day Weekends |
| --- | --- | --- | --- |
| Commercial | £100 + VAT | £250 + VAT | £130 + VAT |
| Alumni** / Community / Not for Profit | £60 + VAT | £160 + VAT | £80 + VAT |
| | Evenings (Monday – Friday, 6pm - 9pm) | Full Day Weekends | Half Day Weekends |
| --- | --- | --- | --- |
| Commercial | £100 + VAT | £250 + VAT | £130 + VAT |
| Alumni** / Community / Not for Profit | £60 + VAT | £160 + VAT | £80 + VAT |
**LAMDA alumni who have recently graduated (within the space of 12 months), will be able to book rooms free of charge, subject to availability. These bookings can only be made within a maximum of 14 days advanced notice.
Interested?
If you're interested in hiring one of our spaces, please click below to fill out an enquiry form. We aim to get back to you within five working days.
Terms & Conditions apply.
Once you have secured your room booking with LAMDA, you will be sent a contract of Terms & Conditions to sign. 
Terms & Conditions of hiring a space at LAMDA 
The Hirer agrees to use only the room specified in the agreement. Except for toilets and common areas, there is no access to or use of any other part of the building. If any additional spaces are included, these will be detailed in the hire contract. 

The hire times requested must include all set-up and pack-down times; no access will be permitted outside these times. 

LAMDA reserves the right to change the room available for hire to a similar room, should the need arise. 

Any additional time incurred may be subject to additional hire and/or staff costs which will be invoiced after the hire at 1.5 times the normal hourly rate. 

Please note that LAMDA is not open on Bank Holidays, If Bank Holiday working is required it can be organised at an additional fee of £150 + VAT. 

Any additional requests discussed will appear on your contract alongside the charges associated with your room hire, plus any additional requests. 

The total charge for the room hire, plus any additional requests (if appropriate), is payable on receipt of a VAT invoice from LAMDA. 

Full payment in cleared funds must be received by LAMDA at least 7 days prior to the start of the hire period. Failure to do so may result in cancellation of the hire. 
CANCELLATIONS 
If the Hirer cancels this agreement the following will apply:  
Cancellation within 7 days of the first date of the hire; the Hirer will be liable for the total charge as stated in section 3 of the contract. 

Cancellation within 14 days of the first date of the hire; the Hirer will be liable for 50% of the total charge as stated in section 3 of the contract. 

If LAMDA is unable to fulfil the contractual obligations of the hire agreement then LAMDA will:  

in the first case seek to provide an alternative date and time for the Hirer. If this is not possible then a full refund will be issued to the Hirer. 

LAMDA will not be held responsible for any additional costs incurred by the Hirer as a result of cancelling this agreement. 
HEALTH AND SAFETY 
The Hirer will be inducted into LAMDA's Fire Evacuation and Health and Safety protocols on arrival. 

All First Aid and Near Miss Incidents must be reported to the Facilities Team as soon as possible and an incident report must be completed. 

The Hirer agrees to sign in and out of the building and to provide a list of names for the reception of all guest at the start of each day. 
ACCESS PASSES 
The Hirer may be issued a pass to access the building. 

If this is the case passes must be signed in and out to the Hirer during reception opening hours (Monday - Friday 09:00 - 17:00). 

Failure to return a pass or returning a damaged pass will result in a charge of £10 + VAT per pass. 
CONDUCT 
The use of cigarettes and e-cigarettes is strictly prohibited anywhere within LAMDA's premises with the sole exception of public performances that are licenced for smoking. 

Any conduct that LAMDA deems disorderly, abusive or offensive is grounds for immediate cancellation of the hire. 

In such cases NO refund or partial refund of the total charge shall be made. 
FACILITIES 
Except for tables and chairs, no other furniture or equipment is included in the hire. 

Use of any additional equipment or furniture is by prior agreement with LAMDA. 

Except for bottled water, no food or drink is to be consumed in the room unless otherwise agreed by LAMDA. 

Under no circumstances are drawing pins, nails, screws, tape, blu-tack or other adhesives to be used to attach anything to the walls. Only the designated whiteboard and pin board are to be used for any notices, signs, etc.  

No smoke or haze effects are to be used in any room at any time without prior written consent from the Venue Manager and Facilities Manager. 

At the end of the hire period, the room must be left in a clean and tidy condition as found, with all rubbish placed in bins. If additional cleaning is required, the Hirer will be charged a cleaning fee to restore the room to its normal condition. 

The Hirer agrees to notify the main reception immediately in the event of any damage caused to the room or furniture. Any additional repair costs incurred as a direct result of action by the Hirer will be re-charged to the Hirer.  

Any alcohol consumed on the premises must have been purchased through LAMDA in accordance with LAMDA's premises licence. 
MARKETING MATERIALS 
The Hirer must make it explicitly clear in all materials relating to the event that they are the producer.