Applications for 2024/25 entry open via UCAS on Wednesday 12 July 2023
Apply via UCAS for our Undergraduate or Postgraduate degree programmes until 18:00 [UK time] 31 January 2024.
Postgraduate courses at LAMDA
Explore our postgraduate courses if you are keen to gain further training in Acting or Directing, following the completion of an undergraduate degree or equivalent.
Experience Life at LAMDA
What to expect from training at LAMDA, plus a host of useful links to help you get ahead.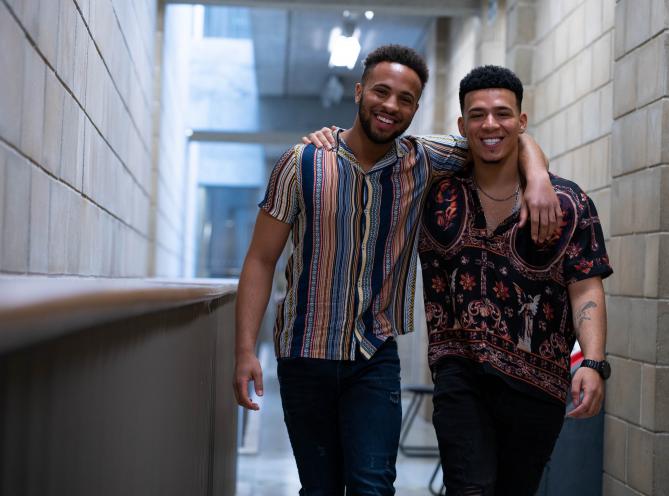 FAQs
If you have any questions, take a look at the most asked ones below. You can find information about how to apply here, or if you need further help, you can contact our admissions team on [email protected]
LAMDA training is rigorous and intensive as we believe in helping nurture the next generation of trailblazers and creative artists. So as well as evident acting ability, you'll need to have a dedicated attitude and a limitless imagination. We believe that drama is a collaborative art form and our training is based on the ethos of ensemble, so you'll need to have a willingness to work in a group and the capability to be adaptive and receptive. Our training is thorough and so we'll also be looking for a readiness to work hard. Each course page has a detailed description of the different criteria.  
We are not concerned about your academic experience or qualifications. We welcome applications from everyone, regardless of ethnicity, religion, gender or if you have any disabilities, as long as you are passionate about developing your talent and learning new skills. However, if you're applying for our MFA Professional Acting or MA Classical Acting courses, you will need a BA degree or equivalent, or relevant professional experience.  
Please let us know in advance if you need any adjustments or special requirements made to your audition due to a disability.  If you have a disability that is not visible, for example dyslexia or epilepsy, please let the LAMDA Registrar know so that we can make sure any facilities are available for you if appropriate. Any information you give us won't affect your application and will remain confidential. We'll only let other staff members know with your permission.  
All teaching staff are experienced and active industry professionals. In addition, many key staff hold, or are working towards, Fellowship or Senior Fellowship of the Higher Education Academy (now Advance HE).
Teaching takes place at LAMDA in Barons Court, west London, although course components may be offered either by blended learning (a mix of online and onsite delivery) or entirely online.
Our student and academic services team provides access to a full range of appropriate academic support, including study skills, support for learners with dyslexia or dyspraxia, and other physical equipment or software needed to support you.
Student and academic services also arrange access to any specialist help needed to support your physical or mental wellbeing, such as physiotherapy, vocal health or counselling. You'll also have free online support with our digital health and well-being platform Togetherall.com
LAMDA has been granted the right to award degrees, with effect from 1 August 2021. All students beginning courses after that date will be working towards qualifications awarded by LAMDA. All continuing students enrolled on degree courses starting before 1 August 2021 will be given a choice between graduating with a LAMDA qualification or a qualification from our current validating body, the University of Kent.