MFA Classical Acting: Performance & Practice
Take a deep dive into conservatoire classical actor training on this 18 month programme.

Applications are open via UCAS for UK & International applicants, excluding US-based applicants. US applications are open via our website from September 2023.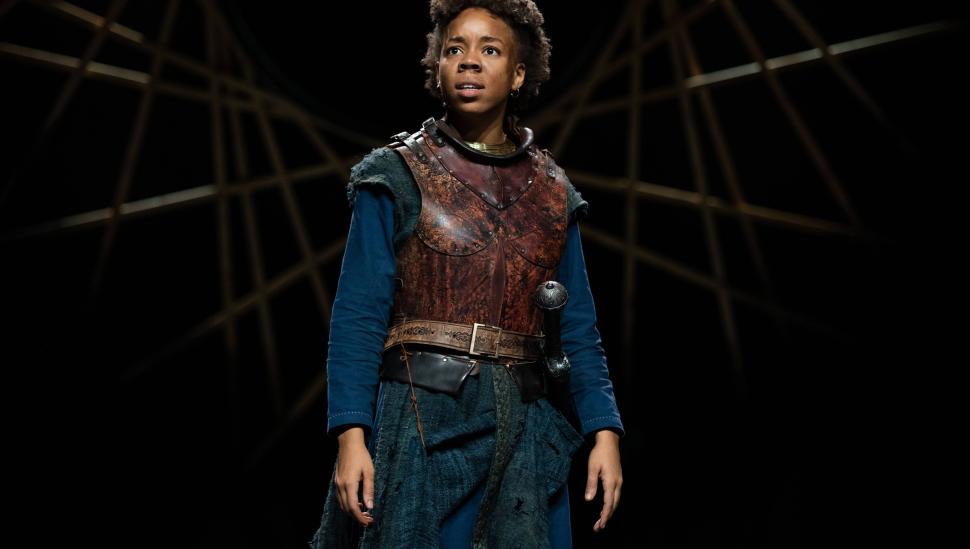 Did you know we also offer an MA Classical Acting for the Professional Theatre? Gain a Masters degree from LAMDA on our 12 month programme. Find out more.
About the course
This intensive masters degree in classical acting is delivered through an inspiring and exhilarating programme of classwork, scene study and workshop performances, including public-facing performances in our largest space, The Sainsbury Theatre.
Working on plays from the Shakespearean, Jacobean, Spanish Golden Age, French classical and Restoration periods you will discover how classical theatre translates across centuries, cultures and languages, and build an awareness of their historical, political and social context, and their impact on modern theatre.
You will take classes in craft skills to develop and strengthen your existing abilities and prepare you for the rehearsal process. Delivered throughout the year in long modules, these will include acting (voice, textual analysis and contextual studies), movement, music and singing.
You will progress through the application of your acquired knowledge of both theory and practice as it relates to the intelligent exploration and development of original characters. And you will also complete a thesis presentation reflecting on the relationship between your classical training and contemporary theatre practice.
Your first year will culminate in the staging of a Shakespeare production to which agents and casting directors are invited.
Year two will include two modules: Pedagogies of Classical Acting and New Classics Project.
During the first year of this course, you'll have three compulsory year-long modules in:
​
In the second year you'll take part in two modules and work more independently:
What to prepare for the in-person audition
You'll need to prepare three monologues. 
These can be from any three different plays, although at least two must be from an Elizabethan or Jacobean text.

They can be written for any gender and each one must last no longer than three minutes.*  
Your monologues can be any pieces, but if you need some ideas, take a look here for a selection of classical monologues, as well as links to some more contemporary pieces.   
*If you also wish to wish to be considered for the MA/MFA Musical Theatre course in this audition please also prepare an unaccompanied excerpt (16 bars) from a musical theatre song of your choice.
Applicants for the MA Classical Acting will not be required to attend a recall audition. Unless they are applying for multiple courses.
Your first audition will take the form of a self-tape.
For your self-tape you should perform two monologues from your own choice of classical plays.
If you're successful you will be invited to a final recall for which there will be an additional cost. We will send you the full list of requirements for this ahead of your recall. 
Here are some things you should be aware of: 
Once we have received and processed your application, we will get in touch to let you know how to upload your self-tape. You will have 14 days from the date of your submission to send us a link to your self-tape 

You can edit your monologue but make sure it makes sense as a stand-alone speech. For example, if you are combining two short pieces to form a longer monologue, make sure that it flows well as a whole. 

We like to see auditions that you have prepared without anyone else's help. We want to see your character choices and interpretation of the text. 
What happens next?
A member of our admissions team will access your video to check that the link and password you provided both work. They will contact you if they find any problems. 
If everything is fine, they will send your video to a member of the audition squad to view. Once a member of the squad has reviewed and assessed your tape we will send you the result. 
If you are unsuccessful in progressing to the next stage we will delete all links to your self-tape. Unfortunately, we are not be able to provide feedback on self-tapes. 
If you are recalled we may need access to your self-tape later. We will tell you more about this when we send you your results. 
Recall audition
If you are offered a recall, we'll send you the date of the recall audition, and all the details about what to expect, about two to three weeks beforehand. 
Notification of results
After you have submitted your self-tape we will do our best to get your result within three weeks. We will let you know if; 
We would like to see you for a final recall. This will take place in-person. An extra fee will apply, but please click here to see if you qualify for a free recall audition 

You've not been successful this time 

If we think you may be better suited for a different course 
This challenging and rewarding MFA acting postgraduate course will enhance and develop your craft through experiencing world-class conservatoire training. While this will be the first intake year for the MFA Classical Acting course, LAMDA has a long history of exemplary training for the classical theatre. This course is principally aimed at graduates who may have some professional acting experience. Applicants should have a knowledge and interest in classical texts and the speaking of verse and prose, and a commitment to a career as a professional actor.

The MFA certification is particularly useful for prospective applicants from the United States (among others), for whom it will serve as an entry-level qualification for college teaching in Arts subjects.
On this course you'll benefit from working collaboratively as an ensemble as well as independently to carry out an independent project. We build upon this tradition and take it further by exploring emerging new techniques and possibilities in contemporary theatre.
This immersive MFA will advance your knowledge and give you a fuller skillset to draw on in your work. We teach each student as an individual, which means that you'll be able to build on your prior experience whilst encouraging your growth as a professional actor.
This course is only suitable if you have previous experience in the industry or a qualification in drama or acting.
For the first 12 months (180 credits) of the course, learning and teaching take place in the following ways:
Tutor-led classes and director-led practical workshops
Experiential learning including discipline-based classes and workshop productions.
All classes are considered 'calls' and attendance is compulsory as reflected in current practice within the industry. There is an emphasis on skills development and research-based practice, led by experienced practitioners in a realistic theatre environment.
In the final six months (60 credits) of the course:
Learning is designed to be significantly more independent.
Teaching is carried out through weekly lecture/seminar sessions which may be attended remotely online, while the rest of the week is dedicated to independent study.
Students also benefit from study skill support sessions and 1-2-1 supervision sessions.
Assessment is continuous and measured against the learning outcomes.
Students receive both formal and informal feedback as they work on the modules.
For the first year (180 credits) of the course students' progress is monitored through the mechanism of dialogue with teachers and directors. Feedback is individually delivered assessment given in written and verbal form during one-to-one tutorials at the end of each term.
Acting showings will be used to observe, and assess subject specific skills.
In the final six months (60 credits) of the course, learning is designed to grant the student significant independence, and assessment consists of 100% coursework made up of independent portfolio assignments.
The history and context of classical texts such as Shakespearean, Jacobean era, Spanish Golden Age, Restoration and French Classical Theatre, their ideological influences, their development and influence on modern theatre practice.
Research techniques for textual and script analysis that can be applied to future work beyond the course.
The key theories and practices of working with verse and prose based texts
Explore the interpretations of characters within their original context
Gain a critical awareness of current trends and key practitioners in contemporary classical theatre
Key approaches to the pedagogy of Shakespeare and classical acting
You will be able to respond creatively to contemporary issues in the context of their historical development.
Be able to bring to life and sustain engaging characterisations through textual analysis, research, rehearsal and performance.
Be able to apply advanced acting, voice and movement skills to the performance media of theatre.
Be able to communicate effectively through the use of verse and prose with a fellow actor in the realisation of the work.
To develop the actor's voice as a fit, strong and flexible instrument in order to become an expressive and responsive channel for the emotional and intellectual needs of the actor, the character and the text.
Development of professional personal strategies to sustain a career as a freelance performer.
You should have a knowledge and interest in classical texts and the speaking of verse and prose and a commitment to a career as a professional actor. The MFA certification is particularly useful for US students (among others), for whom it will serve as an entry-level qualification for college teaching in Arts subjects.
You should be a fluent English speaker. Non-native speakers do not need to provide an English language test report when they apply, as we assess this at the auditions. However, you'll need to provide a valid IELTS test report with an overall score of seven if you're offered a place. We can only accept IELTS for UKVI.
LAMDA does not make conditional offers, or adjust entry requirements according to non-academic criteria.
Tuition fees
For academic year 2024/25:
£27,232 per year
Application fees
£88 for US based applicant in-person audition
​​​​​£15 for UK & International applicant first round audition
£36 for UK & International applicant recall audition, if successful.
Find out if you qualify for audition fee waivers here.
Course fees confirmed in an offer letter may be increased in further years of study by an inflationary amount determined in accordance with measures set by government.
Acting Courses Equipment List
A lot of the work at LAMDA is physical/movement based you should always be dressed comfortably in clothes that do not prohibit movement.
Essential
Basic black sweatshirt
Basic black T-shirt
Black sweatpants/jogging bottoms
Yoga mat – For reasons of hygiene we recommend that students purchase their own.
Highly recommended
For rehearsal/character work
Black trousers and/or skirt. Skirt should be floor length and loose. Skirts may also be needed for certain dance lessons.
White shirt.
Black shoes with a solid heel (not trainers) or character shoes
Laptop/tablet.
Wi-Fi
Recommended
Black footless tights
Trainers
Books
Your recommended reading lists will be sent out separately. Most of these books can be found in the LAMDA library therefore there is no need to purchase. These books are for reference and additional learning.
Other
It can be useful to have a recording device so that you can record accents, music etc. It is sufficient to have a phone with the facility to record sound.
Your future career
Agents and casting directors are invited to attend the production at the end of the course. Towards the end of your degree, you'll gain professional insight through three masterclasses with industry professionals.

You'll be eligible to join our Alumni community platform LAMDA Connect upon graduation. Find out more about how LAMDA will support you beyond your training here.
Eligible to work in USA or Canada?
LAMDA's training will culminate in a series of professional development and industry events to support your growth as a professional artist and the start/continuation of your career in North America. This may include digital or in-person events to help graduates gain exposure and will be tailored each year to best suit the current industry.
Recalls in the UK are to be confirmed, but are likely to be in the last week of July.
Applicants should have a Visa in place to cover their study in the UK for the entire duration of the course. The second year of the course allows time for independent study.
It might be possible to study abroad for the final part of the course, but there are Visa implications and funding implications for students which would make it unviable in many cases. If this is your intention, discuss your plans in detail with our Admissions team before accepting an offer.
Contact our Admissions Team to discuss moving your application to different course. It may be necessary to send in a second self-tape video if the course requirements differ, but you will be contacted individually if that is the case.
Both the MA Classical Acting for the Professional Theatre and MFA Classical Acting: Performance & Practice are available for funding via UK student loans and US federal loans.
None of the scholarships available to postgraduate students are able to cover both tuition fees and living costs entirely, and applicants for these courses are encouraged to consider other funding sources. 
Leverhulme Arts Scholarships created to support incoming students on any of LAMDA's degree courses, full and partial scholarships are available for incoming students on any of LAMDA's degree courses, undergraduate and postgraduate.