Join the LAMDA Family
Become a supporter and be right at the heart of LAMDA life as you see progress unfold before your eyes.
Your support will give the next generation of actors, directors and technicians a vital start to their careers.
We would love you to join our LAMDA family and help make a difference, whether that's at one of our wonderful events or by becoming a Patron, Member or Friend of LAMDA.
Our alumni are shaping every aspect of the arts
As a world-leading conservatoire, we develop creative practice, nurture skills and spark imagination. That's why you'll find our alumni shaping every aspect of the dramatic arts through their work in theatre, film television and new media.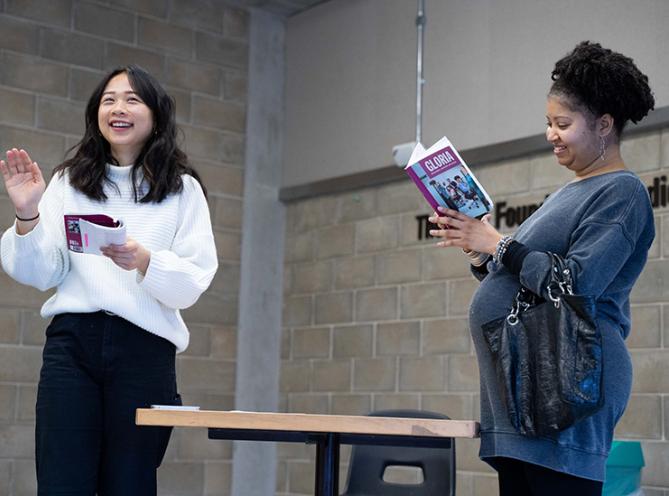 Benefits of joining the LAMDA family
If you want to play an active role in life at LAMDA, see our students grow during their training, and follow our alumni onto the stage, screen and behind-the-scenes, then why not join the LAMDA family, where you will:
Have access to the creative process and meet our students as they develop their skills
Enjoy special behind-the-scenes events
See a class in progress
Listen to our alumni speaking about their experience in the industry during our regular 'LAMDA lunches'
See our shows, directed by senior teaching staff and professional directors, showcasing our graduating acting and technical students' talent as they prepare to embark on their professional careers
Learn from our world-leading teachers and staff
Meet our alumni when they are starring on West-End stages.
Our recent events for Supporters
LAMDA's 2022 Gala – A glittering evening with dinner and a show of current students and famous alumni. Hosted by our President Benedict Cumberbatch CBE. 
Ruth Wilson MBE in the West End event – Watching The Human Voice followed by a Q&A with Ruth.  
Sir David Suchet CBE in the West End event – Watching Poirot and More: A Retrospective followed by an intimate post-show Q&A. 
LAMDA Lunch Q&A – A unique insight into the mind of an actor, predominately a student-only event with Patrons invited to view. LAMDA lunches this year have featured alumni Brian Cox CBE, Harriet Walter DBE, Rory Kinnear, Leah Harvey, Natalie Simpson, Tingying Dong.