MA Classical Acting for the Professional Theatre
Are you an international actor looking to deepen and develop your craft through an intensive exploration of classical plays?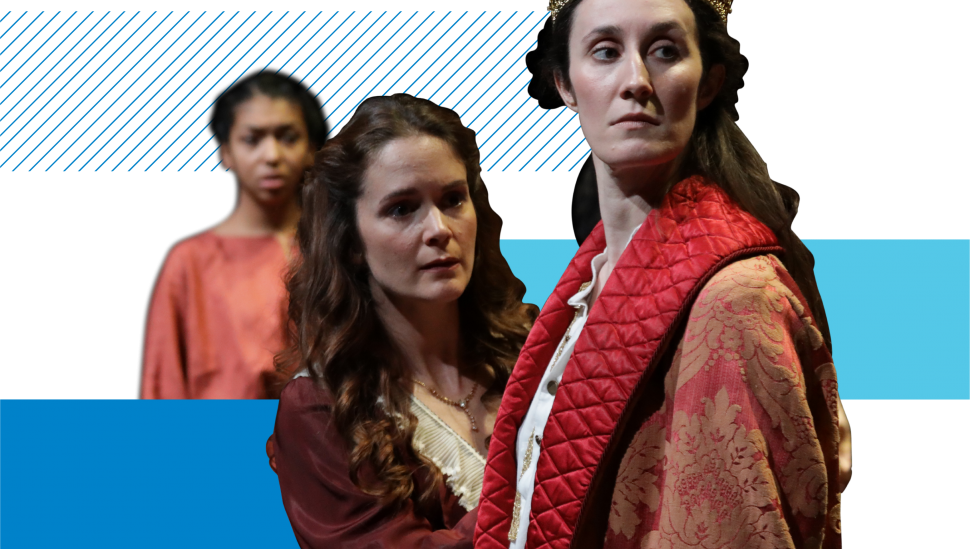 Minimum age
18, but most students are 21 and over
Academic requirements
This course is for international students with a BA or BFA degree or equivalent, or comparable professional or vocational experience
Course length
One year
Tuition fees
For academic year 2020/21:
£23,900 per year
Tuition fees are reviewed annually.
Applications
Are now closed for this course starting in autumn 2020. Applications for 21/22 will open in October 2020
Admission process
Application and audition
Degree awarded by
U​​​​niversity of Kent
Amendments for Covid-19
If you are a current or prospective student for 2020/21, then how you experience our training will be different to some of the details below. Please read this document to find out more about the experience we are committed to offering you, so that you can make informed choices about your studies. By accepting and enrolling on to a course in 2020/21 you agree to these changes. You can find a breakdown of modules for this course below. For further information see our FAQ page.
Is this course for me?
This course is for students who are intending to work in the USA after graduation.
Challenging and rewarding, this MA acting postgraduate course is for international students who wish to enhance and develop their craft through experiencing world-class British Conservatoire style training.
We have a long history of exemplary training for Classical Theatre. Prioritising ensemble work, this course builds upon this tradition and takes it further by exploring emerging new techniques and possibilities in contemporary theatre.
If you're already working, you'll be able to re-enter the industry after only a 12-month break, equipped with enhanced knowledge and a fuller skill set. We teach each student as an individual, which means that you'll be able to build on your prior experience whilst encouraging your growth as a professional actor.
This course is only suitable if you have previous experience in the industry or a qualification in drama or acting.
LAMDA was one of the best decisions I could have made for myself artistically and personally - to do an acting course in London was inspiring.
Shon Middlebrooks,
2019 Graduate
You should be a fluent English speaker. Non-native speakers do not need to provide an English language test report when they apply, as we assess this at the auditions. However, you'll need to provide a valid IELTS test report with an overall score of seven if you're offered a place.
LAMDA does not make conditional offers, or adjust entry requirements according to non-academic criteria.
This course is only suitable if you have previous experience in the industry or a qualification in drama or acting.
Autumn Term: 12 October - 18 December 2020
Spring Term: 4 January - 9 April 2021
Summer Term: 3 May - 2 July 2021
Final Term: 2 August - 9 September 2021
Tuition fees
For academic year 2020/21:
£23,900 per year
Tuition fees are reviewed annually.
Application/interview fees
UK/EU auditions
First round audition fee: £12
Recall audition fee: £48
North America auditions
Total fee: £100
All about the course
This intensive masters degree in acting is delivered through an inspiring and exhilarating programme of classwork, scene study and workshop performances, culminating in a public performance in our largest performance space, the Sainsbury Theatre.
Working on plays from the Shakespearean, Jacobean, Spanish Golden Age, French classical and Restoration periods you will discover how classical theatre translates across centuries, cultures and languages, and build an awareness of their historical, political and social context, and their impact on modern theatre.
You will take classes in craft skills to develop and strengthen your existing abilities and prepare you for the rehearsal process. Delivered throughout the year in long modules, these will include acting (voice, textual analysis and contextual studies); movement, stage combat and historical dance; and music and singing.
You will progress through the application of your acquired knowledge of both theory and practice as it relates to the intelligent exploration and development of original characters. And you will also complete a thesis presentation reflecting on the relationship between your classical training and contemporary theatre practice.
Your intensive year will culminate in the staging of a Shakespeare production to which agents, casting directors and members of the public are invited.
Finally, a unique feature of this course is the chance to train as a LAMDA Exams teacher.
All teaching takes place at our main campus in Barons Court, west London.
Our Academic Services team provides access to a full range of appropriate academic support, including study skills, support for learners with dyslexia or dyspraxia, and other physical equipment or software needed to support you.
Academic Services also arrange access to any specialist help needed to support your physical or mental wellbeing, such as physiotherapy, vocal health or counselling. You'll also have free online support with our digital health and wellbeing platform - Togetherall.
Our Higher Education qualifications are all currently awarded by the University of Kent. However, we're undergoing a process which may result in our being able to award our own degrees. If this is the case, we'll let you know, and if you're already enrolled with us you'll be able to choose whether you would prefer to receive your award from the University of Kent or from LAMDA directly.
We're here to help
At LAMDA, we're a family. We'll make sure you get all the support you need to feel at home. Read on for more information about accommodation, visas, healthcare, housing, insurance and student support.
Your future career
Agents and casting directors are invited to attend the public production at the end of the course. Towards the end of your degree, you'll have access to the support and guidance of our Careers Team and can attend lectures, masterclasses and open auditions with visiting industry professionals.  This course is designed for those who wish to and/or are eligible to work in N America.  For that reason, there is no UK showcase.
Eligible to work in USA or Canada?
If you are eligible to work in the USA or Canada, and are able to fund your own travel, accommodation and living expenses you can participate in our showcases in New York and Los Angeles in the autumn following graduation and after your course has ended, and / or take part in the Next Generation showcase in Ontario, Canada. Showcase participants will also receive bespoke classes from a US industry expert.
Applications
Applications for our full-time courses open this Autumn - sign up here and we'll email you when they open. You can still apply for an intensive summer short acting course. Applying to LAMDA can be done quickly and easily. You can pause and resume your application at any time.