MA Classical Acting for the Professional Theatre
Are you an international actor looking to deepen and develop your craft through an intensive exploration of classical plays?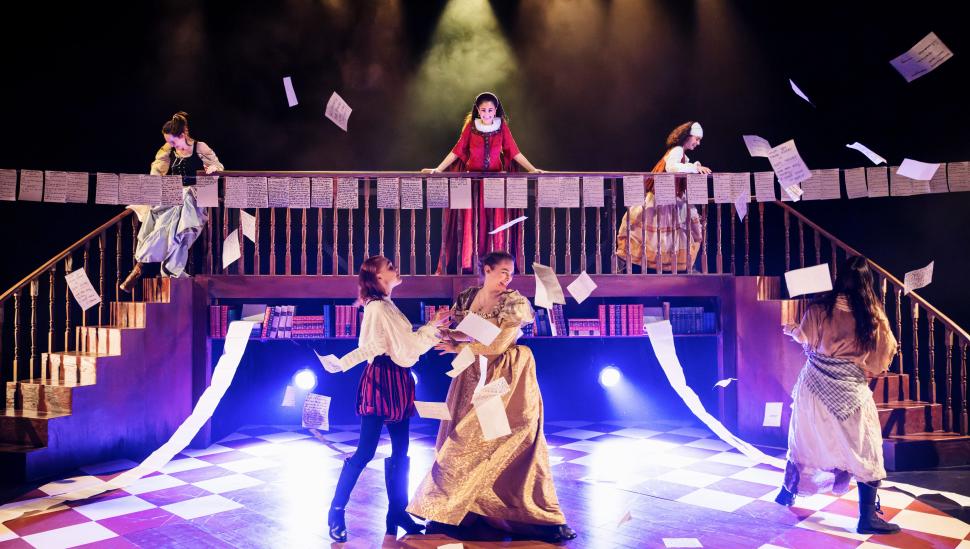 Applications for US-based applicants are now open.
We're heading to the United States to audition applicants in-person for this course.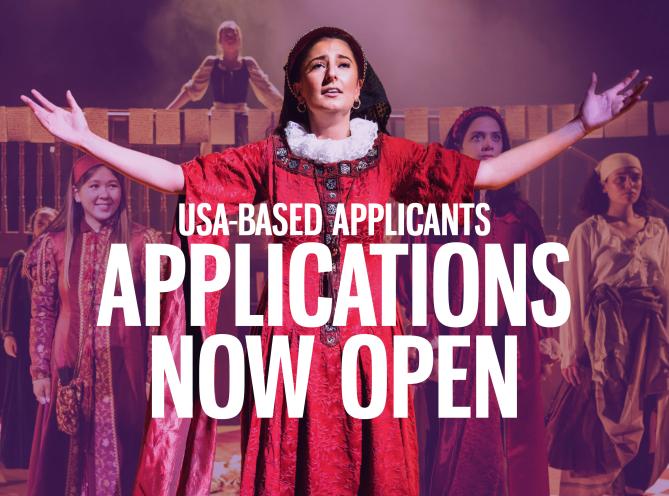 Tuition fees
For academic year 2023/24:
UK fees: £27,232 per year
International fees: £27,232 per year
Tuition fees are reviewed annually

Application fees:
£88 for US based applicants [for in-person audition]
£15 for UK and International applicants [recall £36]
Application Process:
Applications from UK and International applicants (outside of the US) will open later in Autumn 2022. Register your interest for 2023 entry here.
About the course
This intensive masters degree in acting is delivered through an inspiring and exhilarating programme of classwork, scene study and workshop performances, culminating in a shared performance in our largest performance space, The Sainsbury Theatre.
Working on plays from the Shakespearean, Jacobean, Spanish Golden Age, French classical and Restoration periods you will discover how classical theatre translates across centuries, cultures and languages, and build an awareness of their historical, political and social context, and their impact on modern theatre.
You will take classes in craft skills to develop and strengthen your existing abilities and prepare you for the rehearsal process. Delivered throughout the year in long modules, these will include acting (voice, textual analysis and contextual studies), movement, music and singing.
You will progress through the application of your acquired knowledge of both theory and practice as it relates to the intelligent exploration and development of original characters. And you will also complete a thesis presentation reflecting on the relationship between your classical training and contemporary theatre practice.
Your intensive year will culminate in the staging of a Shakespeare production to which agents and casting directors are invited.
This challenging and rewarding MA acting postgraduate course is for international students who wish to enhance and develop their craft through experiencing world-class conservatoire training.
We have a long history of exemplary training for classical theatre. Prioritising ensemble work, this course builds upon this tradition and takes it further by exploring emerging new techniques and possibilities in contemporary theatre.
This immersive MA will advance your knowledge and give you a fuller skillset to draw on in your work. We teach each student as an individual, which means that you'll be able to build on your prior experience whilst encouraging your growth as a professional actor.
This course is only suitable if you have previous experience in the industry or a qualification in drama or acting.
You should be a fluent English speaker. Non-native speakers do not need to provide an English language test report when they apply, as we assess this at the auditions. However, you'll need to provide a valid IELTS test report with an overall score of seven if you're offered a place. We can only accept IELTS for UKVI.
LAMDA does not make conditional offers, or adjust entry requirements according to non-academic criteria.
This course is only suitable if you have previous experience in the industry or a qualification in drama or acting.
Tuition fees
For academic year 2023/24:
£25,935 per year
Application fees
£88 for US based applicant in-person audition
​​​​​£21 for UK & International applicant first round audition
£36 for UK & International applicant recall 
Course fees confirmed in an offer letter may be increased in further years of study by an inflationary amount determined in accordance with measures set by government.
Audition fees are detailed on our 'How to Apply' page.
Your future career
Agents and casting directors are invited to attend the production at the end of the course. Towards the end of your degree, you'll gain professional insight through three masterclasses with industry professionals. We also share some digital work from your time at LAMDA on our website, which industry professionals can engage with.
Eligible to work in USA or Canada?
LAMDA's training will culminate in a series of professional development and industry events to support your growth as a professional artist and the start/continuation of your career in North America. This may include digital or in-person events to help graduates gain exposure and will be tailored each year to best suit the current industry.