MA Musical Theatre*
Looking to continue your Musical Theatre journey? Our MA Musical Theatre* programme will provide performance opportunities and industry exposure to help you enter the profession. *This course is subject to validation.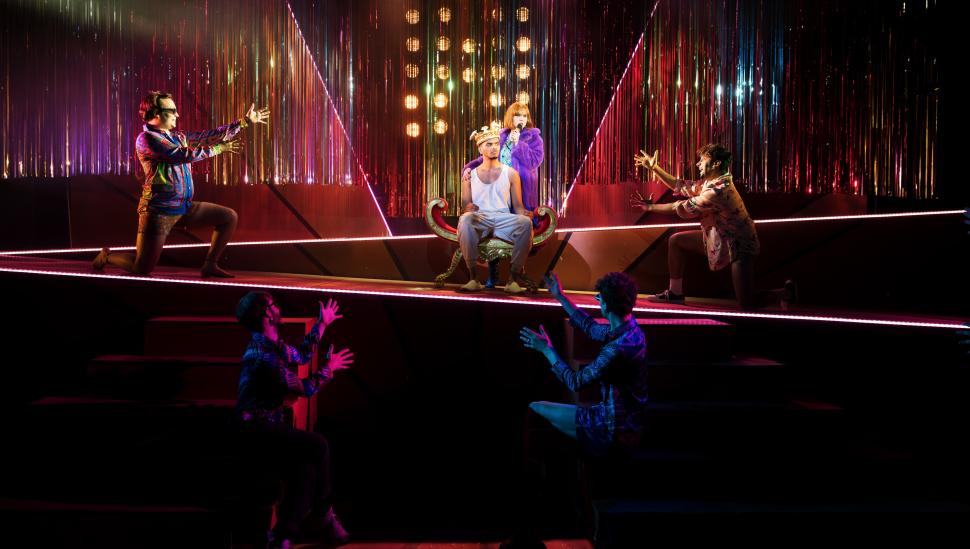 Did you know we also offer an MFA Musical Theatre? Gain a Master of Fine Arts degree from LAMDA on our 18 month programme. Find out more.
Tuition fees
For academic year 2023/24:
UK applicants:£21,000
International applicants:£27,232
Tuition fees are reviewed annually.
Course dates:
Monday 11 September 2023 - Thursday 5 September 2024.
Keep in touch, join the Future Students Mailing List here.
Application Process: The application process is the same for all applicants. Details of the recall stage are to be confirmed.
Application fees: £15 first round audition fee for all applicants. No recall fee. Find out if you qualify for audition fee waivers here.
Application Deadline
Monday 3 July 2023 at 3pm [BST, UK]
About the course
This MA Musical Theatre* course is designed to deliver world class actor training for those committed to a professional career in Musical Theatre performance.
Over the 12 month course students will have the opportunity to deepen their understanding of new and existing Musical Theatre writing, historical and political contexts of the genre at the time of writing, and work with a wide range of musical theatre practitioners and choreographers to discover a range of approaches to the genre.
Students training on this course will benefit from the exploring a variety of musicals and the effective communication of song, choreography and text, and the thoughtful interpretation of lyric and music. The course will culminate in a public-facing musical production, the chance to develop a showreel, and a UK industry facing showcase.
Graduates will emerge as industry ready 'triple threat' performers with a showreel and repertoire of solo songs for future auditions. The course aims to provide a route into professional performance work as an actor in Musical Theatre.
*This course is subject to validation.
**Course content may be subject to change.
Year 1 will consist of taught classes and workshops which will typically run from 9:00am – 5:30pm. Students may be required at different times for rehearsals in the lead up to performances and showcases.
Acting Techniques
Vocal Techniques and Musicianship
Dance & Movement Techniques
Musical Theatre – Creation and Performance for Stage & Screen
The Professional Repertoire
Public Performance
Module specification documents coming soon.
Acting Techniques (Terms 1&2)  
In this module, you will:
Take part in classes and workshops in which you will develop and apply skills required to approach text, and build character across a range of styles, periods and genre.  
Practically explore acting techniques developed by a range of key practitioners including Stanislavski, Hagen, Meisner, and Laban. 
Critically reflect on process and preparation. 
Apply reflective practice to the creation of character.  
Explore inner psychology and outer expression.  
Be taught by leading acting practitioners. 
You will be continually assessed across the first two terms of study, and assessed  on in-house performances including:  
Duologue scenes from contemporary plays  
'Book scenes' from works of Musical Theatre
Performance of a classical sonnet. 

Vocal Techniques and Musicianship (Terms 1&2)  
In this module, you will: 
Take part in classes and workshops in which you will develop the vocal instrument as fit, strong and flexible, in order to liberate the voice as an expressive and responsive channel for the emotional and intellectual needs of the actor, the character, and the text. 
Practically explore singing technique in groups, and through regular one to one singing classes.  
Develop an independent vocal warm-up, under the instruction of industry specialists.  
Improve musicianship, and practically explore music theory.  
Work with expert Musical Theatre practitioners, on developing acting through song skills.

You will be assessed continually across classes in the first two terms of study, and on the following performances:  
Performance of a Musical Theatre Soliloquy Song 
Performance of popular songs in a range of genre 
Singing as part of a Musical Theatre ensemble.  
Political Speech
Dance & Movement Techniques (Terms 1&2)  
In this module, you will: 
Take part in classes and workshops in which you will explore a range of dance styles including Tap, Jazz, Ballet, Contemporary dance, and Hip-Hop and associated styles. 
Develop physical fitness, strength, stamina and muscle memory. 
Work with leading Musical Theatre choreographers on the development of embodied technical and artistic skills. 
Develop your flexibility, strength, precision, artistry, strength, stamina, postural awareness, and extension. 
Explore the creation of character through movement practices such as clowning. 
Explore a range of disciplines and techniques for the physicalisation of character, which will enable you to integrate perceptible physical life in support of their characterisations. 
You will be assessed continually across classes in the first two terms of study, and on the following performances: 
Performance of solo dance pieces.   
Performance as part of an of ensemble dance project.  
Performance of a movement piece.  
Musical Theatre – Creation and Performance for Stage & Screen (Terms 1 & 2))  
In this module you will 
Draw together skills across dance, singing, and acting disciplines for rehearsal and performance.  
Become a 'triple-threat' performer with a strong foundation in acting skills.  
Develop research skills.  
Deepen your understanding of the historical and political contexts for works of Musical Theatre.
​​​Develop technical skills for performance of Musical Theatre across different media including screen, stage, and audio.
You will be assessed on the process and performance of these projects:
Musical Theatre Song & Dance project.  
New Musical Theatre recording project 
Musical Theatre on Screen project.
The Professional Repertoire (Term 3)
In this module you will:
Become 'audition ready' 
Work with industry leading repertoire coach, on the development of a bespoke repertoire of solo songs.  
Deepen independent research skills.  
Become an expert on your own Musical Theatre performance practice.  
You will be assessed on: 
A practical 'Mock Audition' exam.
Public Performance (Terms 3 & 4)  
In this module you will:  
Perform as part of an industry-facing Showcase in London (and in New York and Los Angeles, if you are eligible to work in the United States of America)
Perform as part of a public-facing Musical production
Perform as part of an Edinburgh Fringe Festival project.  
After we have received and processed your application, we will email you to tell you how to upload your self-tape, which is the first round audition. You will have 14 days from the date of submission to send LAMDA a link to your self-tape.
For your self-tape you should perform:
Two contrasting musical theatre songs (accompanied by backing track or pianist). 

A video introduction personal statement lasting 3 minutes maximum where you can:
a) Tell us a bit about yourself
b) Discuss your relationship with Musical Theatre
c) Describe why you are interested in the course/why you want to perform Musical Theatre. 
What happens next? 
A member of our admissions team will check that the link and password you provided both work. They will contact you if they find any problems.
If everything is fine, they'll send your video to a member of the audition squad to view. Once that member has reviewed and assessed your tape we will send you the result. 
If you are unsuccessful in progressing to the next stage we will delete all links to your self-tape. Unfortunately, we are not be able to provide feedback on self-tapes. 
If you are successful and recalled we may need access your self-tape later. We will tell you more about this when we send you your results.
Recall audition 
If you are offered a recall, we'll send you the date of the recall audition, and all the details about what to expect, about two to three weeks in advance.
Recalls will take place at LAMDA, in London, United Kingdom. Dates and further details are to be confirmed.
The recall will take place in-person and will consist of two elements:
Group movement/dance workshop

Group voice workshop

Individual singing & acting auditions: applicants should prepare two songs as per their self-tape, and choose a duologue scene from a list that LAMDA will send in advance. They will perform this with a graduate. The panel will then provide redirection and work with the student on the duologue scene.
Application notification and waitlisting
After the recall audition, it will take around two to three weeks to get your result. We'll let you know if: 
You're successful and we'd like to offer you a place 

You've not been successful this time 

You have been waitlisted for a place on a course 
This course is designed for applicants who wish to pursue and commit to a professional career as a Musical Theatre actor.
Applicants will have professional or amateur acting, and/or singing, and/or dance performance experience and knowledge and interest in Musical Theatre.
All classes are considered 'calls' and attendance is compulsory as reflected in current practice within the industry. There is an emphasis on skills development and research-based practice, led by experienced practitioners in a realistic theatre environment.

You will be assessed continually across classes and on performances.
Learning and teaching take place in the following ways:
Tutor-led classes
1-2-1 singing tutorials
Director-led practical workshops. 
Experiential learning including discipline-based classes and workshop productions
Tutors and directors will encourage and develop the application of acquired skills in both discipline focused classes and project workshops. They will engage with the students and encourage the development and integration of practice-based skills and knowledge.
Applicants are expected to have an undergraduate degree or relevant professional experience that has prepared them for advanced Musical Theatre studies. They must demonstrate the ability to study at Masters level.  

No minimum degree classification is required, since admission is based on audition performance rather than past award classification.

The audition process is thorough and seeks to engage those candidates that show an aptitude for the vocational nature of this practice based Masters programme. 

Applicants who are not native English speakers are required to provide a valid IELTS test report. Applicants are expected to achieve an Overall Score of 7.0 (with 7.0 in each sub-test – listening, academic reading, academic writing and speaking). If a candidate has recently studied successfully for an academic qualification taught in English, they may not be required to submit a language test. If this is the case, they will be required to provide copies of certificates that show graduation from institutions in English speaking countries. 
Tuition fees
For academic year 2023/24:
UK students:
Year One: £21,000

International students:
Year One: £27,232
Application fees
£15 for first round audition.
No fees for recall audition for this course.
Course fees confirmed in an offer letter may be increased in further years of study by an inflationary amount determined in accordance with measures set by government.
Find out if you qualify for a fee waiver here.
Your future career
The MA Musical Theatre* course offers a world class actor training for Musical Theatre performance and aims to provide a route into professional performance work as an actor in Musical Theatre.  Not only will graduates leave having performed in a public production and in at least one showcase, but they will be supported by professional careers advice, backed up by a professional showreel. 
You'll also have access to the Genesis LAMDA Network when you graduate, which provides mentoring and a bridge into the industry. Find out more about how LAMDA support you beyond your training here.
Eligible to work in USA or Canada?
LAMDA's training will culminate in a series of professional development and industry events to support your growth as a professional artist and the start/continuation of your career in North America. This may include digital or in-person events to help graduates gain exposure and will be tailored each year to best suit the current industry.
Recalls in the UK are to be confirmed, but are likely to be in the last week of July.
Recalls in the US are on 25 March an additional date is to be confirmed. US candidates who are successful at the first round will be advised on the details of the final recall auditions. You'll be asked in the application form to provide dates when you're unavailable, which we will try to accommodate where possible.
Contact our Admissions Team to discuss moving your application to different course. It may be necessary to send in a second self-tape video if the course requirements differ, but you will be contacted individually if that is the case.
Both the MA Musical Theatre* and MFA Musical Theatre* are available for funding via UK student loans and US federal loans.
None of the scholarships available to postgraduate students are able to cover both tuition fees and living costs entirely, and applicants for these courses are encouraged to consider other funding sources. 
Leverhulme Arts Scholarships were created to support incoming students on any of LAMDA's degree courses. A limited number of full and partial scholarships are available for incoming students on any of LAMDA's degree courses, undergraduate and postgraduate.