MA Directing
Contemporary and wide-ranging vocational postgraduate training for talented emerging directors.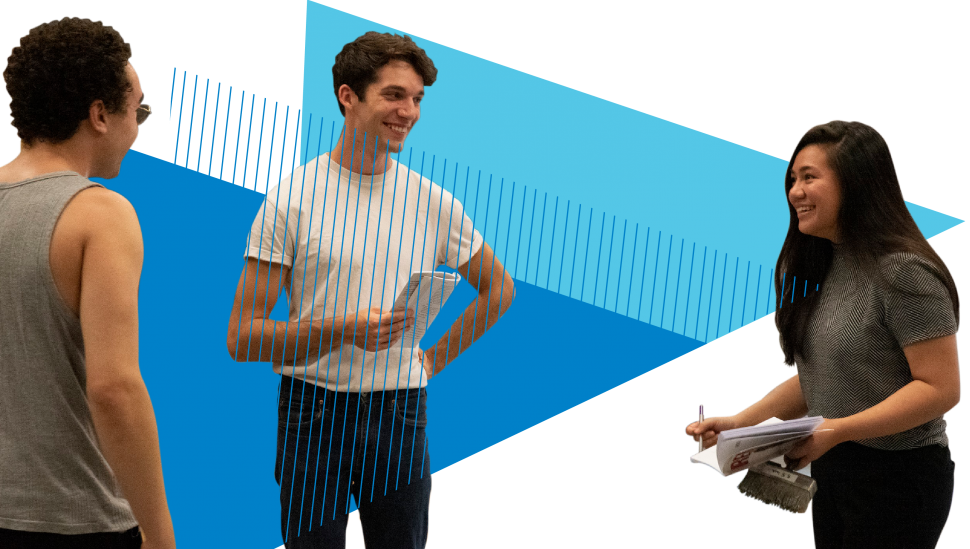 Minimum age
18, but most students are 21 and over
Academic requirements
Degree, or similar professional experience
Course length
One year
Tuition fees
For academic year 2020/21:
UK/EU: £15,645 per year
International: £21,565 per year
Tuition fees are reviewed annually
Applications
Are now closed for this course starting in autumn 2020. Applications for 21/22 will open in October 2020
Admission process
Application and interview
Degree awarded by
U​​​​niversity of Kent
Amendments for Covid-19
If you are a current or prospective student for 2020/21, then how you experience our training will be different to some of the details below. Please read this document to find out more about the experience we are committed to offering you, so that you can make informed choices about your studies. By accepting and enrolling on to a course in 2020/21 you agree to these changes. You can find a breakdown of modules for this course below. For further information see our FAQ page.
Is this course for me?
We have been training visionary and versatile directors for almost 20 years, who have since built rewarding and sustainable careers in the industry.  The transformational impact of our training lies in our receptiveness to current industry practice, a commitment to preparing you for all aspects of performance production and to nurturing the individuality of your focus and passion. 
During this one-year postgraduate MA Directing programme you will build your practice through an intense programme of practical classwork, reflective tutorials and attachments as assistant directors on LAMDA productions, supporting the work of professional directors. Your training will culminate with you directing a play of your choice which will be open to the public and to industry professionals.
What I valued most about my time at LAMDA was the opportunity to develop new ideas with talented, committed young actors in an unfailingly positive environment.
Polly Findlay,
Director, Class of 2005
You must have completed a college or university course, or have adequate professional experience to meet the demands of the course. You must also have been sufficiently involved in theatre (professional or student) in order to demonstrate serious professional intent on pursuing a career as a director.
You must also be a fluent English speaker. Non-native speakers do not need to provide an English language test report when they apply as we assess English at the auditions and interviews. However, you'll need to provide a valid IELTS test report with an overall score of seven if you're offered a place.
Autumn Term: 28 September - 18 December 2020
Spring Term: 4 January - 9 April 2021
Summer Term: 19 April - 18 June 2021
Final Term: 19 July - 9 September 2021
Tuition fees
For academic year 2020/21:
UK/EU: £15,645 per year
International: £21,565 per year
Tuition fees are reviewed annually
Application and interview fees
First round interview fee: £12
Recall interview fee: £24
All about the course
In your first term, you will observe and participate in core LAMDA training alongside postgraduate acting students, working across the disciplines of acting, voice, movement and singing in order to develop an understanding of the actor's process.
You will participate in seminars in text analysis and interpretation, and the aesthetics and processes particular to screen, as well as directing your fellow students in short scene studies.
In your second and third terms, you will assist professional directors on projects, public productions, an original short film and an actors' workshop at LAMDA. And during the Easter break, you will collaborate with LAMDA actors to devise an original piece of theatre - an opportunity to put into practice what you have learned and develop your dramaturgical skills.
Your year will finish with you directing and staging a play of your choice in one of our performance spaces for the public and invited industry professionals.  Over the past two years, these guests have included Natalie Abrahami, Ned Bennett, Giles Croft, Mike Longhurst, Roxanna Silbert and Lyndsey Turner.
We haven't confirmed the directors we will be working with in 2021, but here are just some of the directors we're working with this year:
Marieke Audsley
Elayce Ismail
Anthony Lau
Mary Papadima
James Yeatman
Amelia Sears
All teaching takes place at our main campus in Barons Court, west London.
Our Academic Services team provides access to a full range of appropriate academic support, including study skills, support for learners with dyslexia or dyspraxia, and other physical equipment or software needed to support you.
Academic Services also arrange access to any specialist help needed to support your physical or mental wellbeing, such as physiotherapy, vocal health or counselling. You'll also have free online support with our digital health and wellbeing platform - Togetherall.
Our Higher Education qualifications are all currently awarded by the University of Kent. However, we're undergoing a process which may result in our being able to award our own degrees. If this is the case, we'll let you know, and if you're already enrolled with us you'll be able to choose whether you would prefer to receive your award from the University of Kent or from LAMDA directly.
We're here to help
At LAMDA, we're a family. We'll make sure you get all the support you need to feel at home. Read on for more information about accommodation, visas, healthcare, housing, insurance and student support.
Your future career
In addition to masterclasses from visiting professional directors, you will also undertake assistant director attachments within LAMDA, working with both in-house and visiting directors.  Most recently these have included Phillip Breen, Tinuke Craig, Iqbal Khan, Rebecca Frecknall, Ria Parry, Anthony Clark, Lekan Lawal and Lisa Spirling.
Industry professionals are invited to watch your final production and offer their feedback. Over the past two years, these guests have included Natalie Abrahami, Ned Bennett, Giles Croft, Mike Longhurst, Roxanna Silbert and Lyndsey Turner.
Applications
Applying to LAMDA can be done quickly and easily. You can pause and resume your application at any time. Applications are now closed for our full time courses, and applications for 21/22 will open in October 2020. 
Let me know when applications open