MA Directing
Contemporary and wide-ranging vocational postgraduate training for talented emerging directors.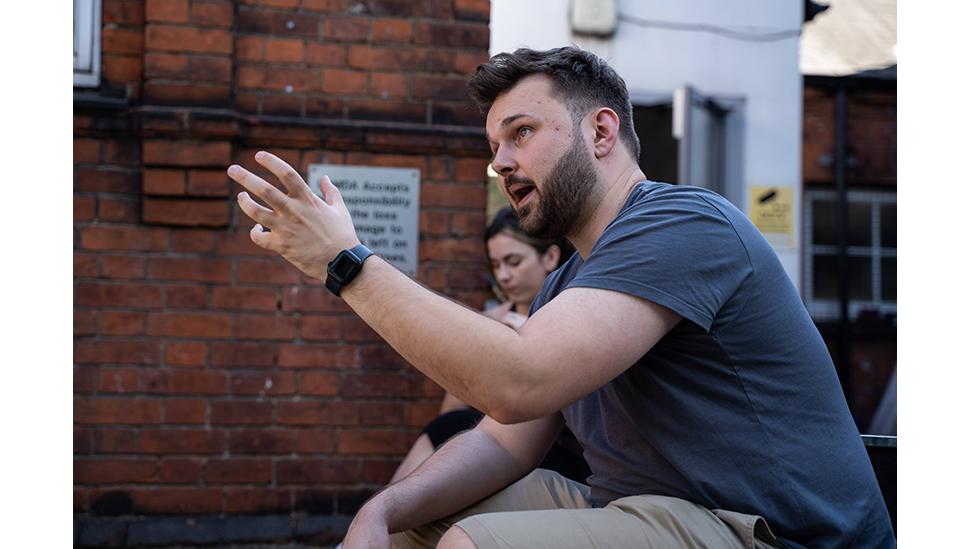 Tuition fees
Tuition fees for 2024/25 entry are pending.
Please note tuition fees are reviewed annually
Application process:
Application made directly to LAMDA, followed by a first round interview and second round interview, if successful.
Applications for 24/25 entry are now open:
About the course
In your first term, you will observe and participate in core LAMDA training alongside postgraduate acting students, working across the disciplines of acting, voice, movement and singing in order to develop an understanding of the actor's process.
You will participate in seminars in text analysis and interpretation, and the aesthetics and processes particular to screen, as well as directing your fellow students in short scene studies.
In your second and third terms, you will assist professional directors on projects, onsite or digital productions, an original short film and an actors' workshop at LAMDA. And during the spring holiday, you will collaborate with LAMDA actors to devise an original piece of theatre – an opportunity to put into practice what you have learned and develop your dramaturgical skills.
Your year will finish with you directing and realising a play of your choice in one of our performance spaces including invited industry. Over the past two years, these guests have included Natalie Abrahami, Ned Bennett, Giles Croft, Mike Longhurst, Roxanna Silbert and Lyndsey Turner.
This process may be subject to change for 24-25 entry.
Application form
To apply for the MA Directing course, applicants must click 'Apply Now' on the course page and fill out the application form. The application form requires a CV and Personal Statement.
After we have received and processed your application, our Admissions team will email you to invite you to the next stage.
First round
Applicants will be offered a first round interview online, via Zoom, with two LAMDA practitioners. The interview will last 40 minutes and will refer to the applicant's Personal Statement and CV in the application form. A portfolio or website or links to work online is not compulsory, but advised.
Results of the first round
The applicant will then be notified whether their first round interview has been successful or unsuccessful.
Second round
If successful, the applicant will progress to the second round, which consists of a practical session followed by a second interview.
Second round interviews will take place between May - July, (dates may be subject to change).
Applicants will be contacted by the Admissions team with more specific information ahead of their recall. Requests for further information can be put in writing to 

[email protected]
Notification of final result
Our Admissions team will do their best to share the result within two-three weeks. They will let you know if; 
You've been offered a place on the course

You've not been successful this time
We have been training visionary and versatile directors for almost 20 years, and they have gone on to build rewarding and sustainable careers in the industry. The transformational impact of our training lies in our receptiveness to current industry practice, a commitment to preparing you for all aspects of performance production and to nurturing the individuality of your focus and passion.
During this one-year postgraduate MA Directing programme you will build your practice through an intense programme of practical classwork, reflective tutorials and attachments as assistant directors on LAMDA productions, supporting the work of professional directors. Your training will culminate with you directing a play of your choice which will be shared with industry professionals.
Teaching takes place at LAMDA in Barons Court, west London (30 minutes from central London), although course components may be offered either via blended learning (a mix of online/onsite delivery) or components may be delivered via 100% online tuition.
You must have completed a college or university course, or have adequate professional experience to meet the demands of the course. You must also have been sufficiently involved in theatre (professional or student) in order to demonstrate serious professional intent on pursuing a career as a director.
You must also be a fluent English speaker. Non-native speakers do not need to provide an English language test report when they apply as we assess English at the auditions and interviews. However, you'll need to provide a valid IELTS test report with an overall score of seven if you're offered a place. We can only accept IELTS for UKVI.
Tuition fees
Tuition fees for 2024/25 entry are pending. Tuition fees are reviewed on an annual basis.
Course fees confirmed in an offer letter may be increased in further years of study by an inflationary amount determined in accordance with measures set by government.
Application fee: £15
Find out about fee waivers here.
Your future career
In addition to masterclasses from visiting professional directors, you will also undertake assistant director attachments within LAMDA, working with both in-house and visiting directors. Most recently these have included Chris Sonnex, Amelia Sears, Jade Lewis, Matt Hassall, Anna Marsland, Anthony Lau, James Yeatman and Sam Curtis Lindsay.
Industry professionals are invited to watch your final production and offer their feedback. Over the past two years, these guests have included Natalie Abrahami, Ned Bennett, Giles Croft, Mike Longhurst, Roxanna Silbert and Lyndsey Turner.