Semester Programme Classical Acting – Spring 2022
If you're looking to develop your practical skills with advanced training, this intensive 14-week study abroad programme is for you.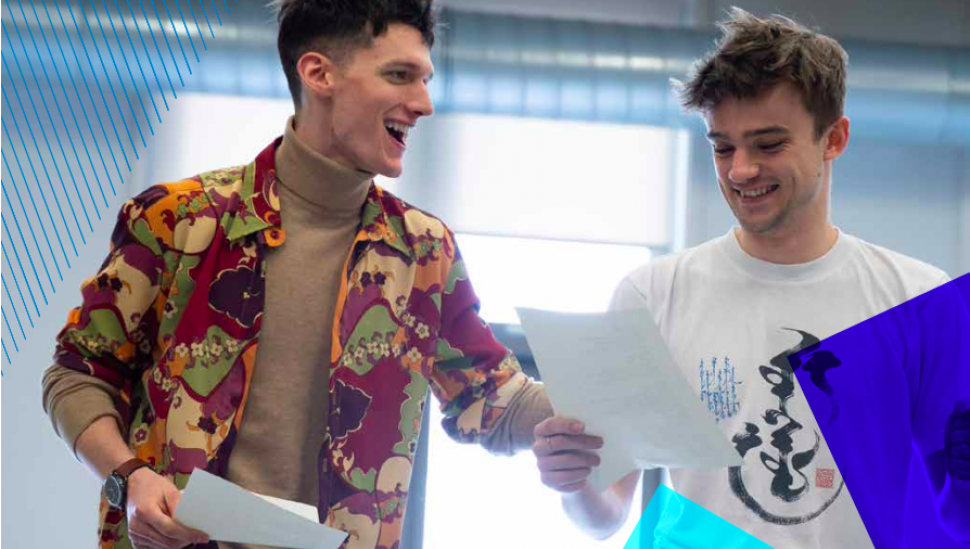 Minimum age
18
Academic requirements
None, but previous acting experience is needed
Course length
One semester, Spring 2022 (14 weeks)
Admission process
By application
Accreditation
Four modules at HE Level 5, totalling 60 credits, awarded by LAMDA
Is this course for me?
Whether you're a UK or international student, if you want to immerse yourself in classical texts and get specialist teaching from brilliant industry professionals, these are the courses for you.
They provide an intensive burst of conservatoire training and take place each autumn and spring, and are carefully designed to deepen your engagement with classical texts and develop your repertoire of practical skills so you can achieve your potential as an actor.
You'll learn the essential core techniques through classes which cover topics such as acting, voice, movement, physical theatre and singing.
This course is designed with international students in mind and typically suits those from North America as a study abroad programme. However, a small number of places are available for those from the UK. Apply online to avoid disappointment or you can email us on [email protected] to check availability.
You will need some experience of acting, so you will need to detail that on your application.
We also require a level of English that is approximately IELTS 6.5. It's not mandatory for English language tests to have been taken prior to attending this short course. However, we recommend that non-native English speakers who have not completed Level 6.5 IELTS must have the equivalent English language experience.
You can apply through us directly or, for international students, through the Study Abroad Office of your home university or college. We're also happy to accept applications from individuals who are not currently studying at a university or college.
Spring semester 2022
Monday 10 January - Thursday 14 April 2022
Course fees for 2021/22
UK: £4,625
International: £10,334​​​​​
Course fees for 2022/23
UK: £4,625
International: £10,850
Application fees
There is a £21 application fee.
Funding
There is no UK government funding available for this course. If you're thinking of applying, you will need to be self-financing.
If you're from outside of the UK or EU, you should speak to your home university for information on study abroad programmes.
Our semester programmes are not eligible for the US Federal Direct Loan Program. Find out more information regarding funding for International Students.
Terms & Conditions
Please see below for information about out cancellation / refund policy.
All about the course
The spring semester is based around scenes from Shakespeare's histories and tragedies, and from English comedies of manners.
The course will be a blend of in-person and online learning. You will be welcomed to LAMDA and have opportunities to fully immerse yourself in our bustling community.
There will be the opportunity to take part in social and enriching activities, both online and in London (while still being mindful of Covid-19 restrictions). The semester will also include exclusive masterclasses with leading industry professionals and LAMDA alumni.
To learn about our autumn semester course, click here.
If you are a current or prospective student for 2021/22, then your experience at LAMDA may differ from some of the information you will find on this page. LAMDA will be following the government's guidance and measures as they evolve, in order to keep students, staff and visitors healthy and safe. This means the teaching, learning and assessment of our courses may alter, though at time of writing (May 2021) we are happy to say that we have been enjoying being back in our building for in-person classes since the end of March.
If we are required to make changes, we will update you about these changes on our dedicated page here.
When we receive your application, our admissions team will send you up-to-date information about what you can expect from the process. If you have any questions, you can reach the team on [email protected].   
This page features a breakdown of all the course modules for this course. You may also find it helpful to read LAMDA's Covid-19 Amended Delivery Overview. This document contains more information about our commitment to the students attending LAMDA in 2021/22, their experience and the way we intend to deliver courses. We hope it will help you make an informed choice about your studies.
We expect to be using blended learning methods in 2021/22, and we may need to update the specific nature of delivery as guidance from UK and local government evolves. By accepting an offer and enrolling on to a course in 2021/22 you are agreeing to the changes we make to course delivery for the sake of Covid-19 security. You can find further information about this on our FAQ page.
Current students should note that alongside the website, LAMDA will use email and our intranet, LAMDA World, to let you know about changes to the content, syllabus, mode of delivery, term dates and timetable, in line with our terms and conditions
All teaching staff are experienced and active industry professionals. In addition, many key staff hold, or are working towards, Fellowship or Senior Fellowship of the Higher Education Academy (now Advance HE).
Teaching takes place at LAMDA in Barons Court, west London, although course components may be offered either via blended learning (a mix of online and onsite delivery) or entirely online.
You will take part in at least 30 hours practical work a week. This will be spent in both class and rehearsal. Your outline timetable will be produced before your course starts, so that you can start planning your schedule. In order for you to get the most of your time with us, there may also be sessions on Saturdays, as well as a series of evening masterclasses with special guests (subject to availability and Covid-19 restrictions).
Our student and academic services team provides access to a full range of appropriate academic support, including study skills, support for learners with dyslexia or dyspraxia, and other physical equipment or software needed to support you.
Student and academic services also arrange access to any specialist help needed to support your physical or mental wellbeing, such as physiotherapy, vocal health or counselling. You'll also have free online support with our digital health and wellbeing platform - Togetherall.com
Your course work will be assessed using UK higher education marking criteria and you will be provided with official transcripts of the course. Additional information about grading and assessments can be found in the Course Handbook, the Academic Regulations and the Credit Framework. The team in Student & Academic Services can help you convert marks into US credits and GPA or ECTS credits if you wish. Final decisions about onward use of credit lie with your 'home' institution. If you have any queries about this, get in touch with our admissions team for further details.
We're here to help
At LAMDA, we're a family. We'll make sure you get all the support you need to feel at home. Read on for more information about accommodation, visas, healthcare, housing, insurance and student support.