MFA Professional Acting
If you want to work as an actor and maker in the creative sector, our MFA acting programme offers an outstanding training. It will position you as an accomplished artist, with the ability to forge your own unique path in the industry.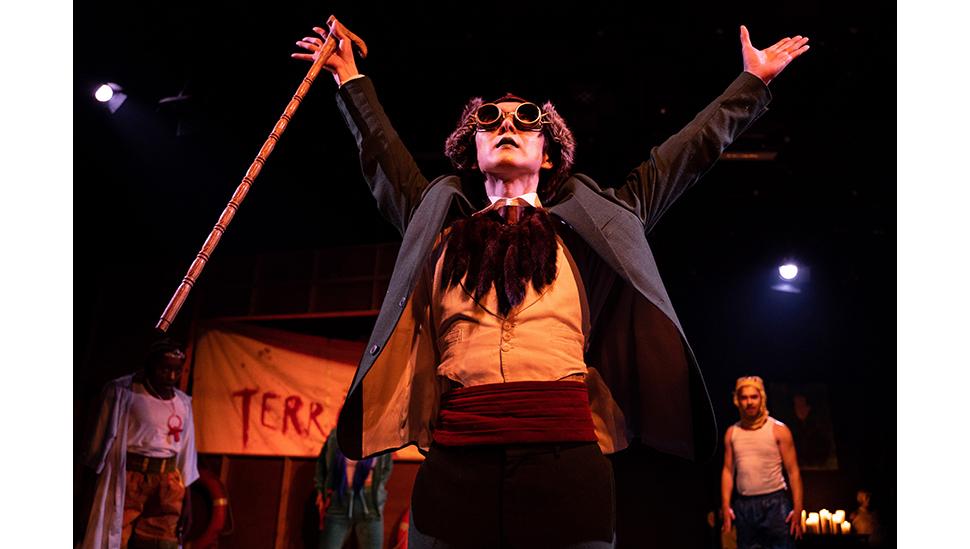 Tuition fees
Tuition fees for 2024/25 entry are pending. Fees are reviewed annually.
Previous 2023/24 entry:
UK applicants: £14,453 per year
International applicants: £24,092 per year
Application fees 
£88 for US-based applicants for in-person auditions. 
​​​​​£27.50 UCAS fee (for 6 choices) for UK & International applicants, plus £15 first-round audition fee. Recall fees to be confirmed. 
Application deadline
2 April 2024
Please note applications for the North American audition tour will close earlier.
Apply now
UK & International applicants:
Applicants based in North America:
Applicants based in North America follow a different audition process. Early applications are advisable as cities and dates fill up quickly. Once a venue, city or date is fully booked, applications will be closed and we will refer you to the next available date, if possible.
About the course
In the two years you'll be working mainly in small-group classes and will receive frequent, personalised feedback and support to advance your skill-set and accelerate your career.
You'll develop an informed, open, yet questioning, approach to the craft of acting. This will set you up with the skills and confidence to become an independent minded practitioner with considerable professional versatility and creativity.
This masters degree in acting provides rigorous, world-class conservatoire training combined with industry-level postgraduate project work. The course is open to those from any background, but especially for those who want to shake up the ecosystem of the creative skills industry, and use their abilities to challenge the status quo and shape new landscapes for dramatic art.
In your first year, you'll cover the core disciplines of acting, voice, movement and music in intensive classes, alongside workshop projects which may include contemporary texts, classical plays, and late 19th/ early 20th century European naturalism. These workshops will give you an opportunity to apply the skills you've learnt in class.
You'll also begin to explore how to deliver convincing screen and audio performances. and take part in a new writing project with exciting, pioneering writers, exploring the role of the actor as a collaborative artist.
Modules:
The final year will prepare you to become an independent and stand-out professional within the industry. You'll be immersed in a series of performances on stage, screen and in audio drama, including a professionally written, directed, crewed and post-produced short film. Recent LAMDA graduation films have been selected for national and international film festivals. The final element of your training will be centred on the collaborative development and performance of a small group piece of original, self-created, theatre.
You'll also have the opportunity to share your artistry, skills and experience with younger audiences and potential theatre-makers. The annual Shakespeare in Schools programme is an opportunity for our graduating MFA actors to share a bespoke project with secondary schools and colleges, culminating in fast-paced adaptations of Shakespeare's popular works and workshops directly engaging with their younger audiences.
In your training LAMDA will offer you some opportunities for masterclasses, lectures, talks, and where possible, open auditions with industry professionals. Finally, a unique feature of this course is the chance to train as a LAMDA Exams teacher.
Modules:
This MFA Professional Acting course is a two-year postgraduate programme for those who already have a BA or BFA degree, or comparable professional experience, and want to take the next steps to develop their talents further and become a successful, entrepreneurial, creative artist.
Acting Courses Equipment List
A lot of the work at LAMDA is physical/movement based you should always be dressed comfortably in clothes that do not prohibit movement.
Essential
Basic black sweatshirt
Basic black T-shirt
Black sweatpants/jogging bottoms
Yoga mat – For reasons of hygiene we recommend that students purchase their own.
Highly recommended
For rehearsal/character work
Black trousers and/or skirt. Skirt should be floor length and loose. Skirts may also be needed for certain dance lessons.
White shirt.
Black shoes with a solid heel (not trainers) or character shoes
Laptop/tablet.
Wi-Fi
Recommended
Black footless tights
Trainers
Books
Your recommended reading lists will be sent out separately. Most of these books can be found in the LAMDA library therefore there is no need to purchase. These books are for reference and additional learning.
Other
It can be useful to have a recording device so that you can record accents, music etc. It is sufficient to have a phone with the facility to record sound.
You need to be a fluent English speaker. Non-native speakers do not need to provide an English language test report when they apply as we assess English at the interviews. However, you'll need to provide a valid IELTS test report with an overall score of 6.5 if you're offered a place. We can only accept IELTS for UKVI.
Tuition fees
Tuition fees for 2024/25 entry are pending. Fees are reviewed annually.
Previous 2023/24 entry:
UK: £14,453 per year
International students: £24,092 per year
Application fees 
£88 for US-based applicants for in-person auditions. 
​​​​​£27.50 UCAS fee (for 6 choices) for UK & International applicants, plus £15 first-round audition fee. Recall fees to be confirmed.  
If you're interested in applying to two or more LAMDA courses, please let the Admissions team know by emailing [email protected]. There is no need to apply to more than one LAMDA course in your UCAS application choices.
Find out if you qualify for a fee waiver here.
Course fees confirmed in an offer letter may be increased in further years of study by an inflationary amount determined in accordance with measures set by government.
Each day will be different, but you can expect the teaching to take shape in any of the following formats:
Tutor-led class work
Tutor-led tutorials
Guest lectures, workshops and seminars
Research projects
Collaborative learning, including scene studies, workshops, rehearsals and performances
Non-mediated student learning to encourage self-reflective practice
Peer evaluations – a central part of actor training in an ensemble situation
Our specialist careers support covers guidance on working as an actor and on broader, more entrepreneurial routes into the industry, including the chance to train to teach LAMDA Exams.
When you graduate, you'll leave with a professionally-shot show reel and a voice reel. Agents and casting directors are invited to attend selected productions and film screenings. You'll also take part in a duologue showcase and a digital showcase shared with key industry professionals.
You'll also have access to the Genesis LAMDA Network when you graduate, which provides mentoring and a bridge into the industry. Find out more about how LAMDA support you beyond your training here.
Eligible to work in USA or Canada?
LAMDA's training will culminate in a series of professional development and industry events to support your growth as a professional artist and the start/continuation of your career in North America. This may include digital or in-person events to help graduates gain exposure and will be tailored each year to best suit the current industry.
Further Resources
Find out more information about the application process, training at LAMDA and funding on our website. If you need any help, contact our friendly Admissions team.
Get in touch