MFA Professional Acting
If you want to work as an actor and maker in the creative sector, our MFA acting programme offers an outstanding training. It will position you as an accomplished artist, with the ability to forge your own unique path in the industry.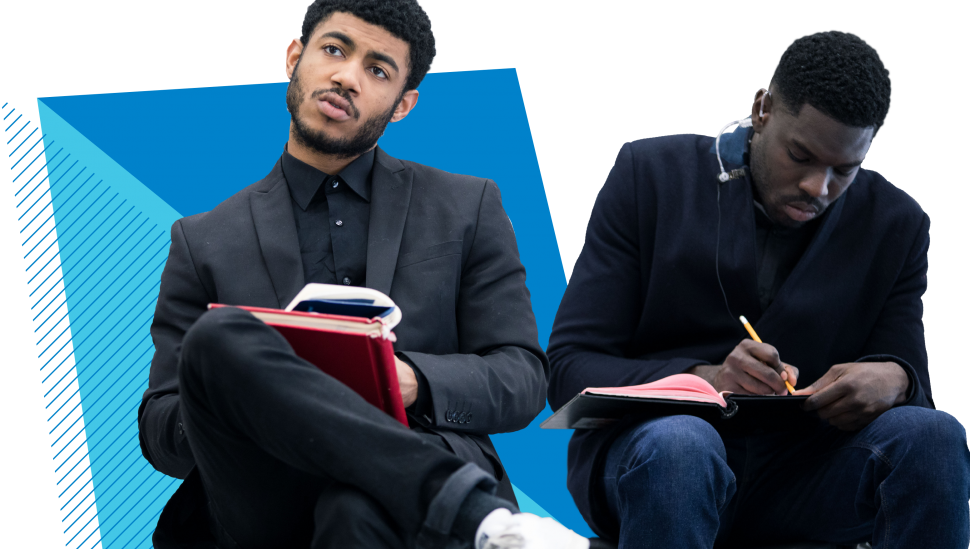 Minimum age
20
Academic requirements
Degree or relevant professional experience
Course length
Two years
Tuition fees
For academic year 2020/21: 
UK/EU: £12,731 per year
International: £21,218 per year
Applications
Are now closed for this course starting in autumn 2020. Applications for 21/22 will open in October 2020
Admission process
Application and audition
Degree awarded by
U​​​​niversity of Kent
Amendments for Covid-19
If you are a current or prospective student for 2020/21, then how you experience our training will be different to some of the details below. Please read this document to find out more about the experience we are committed to offering you, so that you can make informed choices about your studies. By accepting and enrolling on to a course in 2020/21 you agree to these changes. You can find a breakdown of modules for this course below. For further information see our FAQ page.
Is this course for me?
This MFA Professional Acting course is a two year postgraduate programme for those who already have a BA or BFA degree, or comparable professional experience, and want to take the next steps to develop their talents further and become a successful, entrepreneurial, creative artist.
You need to be a fluent English speaker. Non-native speakers do not need to provide an English language test report when they apply as we assess English at the interviews. However, you'll need to provide a valid IELTS test report with an overall score of 6.5 if you're offered a place.
First year students:
Autumn Term: 28 September - 18 December 2020
Spring Term: 4 January - 9 April 2021
Summer Term: 3 May - 2 July 2021
Second year students:
Autumn Term: 7 September -18 December 2020 
Spring Term: 4 January - 9 April 2021
Summer Term: 3 May - 2 July 2021
Tuition fees
For academic year 2020/21:
UK/EU: £12,731 per year
International: £21,218 per year
Application/audition fees
UK/EU auditions
First round audition fee: £12
Recall audition fee: £48
North America auditions
Total fee: £100
All about the course
In the two years you'll be working only in small-group classes and will receive constant, personalised feedback and support to advance your skill-set and accelerate your career.
You'll develop an informed, open, yet questioning, approach to the craft of acting. This will set you up with the skills and confidence to become an independently-minded practitioner with considerable professional versatility and creativity.
This masters degree in acting provides rigorous, world-class conservatoire training combined with industry-level postgraduate project work. The course is open to those from any background, but especially for those who want to shake up the ecosystem of the creative skills industry, and use their abilities to challenge the status quo and shape new landscapes for dramatic art.
In your first year, you'll cover the core disciplines of acting, voice, movement and music in intensive classes, alongside workshop projects including contemporary texts, Jacobean plays, and late 19th / early 20th century European Naturalism. These workshops will give you an opportunity to apply the skills you've learnt in class.
You'll also work with screen and audio and take part in a new writing project with exciting, pioneering writers, exploring the role of the actor as a collaborative artist.
Modules:
The final year will prepare you to become an independent and stand-out professional within the industry. You'll be immersed in a series of public performances on stage and screen, including a professionally shot and scripted film. The final element of your training will be centred on the collaborative development and performance of your group's own original piece of devised theatre.
You'll also have the opportunity to share your artistry, skills and experience with younger audiences and potential theatre makers as you tour with Shakespeare in Schools, an annual programme where graduating MFA actors tour local secondary schools and colleges with fast-paced adaptations of Shakespeare's popular works.
Throughout the year, you'll have access to LAMDA's Careers Team and the chance to attend lectures, masterclasses and open auditions with visiting industry professionals. 
Finally, a unique feature of this course is the chance to train as a LAMDA Exams teacher.
Modules:
All teaching takes place at our main campus at Barons Court in west London. If your final year production goes on tour, you may go to other locations in the UK and overseas.
Our Academic Services team provides access to a full range of appropriate academic support, including study skills, support for learners with dyslexia or dyspraxia, and other physical equipment or software needed to support you.
Academic Services also arrange access to any specialist help needed to support your physical or mental wellbeing, such as physiotherapy, vocal health or counselling. You'll also have free online support with our digital health and wellbeing platform - Togetherall.
Our Higher Education qualifications are all currently awarded by the University of Kent. However, we're undergoing a process which may result in our being able to award our own degrees. If this is the case, we'll let you know, and if you're already enrolled with us you'll be able to choose whether you would prefer to receive your award from the University of Kent or from LAMDA directly.
We're here to help
At LAMDA, we're a family. We'll make sure you get all the support you need to feel at home. Read on for more information about accommodation, visas, healthcare, housing, insurance and student support.
Your future career
Our specialist careers support covers guidance on working as an actor and on broader, more entrepreneurial routes into the industry, including the chance to train to teach LAMDA Exams.
When you graduate, you'll leave with a professionally-shot show reel and a voice reel. Agents and casting directors are invited to attend all public productions and film screenings. You'll also take part in a duologue showcase in front of key industry professionals.
You'll also have access to the Genesis LAMDA Network when you graduate, which provides mentoring and a bridge into the industry.
If you are eligible to work in the USA or Canada, and are able to fund your own travel, accommodation and living expenses, you can participate in our showcases in New York and Los Angeles in the autumn following graduation and after your course has ended, and / or take part in the Next Generation showcase in Ontario, Canada. Showcase participants will also receive bespoke classes from a US industry expert.
Applications
Applications for our full-time courses open this Autumn - sign up here and we'll email you when they open. You can still apply for an intensive summer short acting course. Applying to LAMDA can be done quickly and easily. You can pause and resume your application at any time.