BA (Hons) Professional Acting
Get ready for an exhilarating and challenging journey to prepare you for life as an independent, creative professional actor.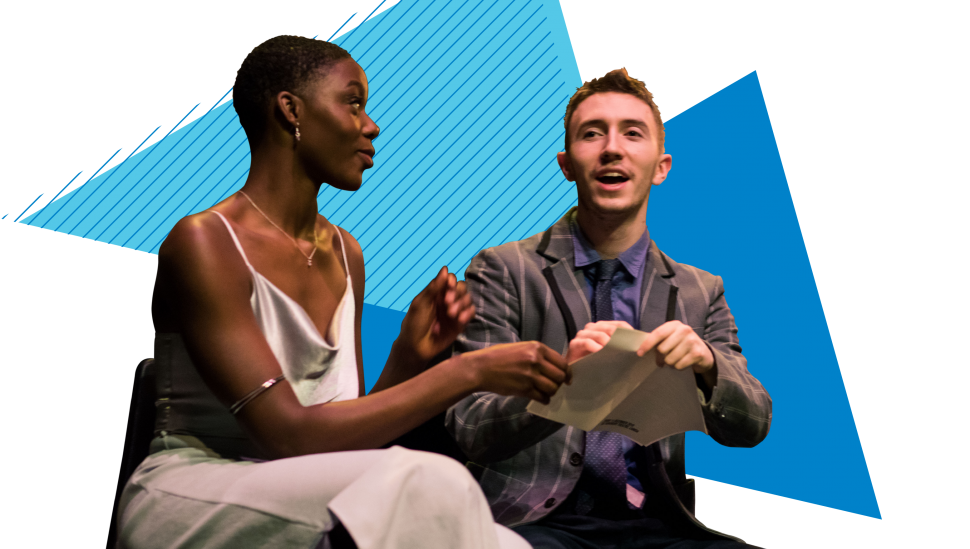 Minimum age
18
Academic requirements
None
Course length
T​​​​hree years
Tuition fees
For academic year 2020/21:
UK/EU: £9,250 per year
International: £20,259 per year
Tuition fees are reviewed annually. 
Applications
Are now closed for this course starting in autumn 2020. Applications for 21/22 will open in October 2020
Admission process
Application and audition
Degree awarded by
U​​​​niversity of Kent
Amendments for Covid-19
If you are a current or prospective student for 2020/21, then how you experience our training will be different to some of the details below. Please read this document to find out more about the experience we are committed to offering you, so that you can make informed choices about your studies. By accepting and enrolling on to a course in 2020/21 you agree to these changes. You can find a breakdown of modules for this course below. For further information see our FAQ page.
Is this course for me?
Do you have the determination and drive to achieve your creative potential? This BA acting course is designed to challenge and guide you to become an exceptional, independent artist. It will equip you with the knowledge, insight and techniques you need to thrive.  
At the end of the course, you'll be ready to contribute intellectually and imaginatively to the creative skills industry. You'll be able to demonstrate your refined talent and performance abilities across a full range of dramatic work at the highest levels of the profession. 
We won't teach you just one methodology of acting, instead you'll learn a wide range of techniques and skills, designed to provide you with the flexibility and knowledge to develop your own process and expression of the craft. These include traditional and established techniques and more contemporary techniques which harness the exciting world of new media.
We know learning technical skills and gaining a deep understanding of stage craft is important, but we also make sure our training techniques are up to date with the evolving world in which we live.
You should be a fluent English speaker. Non-native speakers do not need to provide an English language test report when they apply, as we assess this at the auditions. However, you'll need to provide a valid IELTS test report with an overall score of seven if you're offered a place.
LAMDA does not make conditional offers, or adjust entry requirements according to non-academic criteria.
First year students:
Autumn Term: 28 September - 18 December 2020
Spring Term: 4 January - 9 April 2021
Summer Term: 3 May - 2 July 2021
Second year students:
Autumn Term: 14 September - 18 December 2020 
Spring Term: 4 January - 9 April 2021
Summer Term: 3 May - 2 July 2021
Third year students:
Autumn Term: 7 September - 18 December 2020 
Spring Term: 4 January - 9 April 2021 
Summer Term: 3 May - 2 July 2021
Tuition fees
Academic year 2020/21:
UK/EU students: £9,250 per year
International students: £20,259 per year
Application/audition fees
UK/EU auditions
First round audition fee: £12
Recall audition fee: £48
North America auditions
Total fee: £100
All about the course
You'll be encouraged to take an independent and imaginative approach to the craft, as you build a full range of relevant movement, voice, musical and acting skills.  
Although rooted in established and traditional expertise, the skills you'll learn will draw on the latest developments in the industry, enhanced both by the teaching staff's know-how and by the advancements in performance technology which we have to hand in our future-facing facilities. 
The ensemble is at the heart of how we'll train you. Drama is a collaborative art form and we place great emphasis on the individual's responsibility to the group and the group's responsibility to the individual. This creates an atmosphere of mutual respect where creativity can flourish.  
You'll gain confidence during our organic training, learning that an authentic and enthusiastic approach is the best preparation for a life in a profession which will throw up constant challenges. You'll learn how to meet these challenges head-on from the new knowledge and skills you'll develop in your training.
In the first year, you will get to grips with the essential groundwork in core performance skills of acting, voice work, movement and music. Classes include pure voice and movement, stage combat, Laban, the Michael Chekhov technique, group and individual singing, Alexander Technique, improvisation and a wide range of other disciplines. You'll also be taking part in workshop projects in contemporary scenes, Jacobean scenes and Greek drama.
You'll be introduced to the key skills you'll need for professional careers in all media areas, such as theatre, audio, film, TV and radio.
Throughout the year you'll be guided through an exploration of the craft, psychology and process of acting, with constant personalised feedback and support.
You'll continue your professional and personal development through a range of varied classes.  
You'll start to explore a range of different characters and styles of acting through collaborative projects. This will include Shakespeare, restoration drama, 19th and early 20th century European naturalism, contemporary texts, and musical theatre.  
You will also collaborate with some of the UK's most exciting industry leaders and practitioners and work with writers and directors to develop new work for the stage, screen and audio.
For example, in the new writing project you'll take part in workshops designed to develop a new play by an exciting contemporary playwright – discovering through the process the role that performers have in shaping scripts. Our current students have been working with writers such as Chinoyerem Odimba, Zodwa Nyoni, Barney Norris, Jon Brittain, Phil Porter, Rob Evans and Sam Potter. 
For some examples of our screen and audio work, take a look at our graduate student films.
In your final year, you'll really strengthen your skillset and stretch your creative abilities as you perform in a sequence of public productions across our three performance spaces. These are directed by industry professionals and senior teaching staff, and programmed to stretch your creative ability to its fullest.  
You'll also showcase and develop your skills by performing in a professionally directed and edited short film shot on location, work on radio plays, and create your own voice and showreel. There'll be opportunities to observe professional screen and audio work - on set and in the studio.
Throughout the year you'll continue to receive voice, movement and singing support on all of your projects.
To support your transition into the industry, you'll present two separate evenings of duologues in front of casting directors and agents, and you'll get audition training and experience mock auditions with professional screen casting directors. If you're eligible to work in the US, you'll be able to take part in showcases in New York and Los Angeles.
Leading professionals will run workshops to share their invaluable insights, and you'll receive lectures and guidance on all aspects of life as a professional actor including accounting, interview and audition techniques, and you'll have access to a career councillor throughout the year.
Finally, a unique feature of this course is the chance to train as a LAMDA Exams teacher.
What will I be doing?
Each day will be different, but you can expect the teaching to take shape in any of the following formats: 
Tutor-led class work 
Tutor-led tutorials 
Guest lectures, workshops and seminars 
Research projects 
Collaborative learning, including scene studies, workshops, rehearsals and public performances 
Non-mediated student learning to encourage self-reflective practice 
Peer evaluations - a central part of actor training in an ensemble situation 
This course has a maximum intake of only 30. There are normally 7 - 15 students in each class so you'll be working closely with the teacher in small groups, but you'll also have plenty of time to get personalised one-on-one training and some sessions will involve the whole group.
All teaching takes place at our main campus at Barons Court in west London. If your final year production goes on tour, you may go to other locations in the UK and overseas.
Your outline timetable will be produced one month before each term starts, so that you can start planning your time. Detailed timetables, including the specific rooms, are produced at the end of the week preceding delivery. There are three terms per year, beginning in September, January and April. 
You'll be expected to train for approximately 35 hours per week and all classes are compulsory. For first and second year students, Wednesday afternoons are usually kept free from formal classes, although you may wish to take part in optional extra-curricular activities during this time.  
We are currently reviewing our course teaching timetable, so the term dates and timetable for 2020-21 onwards, and some of the details of the course content, may change after you have applied. You'll be consulted first before any significant changes.
Our Academic Services team provides access to a full range of appropriate academic support, including study skills, support for learners with dyslexia or dyspraxia, and other physical equipment or software needed to support you.
Academic Services also arrange access to any specialist help needed to support your physical or mental wellbeing, such as physiotherapy, vocal health or counselling. You'll also have free online support with our digital health and wellbeing platform - Togetherall.
How will I be assessed?
You'll be assessed continuously during all your classes and rehearsals. There will also be a summative assessment which takes place at the end of each term or performance project, and typically includes marks for preparation, process and outcome. 
Besides the daily feedback from teaching staff in classes and rehearsals, you will also receive detailed written feedback at the end of every term and, for final year students, at the end of each public production.
Credits: 360 credits in total (each year is 120 credits)
All modules each year are compulsory.
Year 1 (pass/fail)
Year 2 (40% of final degree mark)
Year 3 (60% of final degree mark)
Our Higher Education qualifications are all currently awarded by the University of Kent. However, we're undergoing a process which may result in our being able to award our own degrees. If this is the case, we'll let you know, and if you're already enrolled with us you'll be able to choose whether you would prefer to receive your award from the University of Kent or from LAMDA directly.
We're here to help
At LAMDA, we're a family. We'll make sure you get all the support you need to feel at home. Read on for more information about accommodation, visas, healthcare, housing, insurance and student support.
Your future career
When you graduate, you'll leave with a professionally-shot show reel and a voice reel. Agents and casting directors are invited to attend all public productions and film screenings. You'll also take part in a duologue showcase in front of key industry professionals.
You'll also have access to the Genesis LAMDA Network when you graduate which provides mentoring and a bridge into the industry.
In your final year, you'll have access to the support and guidance of our Careers Team and can attend lectures, masterclasses and open auditions with visiting industry professionals.
Eligible to work in USA or Canada?
If you are eligible to work in the USA or Canada, and are able to fund your own travel, accommodation and living expenses you can participate in our showcases in New York and Los Angeles in the autumn following graduation and after your course has ended, and / or take part in the Next Generation showcase in Ontario, Canada. Showcase participants will also receive bespoke classes from a US industry expert.
Applications
Applications for our full-time courses open this Autumn - sign up here and we'll email you when they open. You can still apply for an intensive summer short acting course. Applying to LAMDA can be done quickly and easily. You can pause and resume your application at any time.