Naomi Asaturyan
Height

5'4"

Hair

Brown

Eyes

Brown

Voice

Alto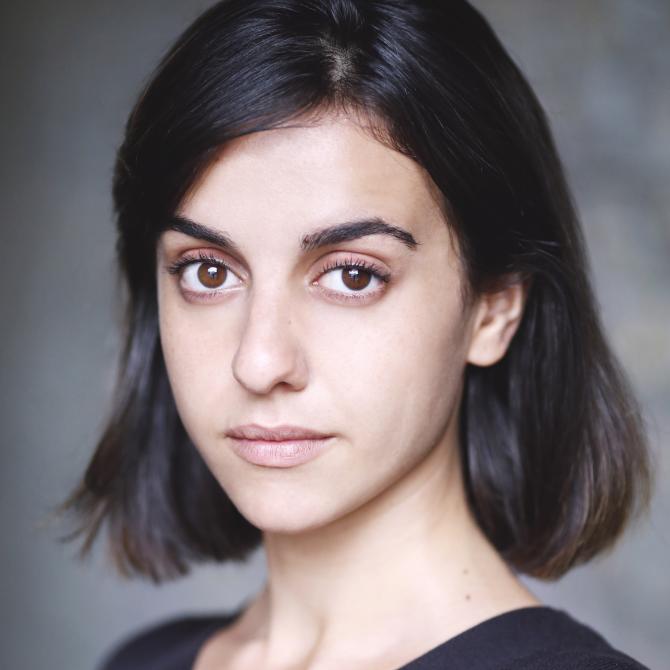 In place of our regular live showcase, we have brought together a Digital Showcase to feature the skills and talents of our graduating year. 
Here you can explore Naomi Asaturyan's digital showreel, which includes a theatrical scene, self-created work made during the Covid-19 lockdown, audio reel and a short film written and directed by professional film-makers.   
Across the 12-week period of lockdown, all graduating students on the two year and three year acting courses collaborated with a dramaturg to develop and create their own self-created piece.
The MFA Acting students created pieces that ranged from Mockumentaries, monologues to drag shows. These were personal responses to the prompt of why you, why now, who for? Dramaturged and creatively supported by Lauren Mooney and Laura Bridgeman.
Audio reel
Click the link below to listen to Naomi Asaturyan's audio reel. 
Check back soon as we'll be adding a link to our series of audio-drama pilots made with our creative partner Audible. You can read more about our audio work during the Covid-19 lockdown here. 
Stella
Love Stories (short film)
Directed by A J Quinn
Loretta/Mary Magdalene/Sister Glenna
The Last Days of Judas Iscariot
Directed by Sam Curtis Lindsay
Diana Lake
French Without Tears
Directed by Penny Cherns
Gertrude
Hamlet
Directed by Tatty Hennessy 
Masha
Three Sisters
Directed by Caroline Leslie
Lucy, Dainty Fidget
The Country Wife
Directed by Beth Vyse
Beatrice
The Changeling  
Directed by Helena Lymbery 
Professional theatre, TV, film & radio 
Nancy
Do Not Alight Here
The Actors Centre (2019) 
Livia
Valparaiso
Directed by Theodora Tavener
Michelle
Limescale
Directed by Julia Levai
Olivia
Twelfth Night
Directed by Cecilia Rubino
Narrator
Sixteen Bars
Directed by Cecilia Rubino
Lady Anne
Richard III
Directed by Russel Bently
Rosilla
The Sea Voyage
Directed by Graham Watts
Martha
Uh-oh
Orange County Film Festival (2014)
Ingrid
I Carry Your Heart With Me
Orange County Film Festival (2014) 
Annie
Annie
University High School (2014) 
Laurie
Oklahoma!
University High School (2014)
Eligibility
Eligible to work in the US and UK. 
General American, RP, Russian, Spanish
Historical Dance, Ballroom, Spanish Dance, Hip-Hop​​​​​​
BGSC Level Three (Advanced) Sabre, Staff (Merit)
Piano (Proficient), Guitar (Intermediate)  
LAMDA (MFA Professional Acting 2018-2020) 
The New School (BFA Theatre and Literary Studies, 2013-2017) 
University High School (2009-2013)