Teryn Gray
Graduating MA Classical Actor for the Professional Theatre
Height

5'6"

Hair

Red

Eyes

Hazel

Voice

Mezzo-Soprano / Belt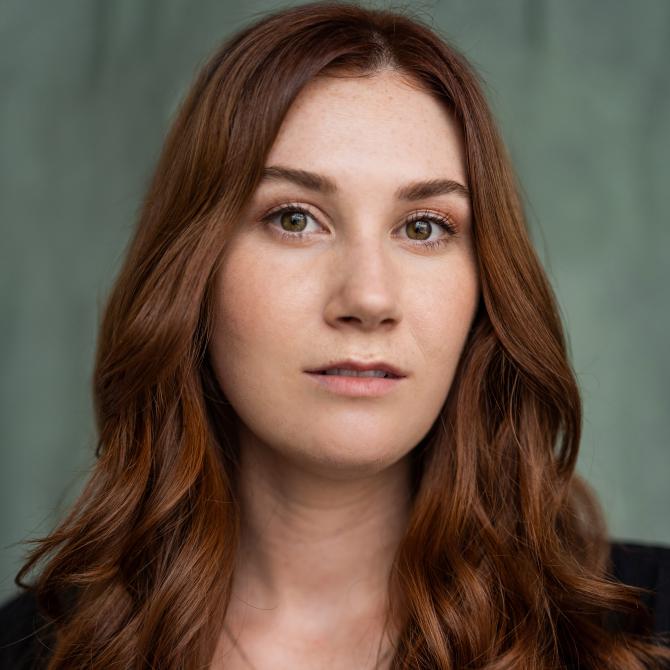 Digital Showcase
In addition to our live showcase, we have brought together a Digital Showcase to feature the skills and talent of our graduating year.
Cymbeline
Cymbeline
Directed by Anna Marsland
Sir James Courtly / Valeria
The Basset Table
Directed by Nick Hutchison
The Duchess
The Duchess of Malfi
Directed by Rodney Cottier
Marcela
The Dog in the Manger
Directed by Oliver Birch
Henry Bolingbroke
King Richard the Second
Directed by Hannah Eidinow
Beatrice
Much Ado About Nothing
Directed by Chris Nayak
Oberon
A Midsummer Night's Dream
Directed by Chris Nayak
Constance
King John
Directed by Tess Dignan
Jo [Lead]
Independence
Directed by Elizabeth A. Davis, Srđa Vasiljević, Alchemical Theatre
CEO [Lead]
Who's Crazy Now?
Directed by Cecil MacKinnon, NYU Tisch
Siren [Featured Soloist]
Salomé
Directed by Kevin Kuhlke, NYU Tisch
Ilse [Lead]
Spring Awakening
Directed by Stafford Arima, U.C. Davis
Irene [Lead]
Crazy For You
Trapdoor Theatre Company, CA
Edwin Drood [Lead]
The Mystery of Edwin Drood
Trapdoor Theatre Company, CA
Lead
A Vast & Curious Universe [Short]
Rebecca Shoptaw Productions
Lead
Mutual [Short]
NYU Tisch Film & TV
Supporting
Leah [Short]
SVA / Saskia Cohen Prod.
Supporting
Oonana [Short]
NYU Tisch / Stonestreet Studios
Supporting
AA/Actor's Anonymous [Short]
NYU Tisch / Stonestreet Studios
Co-Star
Primal Instinct #204
Discovery ID
Promotional - Digital
Pantene x The Wing [voice-over]
Pantene N. America / Proctor & Gamble
General American [Native], American Southern, American Midwest, RP, Scottish
MT, Contemp, Jazz, Modern, Post-Modern [8 years]. Basic: Ballet, Historical Dance, Spanish Sevillanas
Archery, Rowing [Crew], Rock Climbing, Sailing [Small Craft], Riding [Western Saddle], Figure Skating, Valid Hunting License, Firearms & Shooting
British Vogue December 2018 Issue: Designer Profile
LAMDA [MA, Classical Acting for the Professional Theatre, 2020 – 2021] 
New York University, Tisch School of the Arts ― BFA, Acting [with Honors]