Sophia Papadopoulos
Graduating MFA Professional Actor
Height

5'4"

Hair

Brown

Eyes

Blue

Voice

Mezzo-Soprano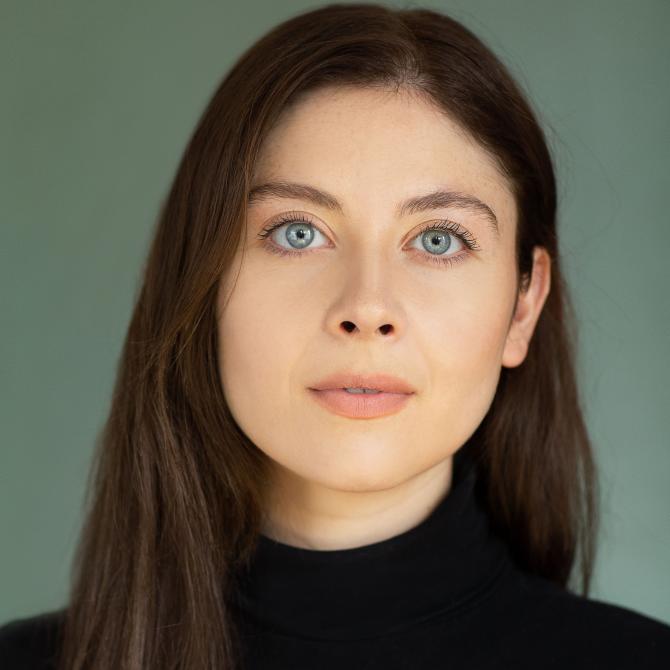 Digital Showcase
In addition to our live showcase earlier this year, we have brought together a Digital Showcase to feature the skills and talents of the graduating year of 2021.
Here you can explore Sophia Papadopoulos' digital showreel, which includes a theatrical showcase, screen scene, self-created work and audio reel. Look out later in the year for a short film written and directed by professional film-makers.
Jiri
Cockpit
Directed by Philip Wilson
Micke
Let The Right One In
Directed by Matt Hassall
Alissa
Holler [short film]
Directed by Katie Peskin
Kat
Parliament Square
Anna Marsland
Ariel
The Tempest
Directed by Vik Sivalingam
Vera
Three Days in the Country
Directed by Caroline Leslie / Matt Peover
Belinda
The Man of Mode
Directed by Hannah Eidinow
Leonella
The Lady's Tragedy
Directed by John Baxter
Sarah
The Overgrown Path
Directed by Penny Cherns
Mary
Our Country's Good
Directed by Chloe Faines, Sedos
Miranda
The Tempest
Directed by Stuart Watson, Putney Theatre Co.
Anna Karenina
Anna Karenina
Directed by Zoe Thomas-Webb, Putney Theatre Co
Marie
Pains of Youth
Directed by Graeme Du Plessis + Emily Clarke, Leeds Theatre Group
​​​​​
Kyra
We Lost Elijah
Directed by Lily Hall, Leeds Theatre Group
Cariola
The Duchess of Malfi
Directed by Sammy Gooch, Leeds Theatre Group
Controller 1
In Control
Airborne Theatre, Edinburgh Fringe
Chiron
Titus Andronicus
Directed by Alex Hargreaves, Leeds Theatre Group
Eligible to work in the UK & EU
RP (Native), Yorkshire, London, Leeds, southern Irish & General American
Flamenco, Historical Dance, Ballroom Dancing (Basic)
Rapier & Dagger, Small-Sword, Unarmed, Quarter-Staff
Tennis, Running, Yoga, Hockey
Full clean driving licence
LAMDA MFA Professional Acting, 2019-2021 
University of Leeds BA (Hons) English and Drama, 2012-2015