Brandie Peterson
Graduating MFA Professional Actor
Height

5'4"

Hair

Dark Brown

Eyes

Dark Brown

Voice

Alto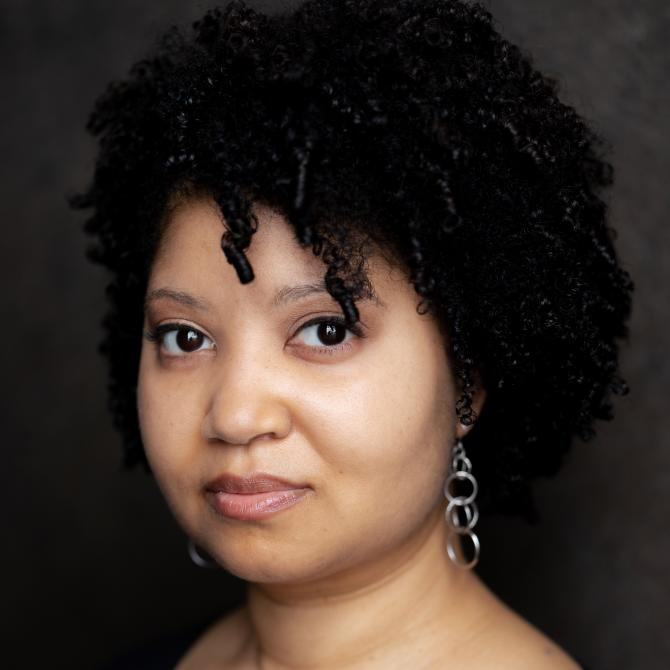 Digital Showcase
In addition to our live showcase earlier this year, we have brought together a Digital Showcase to feature the skills and talents of the graduating year of 2022. 
Nurse 1
The Wonderful World of Dissocia
Directed by Sarah Meadows
Blake
The Room Next Door [Short Film]
Directed by Daniel York-Loh
Mrs Dickson
Intimate Apparel
Directed by Dawn Walton
Gloria / Nan
Gloria
Directed by Ameera Conrad
Hermia
A Midsummer Night's Dream
Directed by Fumi Gomez
Ester
Intimate Apparel
Directed by Ben Bennett
Mariya
Uncle Vanya
Directed by Amy Cudden / Gilbert Kyem Jnr
Lady Macbeth
Macbeth
Directed by Chris Nayak
Gloria
Gloria
Directed by Fumi Gomez
Professional Theatre & TV
Judith B. Kaufman
An American Daughter
Montgomery Playhouse Dir. Bruce Hirsch
Ensemble (Alto Chorus)
H.M.S. Pinafore
2nd Star Productions Dir. Gilbert & Sullivan
Bessie James
45 Seconds from Broadway
Afton Center Stage Theater Dir. Neil Simon
Christy Edgar (Lead)
Thou Shall Not
TV One, Sirens Media
Police Officer
The Shield
FX Networks
Under 5
The Gift [Pilot]
180 Degrees Inc.
Eligibility
Eligible to work in US & UK
General American [Native], RP
Ballet, Lindy-Hop, Indian
Tennis, Softball, Basketball
Full Clean Driving Licence [US]
Semi-Automatic & Automatic Training / Certification
LAMDA [MFA Professional Acting, 2020-2022]
American Conservatory Theater [Summer Training Congress, 2018]
University of Maryland [MA Journalism, 2014-2015]
Bowie State University [BS Biology, 1995-2000]