Laura Brady
2023 MFA Professional Actor
Height

5'3"

Hair

Strawberry Blonde

Eyes

Blue

Voice

Soprano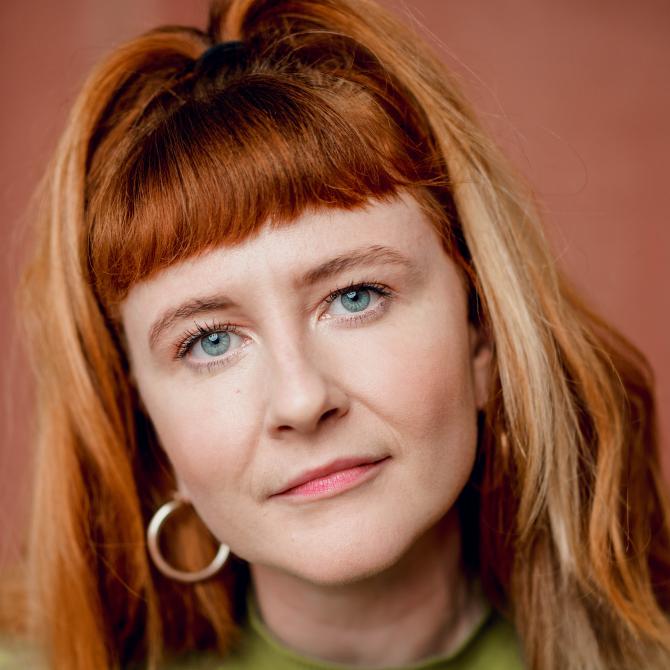 Digital Showcase
In addition to our live showcase earlier this year, we have brought together a Digital Showcase to feature the skills and talents of the graduating year of 2023.
Marie
Woyzeck
Directed by Matt Wilde
Private Clare Davies
Close Quarters
Directed by Emily Aboud
Irish Onion Seller
London
Directed by Abigail Graham
Witch & Bouffon Clown
Macbeth
Directed by Kerry Frampton
Irina
Three Sisters
Directed by Anna Barkan
Annie
Bricks
Directed by Daniel Bailey
Solange
The Maids
Directed by Robert Awosusi
Chorus
The Changeling
Directed by Kevin Bennett
Girl with Trainers
Rage
Directed by Amelia Sears
Professional Theatre, TV, Film & Radio
B
Girlplay
Ciara Elizabeth Smyth, Edinburgh Fringe
Dåil100
Mary
Mathew Ralli, Speckin Time
Concepta Bloom
The Roaring Banshees
Sarah Baxter, Devious Theatre
Molly Malone
The Vaults
Megan O'Riordan, The Vaults Live Dublin
Ismene / Prisoner
How Far, Antigone?
Yuri-Bertol Anderson & Mary Moynihan, Teatre Labor, Germany & Smashing Times
Isabella
Flaming Inspirations
Roisin McAtamney, Samuel Beckett Theatre
Chair
Triangles
Ciara Elizabeth Smyth, Sad Strippers Theatre
Cordelia / Fool
King Lear
Eamonn Owens, Sackville Productions
Chloe
Chestnuts
Tom Linehan, Show Piece Film
Helena Maloney
Proclaim!
Maureen O'Connell, Three Hot Whiskeys Prod.
Rohan
Crone Wood
Mark Sheridan, Blacklodge Films
Laura
Innocent 2
Tracey Lombard, ITV
Geraldine
Geraldine
Robert Downes, Squad Productions
Hermione
DreamGun Film Reads: Harry Potter
DreamGun, Edinburgh Fringe
Nelly
TINS
Roisin McAtamney, Scene & Heard Festival
Ismene
Antigone
Mary Moynihan, TU Conservatory
Juliet
Romeo and Juliet
Mary Moynihan, TU Conservatory
Lovely Bird
Essex Birds
Amy Hughes, Scene & Heard Festival
Jenny
Three Penny Opera
Sheldon Patinkin, Columbia College Chicago
Eligibility
Eligible to work in the UK, Ireland and the EU
Dublin, Regional Irish, Belfast, General American, Liverpool, Modern RP, Heightened RP.
LAMDA [MFA Professional Acting, 2021-2023]
TU Conservatory of Music & Drama, BA Hons in Acting