Rohan Rakhit
2023 MFA Professional Actor
Height

6'0"

Hair

Black

Eyes

Brown

Voice

F2 bottom, C5 top, Belt note C5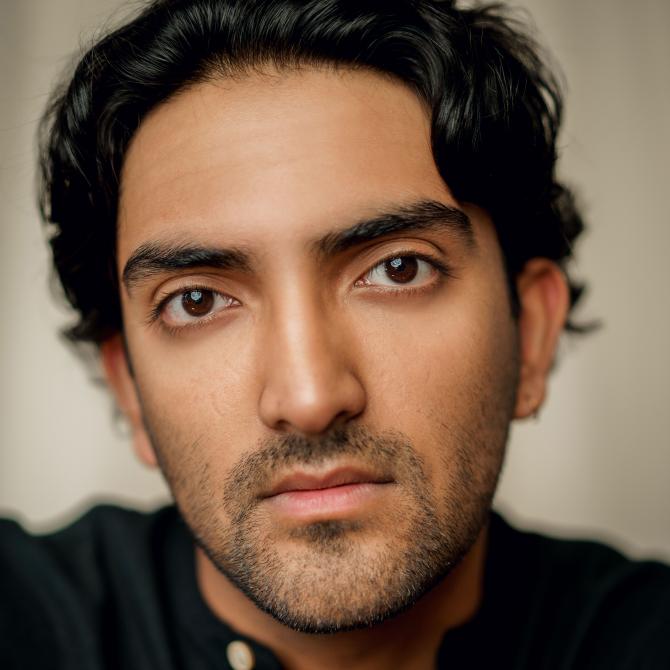 Ali
Image of an Unknown Young Woman
Directed by Rachel Heyburn
Moe
Pomona
Directed by Emma Baggott
Duke Orsino
Twelfth Night
Directed by Sophie Russell
Trofimov, Firs, Yasha
The Cherry Orchard
Directed by Anna Barkan
Various
New Writing: Bricks
Directed by Daniel Bailey
AJ
One Hour Only
Directed by Robert Awosusi
Beatrice-Joanna
The Changeling
Directed by Kevin Bennett
Haseeb
I Wanna Be Yours
Directed by Matt Wilde
Professional Theatre, TV, Film & Radio
Various
National Theatre Connections (R&D)
Kash Arshad, National Theatre
Jay
This Can Only Happen Here
Peter Bradley, National Student Drama Festival
Host MC
Rye Lane
Raine Allen-Miller, BBC Film, BFI
Amar (Narrator)
This Way Out (Audiobook)
Tamsin Collison, Brilliance Publishing & Amazon USA
Radio Presenter, DJ, Broadcaster: Worldwide FM, Jazz FM, BBC Asian Network, Rinse FM, NTS, Balamii 
DJ: Glastonbury Festival, We Out Here Festival, El Dorado, Dialled In & Brainchild Festival.
Kabir
White Boy
Zachary Hing, National Youth Theatre
Ricky
Fresh Start (Digital Theatre)
Darren Sinnott, The Silver Lining
D11
52 Souls (Digital Theatre)
Nat Henderson, Chronic Insanity
Perseus
Here, The World Entire (Stage)
Sam Osborne, Nottingham New Th.
Buddy
Breathing Holes (Stage)
Jonathan Davies, Nottingham New Th.
Gavin
Playing Soldiers (Stage)
Connor Abbott, LUND Theatre Co., Edinburgh Fringe Festival
Eligibility
Eligible to work in the UK & India
English-Standard, London, MRP, English [MLE], General Indian English, RP, American-Standard, New York City
Basic broadsword and basic unarmed hand-to-hand
Hockey (Field) [Highly Skilled], Football [Skilled], Cricket [Skilled], Tennis [Skilled]
Guitar [Grade 6], Singing [General] & DJ [Professionally]
Full Clean Driving Licence
LAMDA [MFA Professional Acting, 2021-2023]
Middleweek Newton Actors Academy 2020 - 2021
University of Nottingham [BA (Hons) History, 2017-2020]
National Youth Theatre of Great Britain 2015 - Present