Christopher Shinn's
Against
Writer
Christopher Shinn
Director
Vik Sivalingam
Location
The Sainsbury Theatre
Dates
Friday 8 April at 7:30pm
Saturday 9 April at 2pm
Monday 11 April at 7:30pm*
Tuesday 12 April at 2pm
Wednesday 13 April at 7:30pm
* This performance was a relaxed performance. Find out more.
The running time is approximately 2 and a half hours, plus an interval.
About the show
'Go where there's violence.
Silicon Valley. The future. A rocket launches. 
Luke is an aerospace billionaire who can talk to anyone. But God is talking to him. He sets out to change the world. Only violence stands in his way.'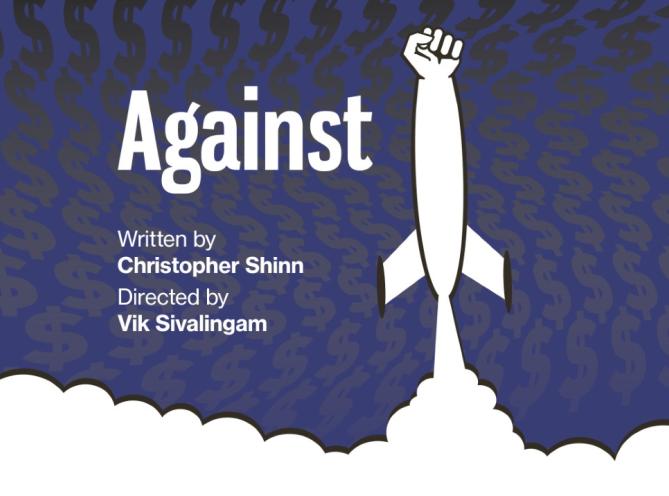 Christopher Shinn (b. 1975) is an American playwright from New York. His plays include Now or Later (shortlisted for the Evening Standard Theatre Award for Best Play), Dying City (Pulitzer Prize finalist), Where Do We Live (winner of an Obie in Playwriting), An Opening In Time, Teddy Ferrara, Picked, Four, What Didn't Happen, On the Mountain, Other People, and The Coming World. His adaptation of Hedda Gabler premiered on Broadway (American Airlines Theatre), and he has written short plays for Naked Angels (Democracy Project), the 24 Hour Plays on Broadway, the Bush Theatre (Sixty-Six Books), and Headlong (Decade). His work has been premiered by Lincoln Center Theater, Manhattan Theatre Club, Playwrights Horizons, the Vineyard Theatre, South Coast Rep, the Goodman, the Royal Court, and the Soho Theatre, and later produced around the world. Christopher Shinn's awards include a Guggenheim Fellowship in Playwriting, a grant from the NEA/TCG Residency Program, an Obie in Playwriting and the Robert Chesley Award.
Vik received his MFA in Theatre Directing from Birkbeck, University of London and his PG Award in Teaching Shakespeare from The University of Warwick (in association with the Royal Shakespeare Company).
Vik has been associated with LAMDA since 2015 as a freelance director. In his current position, he directs and teaches across a range of LAMDA's acting programmes. Public productions directed include Rotterdam, In Arabia We'd All Be Kings, Wild Honey, Posh, Macbeth and Romeo and Juliet. Professional directing credits include the UK premieres of The Ice Cream Boys by Gail Louw, There or Here by Jennifer Maisel, Home by Sam Art Williams and Half and Half- The Curry Musical by Tim Reilly. International directing credits include Much Ado About Nothing in NY and The Tempest at the Rio Olympics.
Contains discussions of sexual abuse including a minor, references to mental health and depression, substance abuse, racism, gun violence and cancer.
Director
Vik Sivalingam
Assistant Director
Baris Arman
Designer
Hannah Wolfe
Lighting Designer
Jahmiko Marshall
Sound Designer
Owen Crouch
Jon 
Elijah Cook 
Dean of College / Chris 
Alexandre Costet-Barmada 
Tom's Mother / Middle Aged Woman / Tracey 
Amber Grappy 
Sheila / Kate 
Kira Guess 
Professor 
Mark Hannah  
Tom's Father / Middle Aged Man 
Sam Howard-Sneyd 
Melvyn 
Ethan Hughes 
Anna / Luke's Mum 
Brooke Lena Johnson 
Tim 
Anthony Nyro 
Luke 
Dhruv Ravi 
Manager / Dan 
Imani Yahshua 
Law Enforcement Officer / Shooter 
Jerome Yates   
Company Manager
Josephine Lea Fadani
Production Manager
Brent Tan
Stage Manager
Tom Smith
Deputy Stage Manager
Sophia Markou
Assistant Stage Managers
Erin Blake
Lily O'Connor
Chief LX
Emily Compton
Deputy LX / Programmer
Marcus Grove
Lighting Crew
Chloe Alexander
Summer Collier
Kit Fowler
Charlotte Owadally
Production Carpenter
Stephanie Siraut
Deputy Production Carpenter
Alyssia Jones
Production Sound Engineer
Kirsty Robson
Deputy PSE / Stream
Avery Elliot
Sound Assistants
Jacob Eckardt
James Imber
Construction Crew
Ciara Brady
Abhinav Mishra
Poppy Morley
Ash Orhan-Pennell
Costume Supervisor
Kiera Fox