Written by
Robert Askins
Directed by
Madison Gerringer
Location
The Carne Studio Theatre
Dates
Thursday 25 August at 8:45pm
Friday 26 August at 3:45pm
Friday 26 August at 8:45pm
The running time is 75 minutes.
About the show
A church in Cypress, Texas. A mother stricken with grief teaches teenagers how to do puppet shows before her son's puppet becomes possessed. But is it the devil? Or something harder to explain. Hand to God is an outrageous dark comedy that explores religion, rebellion and our overwhelming urge to be bad.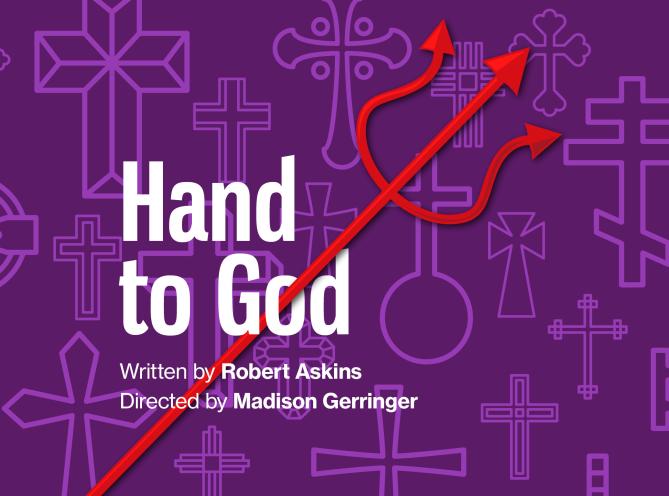 About the director, Madison Gerringer
Madison Gerringer is a director and educator from the California Bay Area. She earned her BA in Theatre Education at Emerson College in Boston, MA in 2016 and then served as the Director of Education at Town Hall Theatre in Lafayette, CA while also working as a freelance director and teaching artist. Madison has had experience in choreography, playwriting and devising. Recent works include Smile, Darling or The Almighty Testicle Play (Director), Fergus: A Short Film (Director/Writer) and Wilderness (Asst. Director).
Robert Askins was born in Cypress, Texas. His Tony-nominated, Obie Award-winning play Hand to God enjoyed a run on London's West End (Olivier nominated for Best New Comedy) after it opened on Broadway in April 2015, following two critically-acclaimed runs at Ensemble Studio Theatre and MCC Theater, where it was named a NYTimes Critics' Pick and called "the most entertaining show of 2014." His newest play Permission made its world premiere off-Broadway in spring 2015 at MCC Theater. His play Fish Display was part of the 2012 Ojai Playwrights Conference and Permission was part of the 2014 conference. Rob has received two EST/Sloan grants, the Helen Merrill Emerging Playwrights Award, and an Arch and Bruce Davis Award for Playwriting. Rob is an I-73 and Youngblood alum and a graduate of Baylor University. He's currently at work on two feature film projects and an original comedy series for HBO.
Contains sexual assault, strong language and depictions of violence.
Creative Team
* LAMDA staff member or visiting artist
Director 
Madison Gerringer
Designer 
Anton Schilbach*
Fight Director
Sam Behan*
Lighting Designer
Jennifer Garland
Sound Designer
Summer Collier
Intimacy Director
Ruth Cooper-Brown*
Margery
Catherine Chalk
Pastor Greg
Patrick Flannery
Jessica
Laura Prendergast
Jason
Dhruv Ravi
Timothy
George Solomou
Stage Manager 
Chloe Alexander
Production Manager
Tom McCreadie
Programmer
Chloe Palmer*
Chief LX 
Jorge Clarkson
General Technician
Jacob Eckardt