Tim Rice & Andrew Lloyd Webber's
Jesus Christ Superstar
Writers
Tim Rice (Lyrics) & Andrew Lloyd Webber (Music)
Director
Annabel Mutale Reed
Musical Director 
Matthew Jackson
​Location
The Sainsbury Theatre
Dates
Wednesday 1 June at 7:30pm
Monday 6 June at 2pm
Tuesday 7 June at 7:30pm
Wednesday 8 June at 2pm
Thursday 9 June at 7:30pm
The running time is 2 hours including an interval.
About the show
A global phenomenon that has wowed audiences for over 40 years, Jesus Christ Superstar is a timeless work set against the backdrop of an extraordinary and universally-known series of events, but seen through the eyes of Judas Iscariot. The story, told entirely through song, explores the personal relationships and struggles between Jesus, Judas, Mary Magdalene, his disciples, his followers and the Roman Empire. 
An Amateur University production by arrangement with The Really Useful Group Ltd.
TM & © 1996 RUG Ltd.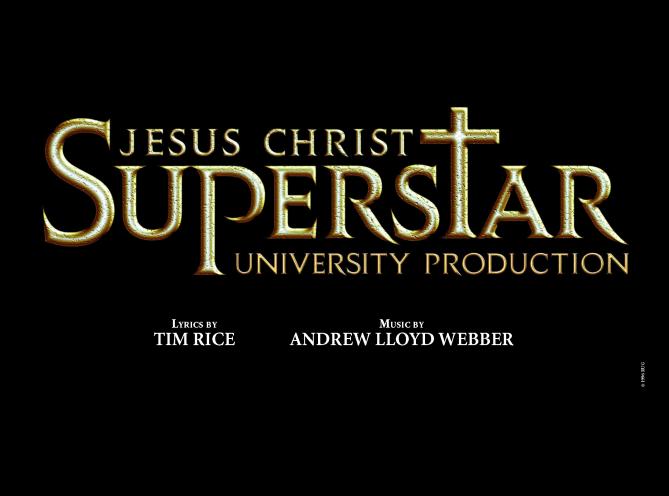 Sir Tim Rice is an author and Academy Award, Golden Globe Award, Emmy Award, Tony Award, and Grammy Award-winning lyricist. He is best known for his collaborations with Andrew Lloyd Webber, with whom he wrote Joseph and the Amazing Technicolor Dreamcoat, Jesus Christ Superstar, and Evita; with Bjorn Ulvaeus and Benny Andersson of ABBA, with whom he wrote Chess; for additional songs for the 2011 West End revival of The Wizard of Oz; and for his work with Alan Menken on Disney's Aladdin, Beauty and the Beast, and the musical King David. He also worked with Elton John on Disney's The Lion King, the musical Aida, and DreamWorks Animation's The Road to El Dorado and Ennio Morricone.
One of the most celebrated lyricists in British popular culture, Rice was knighted by Elizabeth II for services to music in 1994. He has a star on the Hollywood Walk of Fame, is an inductee into the Songwriter's Hall of Fame, is a Disney Legend recipient, and is a fellow of the British Academy of Songwriters, Composers and Authors. He is one of fifteen artists to have won an Emmy, Grammy, Oscar, and Tony award.
Andrew Lloyd Webber is the composer of some of the world's best-known musicals.
When Sunset Boulevard joined School Of Rock, Cats and The Phantom Of The Opera on Broadway in 2017, Andrew became the only person to equal the record set in 1953 by Rodgers and Hammerstein with four Broadway shows running concurrently. Other musicals he has composed include Aspects Of Love, Joseph and the Amazing Technicolor Dreamcoat, Jesus Christ Superstar, Evita and Love Never Dies.
Annabel is a director, playwright and lyricist, she is currently developing new work, under the mentorship of Claude-Michel Schönberg.
Credits include: A Kiss For Cinderella (National Youth Music Theatre, in development); Brother (Bookwriter, Southwark Playhouse workshop production & MT Fest); Seance (Director, Rehearsed Reading, The Pit Loft New York); Trash Puppets  (Director, The Pit Loft New York); Toil and Trouble (Director, Rehearsed Reading,  The Pit Loft New York); Fall of Man; an Autumnal evening of Feminist Musical Theatre (Writer/Director, The Pit Loft New York); STOP: A New Musical  (Writer/Director, Edinburgh Fringe and Cockpit Theatre, OUDS National Tour, Burton Taylor Theatre Oxford); Anything Goes (Director, Oxford Playhouse); Alice (Bookwriter/Lyricist, NYU Tisch).
She has degrees in Musical Theatre from Guildford School of Acting, Philosophy Politics and Economics from Oxford University, and recently graduated with an MFA in Theatre Writing from New York University.
Annabel is proud to be a Trustee of The Oxford Playhouse. In 2021, she was nominated for the Black British Theatre Awards 'Book and Lyrics Recognition Award' for her work as a book writer and lyricist.
Matthew is a Music Director, Pianist and Orchestrator based in London.
He trained at Royal Academy of Music, where he was awarded a DipRAM, prior to which he attained a 1st class BA in Music from Lady Margaret Hall, Oxford. 
Projects include: She Loves Me – Sheffield Crucible (Assistant MD), Bedknobs & Broomsticks – UK Tour (keyboard dep.), Letters We Haven't Written – RAM (MD, orchestrator), Hal Prince: A Life in Theatre – RAM (AMD, orchestrator), Sunday In The Park With George – RAM (MD), The Threepenny Opera – Oxford Playhouse (MD).
Contains themes of suicide, depictions of violence and flogging, hanging depicted on stage. Ableist language used and suggestion of drug use.​​​​​​
Creative Team
* LAMDA staff member or visiting artist
Director 
Annabel Mutale Reed*
Musical Director 
Matthew Jackson*
Movement Director
Taylor Walker*
Choreography Cover
Lauren Stroud*
Assistant Director
Baris Arman
Designer 
Amy Jane Cook*
Lighting Designer
Luca Panetta
Sound Designer
Adam Fisher*
Band
Tom Chippendale*
Helen Kuby*
Curtis Volp*
Lucy Clarke*
Max Mills*
Cast
* LAMDA staff member or visiting artist
The role of Mary Magdalene will be played by Ellie McKay on 1 and 9 June, and by Miya James for the 6, 7 and 8 June.
Jesus
Rithvik Andugula 
Philip / Soul Girl 
Zoë Birkbeck 
Matthew
Arseniy Cassidy 
Thaddeus
Elijah Cook  
Pontius Pilate 
Amber Grappy 
Thomas / Soul Girl
Kira Guess 
Priest
Mark Hannah 
Judas
Dominique Hamilton
Peter
Ethan Hughes 
Caiphas
Jacob Hutchings
James
Sam Howard-Sneyd
Mary Magdalene / Soul Girl
Miya James 
Andrew / Soul Girl
Brooke Lena Johnson 
Mary Magdalene / Soul Girl
Ellie McKay 
Annas
Jun Noh
Simon
Dhruv Ravi 
Priest / Swing
Joshua Rogers*
King Herod 
Orla Tagg 
Stage Manager
Josette Shipp
Deputy Stage Manager
Miho Ueno
Assistant Stage Managers
Kit Fowler
Stephanie Leeson
Production Manager
Maria Dedio
Associate Sound Designer
Hattie North
Chief LX
Murong Li
Deputy LX / Programmer
Tom Smith
Production Sound Engineer
Jas Fuller
Deputy PSE / Stream
Sam Tate
Production Carpenter
Ewen Roberts
Deputy Production Carpenter
Marie Zschommler
Lighting Crew
Jacob Eckardt
Jennifer Garland
James Imber
Ash Orhan-Pennell
Natasha Shirley
Sound Assistants
Jorge Clarkson
Poppy Morley
Construction Crew
Erin Blake
Summer Collier
Cara Dickens
Lily O'Connor 
Charlotte Owadally