William Shakespeare's
Julius Caesar
Shakespeare in Schools 2023
Writer
William Shakespeare
Director
Lawrence Evans
​Location
The Sainsbury Theatre
Dates
Thursday 19 October at 2:15pm
Friday 20 October at 7:30pm
About the show
Fearful that Caesar will become a tyrant, his friends plot to assassinate him in order to save Rome. But the conspirators' high principles clash with personal malice and ambition, and as they vie to manipulate the mob, the nation is plunged into bloody civil war.
Age guidance: for 13+ or Year 9 and above. 
About Shakespeare in Schools
Julius Caesar is showing in LAMDA's Sainsbury Theatre as part of our 2023 Shakespeare in Schools tour, and is performed by our graduating MFA Professional Acting students.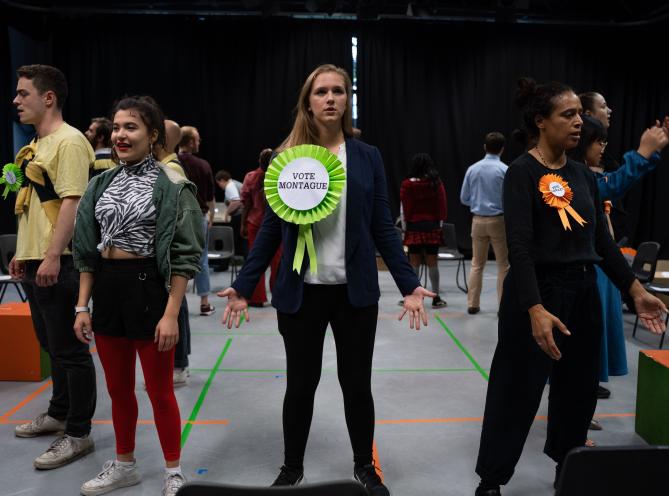 Lawrence works as an actor, as well as a director, movement director, and teacher. Nominated for an Olivier Award for his work with Tony Harrison at the National Theatre, he has worked with the poet and playwright on all his site-specific theatre pieces from Delphi to Bradford. He had a Best Actor Award and has worked at many of the regional Repertory Theatres throughout the UK, as well as the National Theatre, NT Studio, Cheek by Jowl, the Young Vic, and Northern Broadsides. Directing work includes The Soldiers Tale with the orchestra of the Academy of St Martin in the Fields, A Midsummer Nights Dream with the Irish Chamber Orchestra and Storytellers Theatre Co., and as an Associate Director at Theatre Centre. His teaching credits include RADA, Drama Centre, and Royal Central School Speech & Drama. And his co-written play Lives Worth Living is published by Heinemann Educational. 
He was an Irish Dancing Champion when he was younger.
Suitable for 13+ or Year 9 and above. 
Contains depictions of murder, suicide, knife violence and blood. 
Creative Team
* LAMDA staff member or visiting artist
Produced by Ella Murdoch* & Angel Cupidon*
LAMDA's Access & Widening Participation Team
Director
Lawrence Evans*
Assistant Director
Robert Elwood*
Voice Director
George Ryan*
Movement Director
Anna Luisa Alvarez*
Music Director
Graeme De Fresne*
Casca / Pindarus
Gabriel Acevedo
Calpurnia / Servant to Antony / Soldier to Octavius
Mandisa Baleni
Lucius / First Plebeian
Brooke Bazarian 
Julius Caesar
Madison Coppola
Cassius 1
Tamarra Graham
Octavius Caesar / Soothsayer
Mimi Harlow Robinson 
Brutus 1
Abimbola Ikengboju
Decius
Felicity Ison
Marc Antony 1
Nana Yaw Kyeremateng
Trebonius / Lepidus
Alexander Makar
Portia
Kristen Misthopoulos
Brutus 2 / Cinna
Benjamin Raymant
Cassius 2 / Metellus
Will Steadman
Marc Antony 2
Suzanne van Maurik
Production Team
* LAMDA staff member or visiting artist
Production Manager
Emily Huxley*
Crew Person
Jacob Eckardt