Story by Ned Bennett and Ross Willis
Written by
Ross Willis
Directed by
Ned Bennett
Location
The Sainsbury Theatre
Dates
Tuesday 12 July at 7:30pm
Wednesday 13 July at 7:30pm
Thursday 14 July at 2pm
Thursday 14 July at 7:30pm
The running time is 2 hours 30 minutes plus an interval.
About the show
The LeftOvers was commissioned and first performed by LAMDA as part of its new writing programme with 2022 BA (Hons) Professional Acting, Production & Technical Arts and MA Directing students.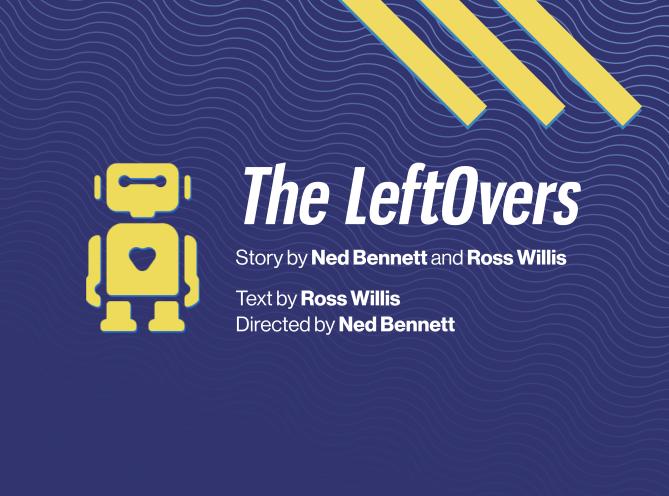 Ross Willis is a playwright from Bristol, the UK. His plays include: Wolfie (Theatre503, London, 2019) and Wonder Boy (Bristol Old Vic, 2022).
Wolfie won Best New Play at both the Writers' Guild Awards and the Off-West End Awards 2020, and also earned him a nomination for Best Writer at the 2019 Stage Debut Awards and Most Promising Playwright at the Evening Standard Theatre Awards. He won the 2019 Royal Court and Kudos Fellowship and the 2019 Channel 4 Playwright Award. He has been described as 'a fresh and fearless voice' in British theatre.
Ned Bennett is a theatre director who trained at the Royal Court, National Theatre and LAMDA. Ned won the UK Theatre Award for Best Director forPomona and Yen (2015). Ned has most recently directed Equus for ETT opening at Stratford East.
Contains abject violence, violence towards children, strong language, graphic descriptions of traumatic experiences and family separation, death and loss, and strobe.
The play is set in the distant future, and treads a line between sci-fi/fantasy, Young Adult and Adult Fiction.
Creative Team
* LAMDA staff member or visiting artist
Director 
Ned Bennett*
Assistant Directors
Linda Miller
Rrita Pula
Designer 
Georgia Lowe*
Movement Director
Sam Adebayo*
Heriberto Montalban*
Lighting Designer
Jess Hung Han Yun*
Sound Designer
Giles Thomas*
Associate Costume Designer / Costume Supervisor
Mike Lees*
Maroon / A Creature / Dyne
Rithvik Andugula
Jam / Krum / An Android
Kate Barrington
Sal
Zoë Birkbeck
​​​​​​Bisque / Larcom / A Creature / An Android
Arseniy Cassidy
Bandit
Elijah Cook
Jude / Muddy
Alexandre Costet-Barmada
Fog / Arwald / Shakey
Luke Gallagher
Linguo / Scratch / A Creature
Amber Grappy
Thorne
Kira Guess
Pipsqueak
Luke Hammond
Cyan
Mark Hannah
Cactus
Shona Hart
Neon / A Creature / An Android
Sam Howard-Sneyd
Beandigo
Ethan Hughes
Flaxen / Vata / An Android
Miya James
Rot
Brooke Lena Johnson
Clay / Palmerston / Flower / An Android
Lara Levy
Teal / Fravitta / An Android
Ellie McKay
Blue
Romeo Mika
Salmon
Sera Mustafa
Green
Francis Nunnery
Pat / Colbolt
Anthony Nyro
Squish / A Creature / An Android
Dhruv Ravi
Red
Emma Shipp
Ebie / A Creature / An Android
Orla Tagg
Kali
Ami Tredrea
Brat
Jerome Yates
Company Manager
Rebecca Harris
Stage Manager 
Josette Shipp 
Deputy Stage Manager
Sophia Markou 
Assistant Stage Managers
Olivia Dunne 
Stephanie Leeson 
Charlotte Owadally 
Tara Daynes 
Production Managers
Stephanie Siraut 
Tom McCreadie 
Associate Lighting Designer
Murong Li 
Associate Sound Designer / Production Sound Engineer
Marie Zschommler 
Assistant Production Designer
Fintan McGuigan
Chief LX 
Jennifer Garland 
Programmer 
Luca Panetta 
Lighting Crew
Vadim Wilkie 
James Imber 
Sound Assistants
Ash Orhan-Pennell 
Summer Collier 
Co-producers
Luke Gallagher 
Charlotte Owadally
Arseniy Cassidy