Dennis Kelly's
Love and Money
Writer
Dennis Kelly
Director
TD Moyo
Location
The Carne Studio Theatre
Dates
Saturday 9 April at 7:45pm
Monday 11 April at 7:45pm
Tuesday 12 April at 2:15pm*
Tuesday 12 April at 7:45pm
Wednesday 13 April at 7:45pm
* This performance was a relaxed performance. Find out more.
The running time is approximately 75 mins with no interval.
About the show
'David conducts an office romance by e-mail. He has love at his fingertips. But a shocking admission unravels his relationship piece by chilling piece. Jess loves David. She believes happiness can be bought - but it doesn't come cheap in a world of easy credit. Jess and David's ideal blend of love and money is killing them.
Funny but heart wrenching, this ingenious drama dares us to enter a dislocated world of bad debts and even worse desires.'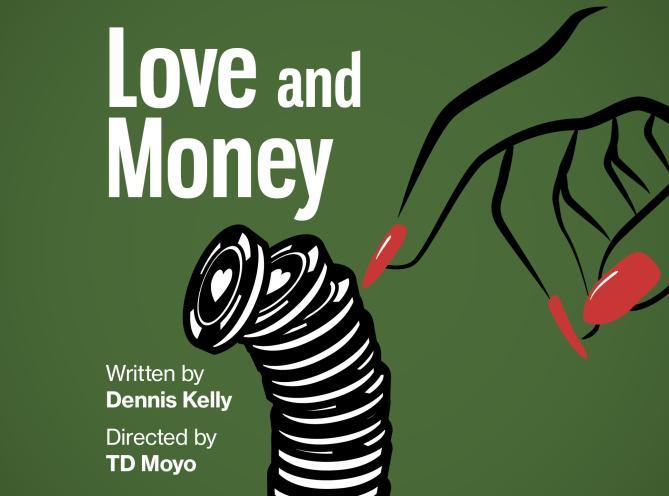 Dennis Kelly is a British writer for film, television and theatre. His plays include Debris, Osama the Hero, After the End, Love and Money, Taking Care of Baby, DNA, The Gods Weep, Orphans, The Ritual Slaughter of Gorge Mastromas and Girls and Boys. For television he co-wrote and co-created Pulling and wrote and created Utopia, and for film he wrote the screenplay for Black Sea, directed by Kevin MacDonald. He also wrote the book for the Olivier and Tony winning Matilda the Musical.
As director, theatre includes: Caste-Ing (Nouveau Riche/Barbican); Dark & Lovely (Rose, Kingston); 32 Peak St. (Tristan Bates); Fifty Years (Theatre Royal, Stratford East); Mind Body & Soul (Bussey Building); Dolla (Aphra Studio, University of Kent).
As writer & director, theatre includes: FEELS (Lyric, Hammersmith); Jungle [& producer] (Courtyard); Scene (UK tour).
As resident director, theatre includes: The Doctor (Almeida/Tour).
As assistant director, theatre includes: The Diary of Anne Frank (Headlong); Lovebirds (Aphra Studio, University of Kent).
Contains discussions of mental health, suicide and child death and themes of misogyny, violence and sexual content. Offensive and racist language. Scenes that contain blood.
Director
TD Moyo
Assistant Director
Max Griggs
Designer
Amanda Mascarenhas
Movement Director
Asha Jennings Grant
Lighting Designer
Murong Li
Sound Designer
Jas Fuller
Mother / 2 
Kate Barrington 
Father / 3 
Arseniy Cassidy 
David 
Luke Gallagher 
Jess 
Ellie McKay 
Val / 4 
Olumide Olorunfemi 
Paul / Duncan / Doctor / 1 
Tienne Simon 
Debbie / 5 
Orla Tagg
Stage Manager on the Book
Daisy Simmons
Technical Stage Managers
Stephanie Leeson
Jasmin Meara Wall
Production Manager
Tiago Stricker
Chief LX
Megan Bishop
Deputy LX / Programmer
Calum Priestley
Production Carpenter
Callum Watson
Production Sound Engineer
Marie Zschommler
Costume Supervisor
Kiera Fox