Sophocles' Oedipus / silent practice
Written by 
Sophocles (adapted by
Frank McGuinness), and Baris Arman
Directed by
Baris Arman
Location
The Carne Studio Theatre
Dates
Thursday 25 August at 7pm
Friday 26 August at 2pm
Friday 26 August at 7pm
The running time is 1 hour 9 minutes.
About the show
A mashup of Oedipus and a Turkish father; ancient Greece and modern Turkey; 429 BC and 2022 AC.
In the liminality that oscillates between Frank McGuinness's adaptation of King Oedipus and Baris Arman's autobiographical text, this performance, in which the audience, cast and crew scaffold together, asks:
Could looking the other way be a trenchant way of survival?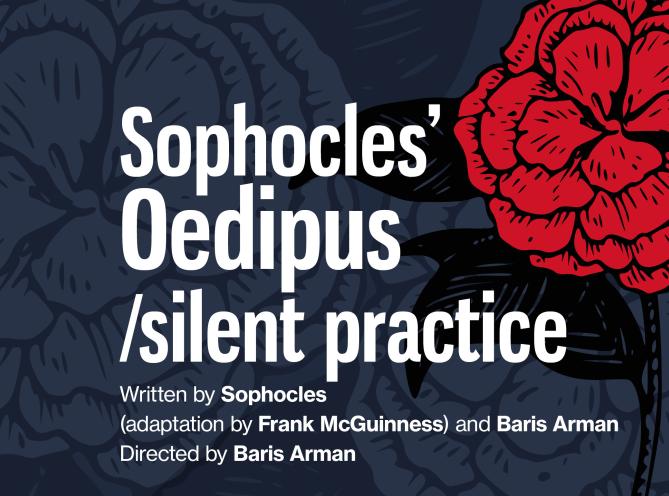 About the director, Baris Arman
Baris Arman is a director and actor from Istanbul. After studying architecture, he trained as an actor. He worked as an actor at the Istanbul State Theatre for five years. Then he founded the award-winning company Boiling Room (Kazan Dairesi) in Turkey. He is an alumnus of the Lincoln Centre Theater's Directors Lab 2017. As a theatremaker he works on unconventional forms of theatre, focusing on mostly audience based, site-responsive performance. Work as director includes Hedwig and the Angry Inch (Boiling Room), A Walk in the Ordinary (Istanbul Theatre Festival), The Last Five Years (Tebdil-i Mekan).
Frank McGuinness was born in Buncrana, Co Donegal. He has written extensively for the Irish theatre, both original scripts and translations. His awards include the London Evening Standard Award for most promising playwright for Observe the Sons of Ulster in 1985, and a Tony Award for his 1997 adaptation of Ibsen's A Doll's House. He has published several volumes of poetry and wrote the screenplay for Pat O'Connor's 1998 film version of Friel's Dancing at Lughnasa. He is a writer-in-residence at UCD. He lives in Dublin.
Contains themes of suicide, self-injurious behaviour, sexual abuse, depictions and descriptions of violence, child abuse, homophobic and transphobic slurs and acts, misogynistic language, described violence and death, haze and loud noises.
Creative Team
* LAMDA staff member or visiting artist
Director 
Baris Arman
Dramaturg
Patrick Hughes*
Set & Costume Designer 
Tomás Palmer*
Lighting Designer
Jennifer Garland
Sound Designer
Summer Collier
Movement Director
Malwina Rog*
Performers on video:
Jocasta
Rebecca Lewis
Voice of Mom / Counselor
Feride Morçay
Production Team
* LAMDA staff member or visiting artist
Stage Manager 
Keish Peets*
Production Manager
Tom McCreadie
Editor
Ruby Blake*
Programmer
Chloe Palmer*
Chief LX 
Jorge Clarkson
General Technician
Jacob Eckardt
Additional Video Content Creation
Tommy Sharma*