William Shakespeare's
Romeo and Juliet
Shakespeare in Schools 2023
Writer
William Shakespeare
Director
Sonnie Beckett
​Location
The Sainsbury Theatre
Dates
Thursday 19 October at 7:30pm
About the show
Hello! Benvenuto! Welcome to fair Verona, an excellent place to take a holiday.
The Capulet Hotel is an glamorous establishment, run by the wealthy Capulets. Since The Capulet opened ten years ago, a smaller, family hotel, 'The Montague', has struggled to compete and is close to bankruptcy.
Your visit to Verona has, I'm afraid, coincided with the peak of the conflict. The tension between the two families and all who are loyal to their hotels has reached fever pitch. Healthy competition has turned to violence and the family feud has become a major headache for those who wish to keep the peace and protect Verona's reputation.
But you're here now! You've checked in, already unpacked your bags and I'm sure are very much looking forward to people-watching by the pool. So, sit back, relax and be our guests. We hope you enjoy your stay!
Age guidance: for 13+ or Year 9 and above. 
About Shakespeare in Schools
Romeo and Juliet is showing in LAMDA's Sainsbury Theatre as part of our 2023 Shakespeare in Schools tour, performed by our graduating MFA Professional Acting students.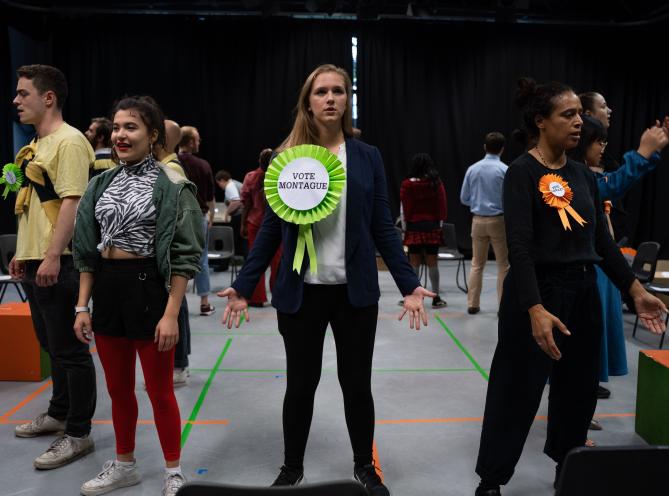 Sonnie is a freelance director, acting coach and founder of Grindstone, whose original work includes R.I.P (The Kings Head) and The Glasshouse (Tristan Bates, 53Two). She is passionate about unleashing an actors potential and has a rather large crush on all things Shakespearean. 
She strives to make dynamic and powerful theatre, with a populist soul and her work is physically and emotionally bold, visually striking and powerful in aesthetic.
Sonnie is drawn towards stories for women and about women and enjoys subverting plays that are originally written from the male gaze.
"I am inextricably drawn towards telling stories that speak of the wonder of life and love, juxtaposed with loss and longing." - S.B
Suitable for 13+ or Year 9 and above.
Contains depictions of murder, suicide, knife violence, poisoning, domestic violence, forced marriage. 
Creative Team
* LAMDA staff member or visiting artist
Produced by Ella Murdoch* & Angel Cupidon*
LAMDA's Access & Widening Participation Team
Director
Sonnie Beckett*
Assistant Director
Anna Hampton*
Voice Director
George Ryan*
Movement Director
Nicoletta Bonanni*
Romeo / Sampson 
Callum Alexander-Smith
Juliet / Lady Montague 
Tateyana Arutura 
Lord Capulet
Josh Beckman 
Lady Capulet
Yanina Clifton 
Nurse / Abraham 
Eve Cowley 
Tybalt / Apothecary
Sabree Edwards 
Romeo / Gregory
Ro Florence 
Friar Laurence
Vikram Grover 
Nurse / Lord Montague 
Daisy Tallulah Hargreaves 
Juliet
Amanda Ibadin
Prince 
Kai Alexandra Johnson 
Mercutio / Friar John 
Macauley Keeper 
Juliet / Balthasar 
Pei Lin
Romeo 
Jerry Madison Jr
Benvolio
Tanaka Mpofu 
Production Team
* LAMDA staff member or visiting artist
Production Manager
Emily Huxley*