A Super Happy Story (About Feeling Super Sad)
Written by
Jon Brittain
with music by Matthew Floyd Jones
Directed by
Maximilian Griggs
Location
The Linbury Theatre
Dates
Wednesday 17 August at 7pm
Thursday 18 August at 2pm
Thursday 18 August at 7pm
The running time is 70 minutes.
About the show
A joyful, brutal and honest musical that reminds us that it's ok not to be ok.
Sally's a happy person. She doesn't let little things get her down and almost never cries. But she's got an illness. It makes her feel like she isn't the person she wants to be... But she doesn't want anyone to know about it.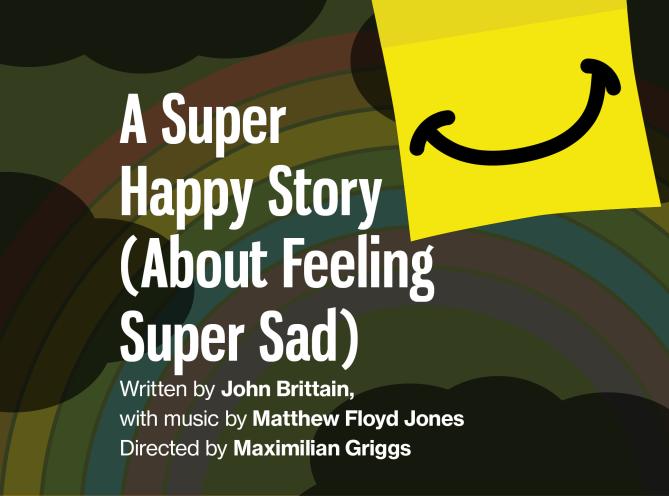 About the director, Maximilian Griggs
Max is a Director and Theatre-Maker specialising in New Writing, Queer Theatre, Feminist Theatre and Movement Theatre. As a Director, Max experiments with different forms and structures to explore new possibilities within theatre. He has utilised a range of techniques in his theatre from: dance, movement, music, lip-syncing and drag.
Before coming to LAMDA, Max studied at Queen Mary's University of London (QMUL). He left university with a 1st Class Honours in his Drama BA. Max wanted to study on the MA Directing Course in order to receive guidance from professionals in the industry, have a safe space to experiment with his theatre and to make discoveries about his own voice in the rehearsal room.
As a Director his credits include: Closet Dreams (LAMDA), Loafers (Drayton Arms Theatre) and 63 Years of Audrey (Pinter Studio). As an Assistant Director his credits include: Love & Money dir.TD Moyo and Faustus: That Damned Woman dir.Anna Marsland (Carne Studio).
As an Associate Director his credits include: The Underground Society for the Preservation of Human Kind (Pleasance Scratch Night)
Jon Brittain is an award-winning playwright, comedy writer and director. His plays include The Wake, The Sexual Awakening of Peter Mayo, What Would Spock Do? and A Super Happy Story (About Feeling Super Sad). He co-created the critically acclaimed show Margaret Thatcher Queen of Soho and its sequel Margaret Thatcher Queen of Game Shows.
He was one of the 503Five 2012/2013 and has worked extensively with Old Vic New Voices. He has written for Radio 4's The Now Show and Cartoon Network's The Amazing World of Gumball, and created and starred in the online sketch show HodgePodge. He directed both of John Kearns's Fosters Award-winning stand-up shows Sight Gags for Perverts and Shtick, and Tom Allen's show Both Worlds.
Contains themes and descriptions of suicide, depression and anxiety.
Creative Team
* LAMDA staff member or visiting artist
Director 
Maximilian Griggs
Musical Director
Justin Mayer
Assistant Director & Movement Director
Abbey Gillet  
Lighting Designer
Daisy Simmons
Sound Designer
Marie Zschommler
Set & Costume Design
Song Yu*
Sally
Tilly Botsford
Performer
Caroline Letelier*
Performer
Roy Mas
Pianist
Justin Mayer
Stage Manager 
Jasmin Meara-Wall
Production Manager
Tom McCreadie
Set Construction & Chief LX
Jorge Clarkson
Set Construction & General Tech
Jacob Eckardt
Set Assistant
Jessica (Wenjing) J*