Written by
Tom Basden
(after Fyodor Dostoyevsky)
Directed by
Joe Warwick
Location
The Carne Studio Theatre
Dates
Wednesday 17 August at 8:45pm
Thursday 18 August at 3:45pm
Thursday 18 August at 7pm
The running time is 1 hour 15 minutes.
About the show
Ivan is a struggling actor who hasn't yet achieved the recognition he feels he deserves. But all that is about to change when, one afternoon at the zoo with his friend Zack, he is swallowed whole by a crocodile.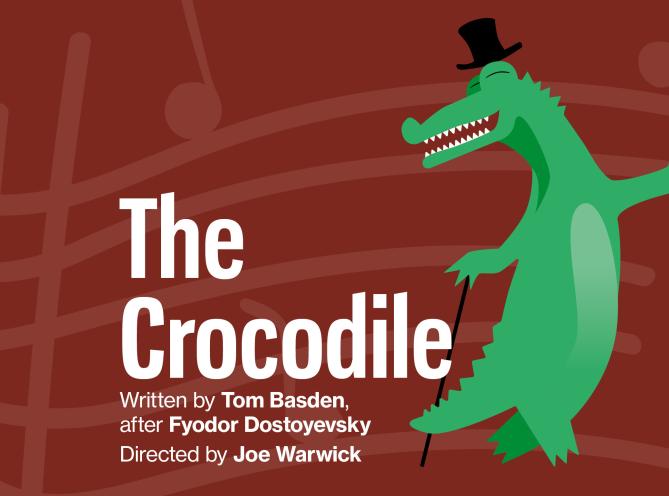 About the director, Joe Warwick
Joe is originally from East Yorkshire and is a student on the MA Directing course at LAMDA. Initially, he trained as an actor at Mountview Academy of Theatre Arts and worked professionally. In 2021 he founded Live Room Productions, a company focusing on bringing exciting new writing to the stage. He is currently developing Live Room's latest project, Drunken Baker, which will premiere at theatres across the North of England in 2023.
Find out more about Live Room Productions.
Tom Basden is an English actor, comedy writer, and a member of the British four-man sketch group Cowards. He has written and performed extensively for comedy shows on the BBC and Channel 4 and often collaborates in two-man shows with fellow Cowards member Tim Key.
Contains strong language. Please note, if you are in the front row of seats, you may be splashed.
Creative Team
* LAMDA staff member or visiting artist
Director 
Joe Warwick
Composer / Musical Director
Luke Byrne*
Designer 
Ania Levy*
Lighting Designer
Murong Li
Sound Designer
Callum Watson
Movement Director
Adi Gortler*
Mr Popov / Zlobin / Sasha Ivkin / Andrew Frampton / Mr Poborsky / Dimitri / Waiter / Protester / Baron Boris Bogolepov / Tsar Alexander II
Joe Boylan
Anya
Yasmine Meaden
Ivan
Shaun Mendum 
Zack
John Rice 
Stage Manager
George McGukin*
Production Manager
Tom McCreadie
Chief LX 
Jorge Clarkson
General Technician
Jacob Eckardt