Writer
Hannah Khalil
Director
Beth Kapila
​Location
The Linbury Theatre
Dates
Saturday 3 December at 7:45pm
Monday 5 December at 7:45pm*
Tuesday 6 December at 2.15pm
Wednesday 7 December at 7:45pm
Thursday 8 December at 7:45pm
*This will be a relaxed performance. Find out more.
The running time is approximately 1 hour and 10 minutes.
About the show
They have run away from unimaginable horrors looking only for safety. But, imprisoned together at Yarl's Wood Detention Centre, these women are stuck in a limbo that offers them exactly the opposite. Based on verbatim interviews from current and former detainees, The Scar Test takes you inside one of England's migrant detention centres, exposing the conditions the inmates must endure whilst awaiting a decision on their fate. Told with compassion, Hannah Khalil's play throws a spotlight on the harrowing ordeals of the female migrants seeking refuge in Britain and the obstacles they face in the process.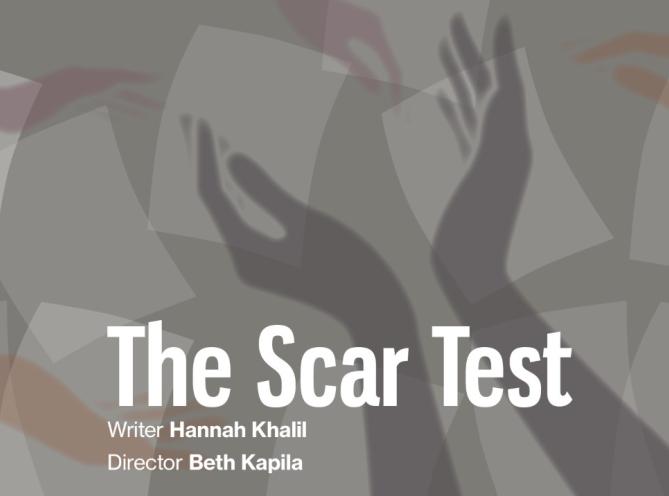 As a playwright, Hannah has collaborated with the RSC; Soho; The Kiln; NTS and the Arcola as well as Mosaic Theatre in New York. She is the 2022 Resident Writer at Shakespeare's Globe and her work includes Henry VIII (2022 summer season), The Fir Tree (premiered 2021 and returns 2022) and an original play Hakawatis will premier in winter 2022.
Previous work for stage includes her original play, A Museum in Baghdad, which premiered at the Royal Shakespeare Company's Swan Theatre in 2019 directed by Erica Whyman, Interference for The National Theatre of Scotland, The Scar Test for Soho Theatre and Scenes from 68* Years for the Arcola. Her work is published by Methuen.
Hannah has also written numerous radio plays, including The Unwelcome, Last of the Pearl Fishers and The Deportation Room all for BBC Radio 4.
Television work includes multiple episodes of the Channel 4 drama Hollyoaks. Her script, The Record, won the Tommy Vine screenplay award at the Underwire film festival, and the finished film was selected for the London Palestine Film Festival.
Hannah held the Heimbold Chair of Irish Studies at Villanova University in 2021 and is a Creative Fellow of the Samuel Beckett Archive for 2021/2022.
Beth is a freelance director and dramaturg originally from Peterborough, lived between Birmingham and London for the last 10 years.
Recently Beth was Artistic Associate at Tara Theatre in South West London. In this role, Beth supported the development of new work by running schemes such as 'Open Door', South Asian Play Reading Group, and regular workshops for young people and local adults.
Trained on the StoneCrabs Young Directors Scheme and the Birmingham REP Foundry artist development scheme, forming her ideas of what theatre is and who we really make it for. Currently studying an MA in Cities, to explore collaborative and creative practices in place making.
Beth works with writers to develop scripts and make new work, and created performances with young people, schools and community groups across the West Midlands.
Making work for and with audiences is at the heart of her practice, and will keep asking questions even when we don't know the answers. Changing the industry to be more open, democratic and accountable is an important goal that she is shouting about and working towards in her professional relationships. Always socially minded and always responding to the world right now
Contains dark themes, physical abuse, violence, war, sexual assault, discrimination, torture, eating disorders, police brutality, human trafficking, misogyny, and PTSD.
If you would like more detailed information about the content of this production, please contact [email protected] 
Creative Team
* LAMDA staff member or visiting artist
Lighting Designer / Chief LX
Jorge Clarkson
Sound Designer
Abhinav Mishra
Solicitor / Female Guard 1 / Bladder Lady
Camilla Anvar 
Clubber / Female Guard / Grumpy Man / Tired Lady 
Reba Ayi-Sobsa 
Male Guard / Receptionist / Constipated Lady / Friender 
Kat Dulfer 
Interpreter / Menses Lady / Hungry Lady / Cool Woman
Marion Githegi 
Shouty Lady / Suspicious Woman / Female Guard 2
Florencia Latagliata 
Nurse / Rash Lady / Scared Friender 
Laura Prendergast 
Strong Lady / Doctor / Guard / Main Friender 
Ezra Saifie
Stage Manager on the Book
Alexis Mumford
Technical Stage Manager
George Rogers
Production Manager
Jasmin Meara-Wall 
Production Sound Engineer
Sam Tate