Anna Jordan's
We Anchor in Hope
Writer
Anna Jordan
Director
Tanuja Amarasuriya
Location
The Linbury Theatre
Dates
Tuesday 31 May at 7:30pm
Wednesday 1 June at 7:30pm
Monday 6 June at 7:30pm
Tuesday 7 June at 7:30pm*
Wednesday 8 June at 7:30pm
* This performance will be a relaxed performance. Find out more.
The running time is 2 hours 15 minutes, including an interval.
About the show
All over London, public houses become private flats. Tomorrow The Anchor closes for good. It's the end of an era, but Kenny and the gang are going out with a bang. There's a blow-up pig, karaoke and a lot of Campari. There's secrets and grudges and forgotten dreams. As the front doors are locked and the bar is drunk dry, there's a lot more to lose than just a pub.
By arrangement with Nick Hern Books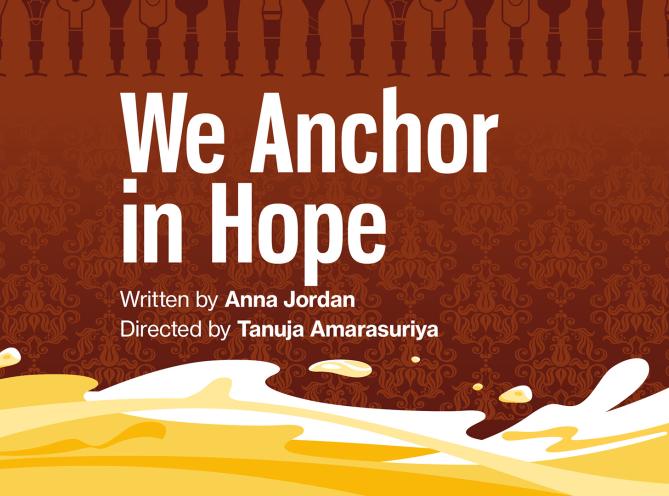 As Playwright, theatre includes: YEN (Royal Exchange, Manchester); Chicken Shop (Park); The Freedom Light (Company of Angels).
As Director, theatre includes: Tomorrow I'll be Happy (National); Crystal Springs (Eureka Theatre, San Francisco); Vote of No Confidence, Only Human (503).
As Playwright & Director, theatre includes: Freak (Edinburgh Fringe/503); Stay Happy Keep Smiling (Soho); Fragments (Riverside); Staunch (Arcola); Coming Home (Bush); ShortStuff (Waterloo East); Marianne (Wimbledon Studio/Trafalgar Studio); Bender, Closer to God (Old Red Lion); Just for Fun – Totally Random (Lost).
Awards include: Bruntwood Prize for Playwriting (YEN); West End Frame Fringe Production of the Year (Chicken Shop); Lost One Act Festival Best New Writing Award (Just for Fun – Totally Random); Inaugural Off Cut Festival Best Play Award & Audience Choice Award (Closer to God).
Anna originally trained as an actor at LAMDA. She also teaches acting and playwriting at drama schools across London and runs her own company, Without a Paddle Theatre.
Tanuja's recent credits as Director include OUT OF SORTS by Danusia Samal at Theatre 503 (2019), THE PAPER MAN by Improbable at the Soho Theatre (2019) and A LITTLE DEATH by Vic Llewellyn which toured nationally (2019). Under the name of Sleepdogs she collaborates with writer and composer Timothy X Atack and has directed all their productions to date. THE BULLET AND THE BASS TROMBONE premiered at Bristol Old Vic and toured nationally, including a run at the National Theatre.
As a Sound Designer Tanuja's credits include SALT by Selina Thompson (premiered at the Southbank Centre, toured the UK and to Australia, Canada and Brazil) and THE HALF GOD OF RAINFALL by Inua Ellams (The Kiln Theatre)
Contains adult themes, strong language, threatened violence, discussions of grief, and references to sexual assault.
Creative Team
* LAMDA staff member or visiting artist
Director 
Tanuja Amarasuriya*
Assistant Director 
Linda Miller
Designer 
Delyth Evans*
Movement Director
Rakhee Sharma*
Fight Director
Sam Behan*
Lighting Designer
Fintan McGuigan
Sound Designer
Stephanie Siraut
Vocal Coach
Salvatore Sorce*
Intimacy Coach
Joana Nastari*
Frank
Luke Gallagher 
Bilbo
Luke Hammond 
Kenny
Romeo Mika
Pearl
Sera Mustafa
Shaun
Jerome Yates 
Stage Manager on the Book
Marcus Grove
Technical Stage Managers
India Mae
Abhinav Mishra
Production Manager
Raveena Ambani
Chief LX
Calum Priestley
Deputy Chief / Programmer
Michael Fleming
Production Sound Engineer
Megan Bishop
Production Carpenter
Sophia Markou
Deputy Production Carpenter
Olivia Dunne