Clearing
Discover how the Clearing process at LAMDA works and how to get the most out of your experience.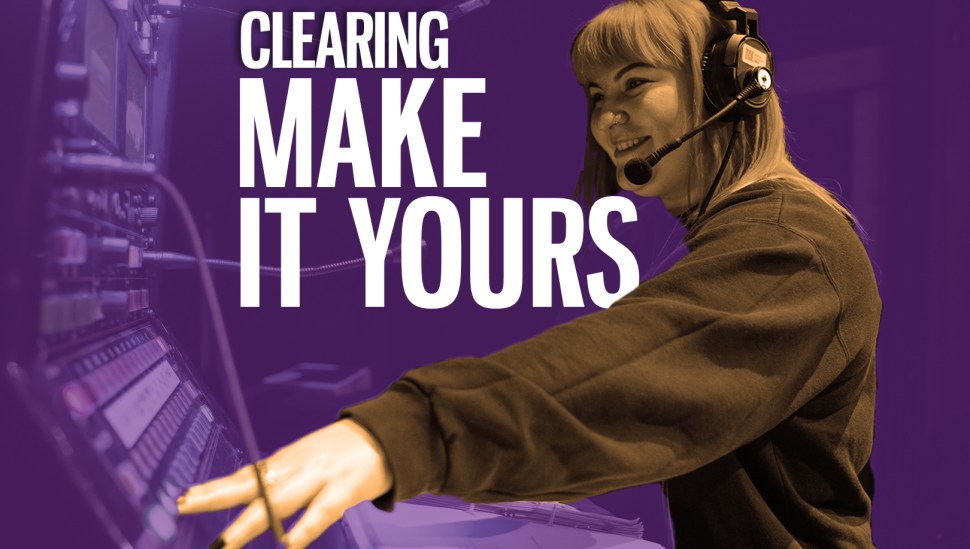 Clearing
Apply for the BA (Hons) Production & Technical Arts course via Clearing on UCAS to join us in September 2023. Call our Clearing Hotline 020 8834 0506 to speak to our Admissions Team.
[Phone lines are open 9:30-5:30pm, Monday to Friday]
Please note that Clearing is available for our BA (Hons) Production & Technical Arts degree only, and is not available for our Acting courses.
How it works at LAMDA
​​​​​
Although our courses do not rely on academic results, we will be open for Clearing and will be making offers over the phone to suitable candidates from Wednesday 5 July.
When you call LAMDA, you will be asked for the following information:
Our team will talk you through the Production and Technical Arts course and the commitment required
They will ask you some questions about your experience, interest in the course and reason for applying
​​​We will make an offer on the phone if you are a suitable candidate for the course
Our Admissions team will then follow up on the next steps
Please note that phone lines are expected to be busy and you may need to hold.
From Thursday 17 August, our phone lines will be open from 8am until 8pm.
On the weekend, our phone lines will be open from 9am until 5pm.
Our Admissions and Production and Technical Team will be available to answer your call and support you through the Clearing process.
How to get in touch:
Phone: 020 8834 0506 to speak to our Admissions Team.
Why choose to train in Production & Technical Arts at LAMDA?
We're a world-leading vibrant drama school, you'll train at our small, well-equipped London campus alongside actors, musical theatre performers and directors.
Graduates leave us prepared for the professional working world and current industry demands. 
You'll benefit from at least 35 contact hours per week compared to traditional university courses.
You'll train in London and benefit from our industry links, the opportunity to go on a placement as part of the course and work with the latest technologies, including our new Virtual Production stage pictured below.

Take a virtual tour of the building
You are able to use Clearing if you:
Didn't get into your firm (CF) or insurance (CI) choice universities or drama schools
Didn't get any offers when you first applied
Are applying after 30 June
Don't want the places you've been offered and self-release into Clearing
Were unsure about university or drama school during the first round of applications and didn't apply
Got better grades than predicted – you may be able to get a place on a different course at a university that asks for higher grades through UCAS Clearing and Adjustment
Clearing can also be useful if you've changed your mind about the course you originally applied for and want to go for a different one. You can self release on results day, if you'd like to go through Clearing instead.
You apply through Clearing via UCAS. We would suggest the following steps:
Use the search function to find the LAMDA Production & Technical Arts course on the UCAS website
Speak to our Admissions team via our Clearing Hot Line on 020 8834 0506 . Please note you will need to provide your Clearing Number (available in Track on UCAS) and Personal ID, so we can look up your application.
You can then add your Clearing choice through UCAS in Track. This is a simple process:

Click 'Add Clearing choice', and fill in the course details by the date the university/college gave you on the phone.
This counts as you definitely accepting the offer, so if they confirm, it'll show as an acceptance on your 'Choices' page in Track.
You can only add one choice at a time, but if the university/college doesn't confirm your place, you'll be able to add another.
Key things for Parents/Guardians to know about LAMDA
LAMDA is a Drama School, as opposed to a traditional university. We award our own degrees and if your child successfully completes the BA (Hons) Production & Technical Arts course they will be awarded a degree. This means the courses are vocational and have more contact hours than a university course, 35 per week, instead of 8-10 traditionally at university. The number of degrees offered at LAMDA is small and specialist and class sizes are small, at 28 for this course.
Useful links: 
Find out how accommodation works
Find out about funding training
Find out about the LAMDA student experience
General guidance on how to use Clearing
If your child is eligible for Clearing, they'll be given an option to 'add a Clearing choice' in the 'next steps' section when they sign in to the UCAS Hub on the UCAS website.
If they're interested in training in Production & Technical arts at LAMDA, encourage them to give our team at LAMDA a call to check for vacancies.
If LAMDA offers your child a place, they'll be able to add this choice in their UCAS Hub.
Remember: 
Clearing only allows one choice at a time  
Once a choice has been selected, they can't add another unless they've been unsuccessful with the first one 
If they want to apply elsewhere once they've added a choice, they'll need to ask LAMDA to cancel their place – then they can apply again through Clearing.
Make sure your child has the following information to hand when they call LAMDA:
Their UCAS ID and Clearing number 
Their A Level results/grades, with UCAS points if applicable 
Pen and paper or phone so they can make notes
Their personal statement 
Remember, LAMDA wants to hear from the student(s) themselves about their experience and interest in training on this course. Your child will need a quiet space to have a conversation with one of our friendly team and may be on hold if phone lines are busy. They will need to tell us about themselves and they will have the opportunity to ask their own questions too, to help them make their decision, should LAMDA offer them a place. LAMDA will make an offer on the phone.
​​​​​​