Linda Miller
Graduating MA Directing student
Linda is a director from Birmingham, of Jamaican heritage. She trained as an actor at Arts Ed before coming to study at LAMDA.

Linda is particularly interested in new writing and stories that centre the voices of Black, Global Majority and other underrepresented communities. As well as new voices, she also has an interest in classical text and adaptations.
Contact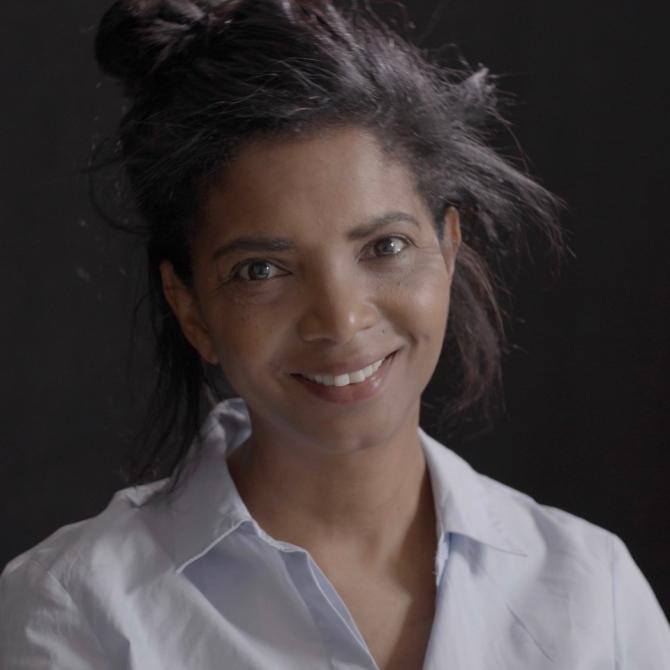 24 Grenfell Storey's
Written by Max Kolaru
Things Left Unsaid
Devised by Didem Atasoy, Kat Dulfer and Linda Miller
LAMDA - Assistant Director
The LeftOvers (New Writing)
Written by Ross Willis
Directed by Ned Bennett
We Anchor In Hope
Written by Anna Jordan
Directed by Tanuja Amarasuriya
The Welkin
Written by Lucy Kirkwood
Directed by Gemma Brockis
Intimate Apparel
Written by Lynn Nottage
Directed by Dawn Walton
24 Grenfell Storey's
Written by Max Kolaru
LAMDA -

Script Supervisor
The Return [Short Film] *
Written by Michelle Bonnard
Directed by Michelle Bonnard & Caroline Martin
*Script Supervisor Trainee
A Doll's House
RADA
Director, 2020
Picnic
Arts Ed Drama School
Director, 2019
Hedda Gabler
RADA
Director, 2019
Henrietta
RADA
Director, 2019
The Wrong Way, Bunker Without
Borders Festival
Bunker Theatre
Director, 2017
View of Her Own Beauty
Rapport Festival
Director, 2017
Cyrano De Bergerac
The Mill Studio
Yvonne Arnaud Theatre
Director, 2017
His Life Matters, Black Lives
Black Words
The Bush Theatre
Director, 2016
This Man Right Here
The Hen and Chickens
Camden Fringe
Director, 2016
Once Upon A Marriage
Theatre 503
Rapid Write Response
Director, 2016
Beyond the Canon - Part One
Vanbrugh Theatre, RADA
Director, 2016
Divide and Rule
Duffield Studio, NT
Director, 2016
A Harlem Story
Jermyn Street Theatre
Director, 2016
Much Ado About Nothing
Camden People's Theatre
Director, 2015
Love and Information
John Lyons Theatre
Director, 2015
5 Guys Chillin
Otherplace, Brighton Fringe
Assistant Director, 2015
Yoshiko 1945
Soho Festival, Tristan Bates Theatre
Director, 2014
Linda has facilitated workshops in PRU's (Pupil Referral Units) and YOI's (Young Offenders Institutes), and has taught young people with SEN needs in supported learning at Lewisham college.
Directing Masterclass
Katie Mitchell
Devising Masterclass
Abbi Greenland - RashDash and Jess Haygarth
Producing Masterclass
Helen Matravers
Assistant Directing Masterclass
Jeremy Herrin
Puppetry Masterclass
Mervyn Millar, Significant Object
Casting Masterclass
Lotte Hines
Associate Director Masterclass
Tessa Walker
Dramaturgy: The Critical Processes to Artistic Work
Sarah Dickenson
Dramaturgy: Developing A Bespoke Canon of Reading
Sarah Dickenson
Consent And Intimacy in The Rehearsal Room
Adelaide Waldrop
Directors Online Masterclass
Robert Icke and Lyndsey Turner
Michael Chekhov Course
Sinead Rushe
Imaginative Improvisation Masterclass
Catherine Clouzot
Shakespeare's Verse Masterclass
Giles Taylor
Shakespeare Masterclass
Simon Usher
Little Angel Puppetry Foundation Course
Oliver Hymans
Linda studied Imaginative Improvisation and text with Catherine Clouzot and John Blatchley and employs these methods in her work as a director and teacher. Linda is a specialist tutor of Movement Psychology – Laban / Malmgren movement for actors.
RADA
Acting Tutor, Director
E15
Director
Arts Ed
Director
LAMDA [MA Directing, 2021-2022]
Arts Ed [BA Acting]
PGCE [PCET]
DBS - Enhanced DBS Certificate