Grace Olinski
Graduating BA (Hons) Professional Actor
Height

5'3"

Hair

Brown

Eyes

Brown

Voice

Soprano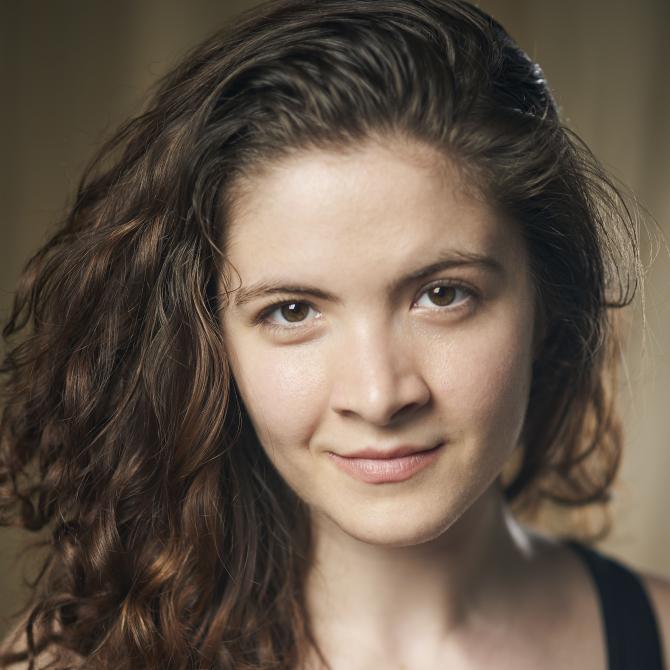 In place of our regular live showcase, we have brought together a Digital Showcase to feature the skills and talents of our graduating year. 
Here you can explore Grace Olinksi's digital showreel, which includes theatrical and screen scenes, and audio reel. A short film written and directed by professional film-makers is currently being edited and will be added shortly.
Audio reel
Click the link below to listen to Grace Olinski's audio reel. 
Check back soon as we'll be adding a link to our series of audio-drama pilots made with our creative partner Audible. You can read more about our audio work during the Covid-19 lockdown here. 
Chrissie
Monday (short film)
Directed by Christopher Haydon
Grace/Mother with Pram/Receptionist/Police Officer
Earthquakes in London
Directed by Matt Hassall
Salanio
The Merchant of Venice
Directed by James Yeatman
Lt.Cmdr. Joanne Galloway
A Few Good Men
Directed by Marieke Audsley
France/Rinaldo
All's Well That Ends Well
Directed by Judith Phillips & Rodney Cottier
Bev
Clybourne Park
Directed by Gretchen Egolf
Diana
Next to Normal
Directed by Karoline Gable
Terri
The Rules
Directed by Katie Bonna & Ria Parry
Varya
The Cherry Orchard
Directed by Caroline Leslie
Mrs Foresight
Love for Love
Directed by Vik Sivalingam
Dionysus
The Bacchae
Directed by John Baxter & Judith Phillips
Bianca
Women Beware Women
Directed by Sarah Malin
Beatrice-Joanna
The Changeling
Directed by Sarah Malin
Helen
On Approval
Directed by Jenny Lipman
Marie-Louise
One Minute
Directed by Penny Cherns
Professional theatre, TV, film & radio
Lady Macbeth
Macbeth
American Shakespeare Center Young Company
Queen Margaret
Henry VI Pt 3
American Shakespeare Center Young Company
Eligibility
Eligible to work in the US
General American (native), RP*, Southern (Tennessee)*, Cockney*, Edinburgh*
*Certified to a Native Standard by James Gitsham
Ballet, Jazz, Tap, Historical Dance, Flamenco, Tango, Cha-cha, Waltz
BGSC Level Four (Specialisation) Sword & Cloak, Sabre: Distinction w/ Examiner's Gold Star
BGSC Level Three (Advanced) c18th Small Sword, Sword & Buckler: Distinction
Full Clean Driving Licence (USA)
LAMDA BA (Hons) Professional Acting, 2017-2020
YoungArts Finalist in Theatre, 2016 (USA)