Laura Woodhouse
Graduating BA (Hons) Professional Actor
Height

5'6"

Hair

Dark Blonde

Eyes

Green

Voice

Soprano (G3-B5, Belt Eb5)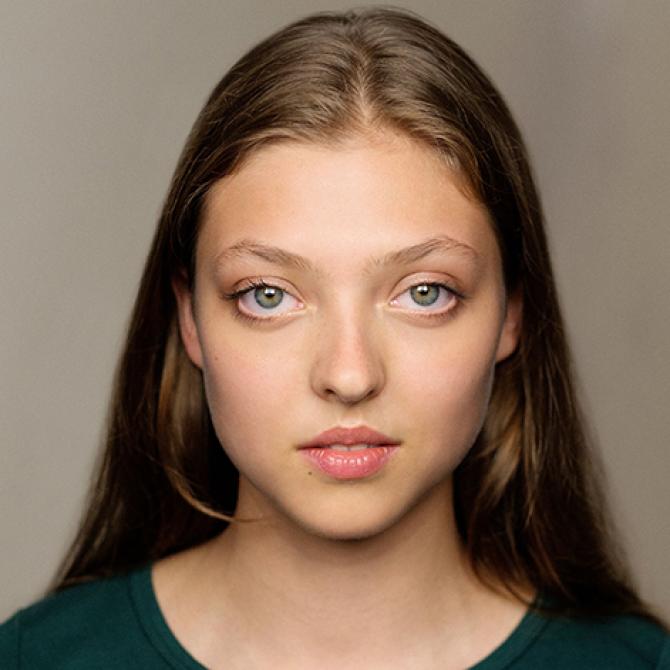 In place of our regular live showcase, we have brought together a Digital Showcase to feature the skills and talents of our graduating year. 
Here you can explore Laura Woodhouse's digital showreel, which includes theatrical and screen scenes, self-created work made during the Covid-19 lockdown and audio reel. A short film written and directed by professional film-makers is currently being edited and will be added shortly.
Across the 12-week period of lockdown, all graduating students on the two year and three year acting courses collaborated with a dramaturg to develop and create their own self-created piece.
The BA (Hons) Acting students were given the brief to create a series of 'encounters' in the East Wing that celebrate the individual creativity of each graduating student. Made over 12 weeks, with dramaturgical and creative assistance from Tatty Hennessy and Matt Hassall.
Audio reel
Click the link below to listen to Laura Woodhouse's audio reel. 
Check back soon as we'll be adding a link to our series of audio-drama pilots made with our creative partner Audible. You can read more about our audio work during the Covid-19 lockdown here. 
Holly
Birth Right (short film)
Directed by A J Quinn
Sophie
Nine Night
Directed by Jade Lewis
Audrey
Little Shop of Horrors
Directed by Josh Seymour
Salarino
The Merchant of Venice
Directed by James Yeatman​​​​​​
#7
The Wolves
Directed by Mary Papadima
​​​​
Trinculo / Juno
The Tempest
Directed by James Kerr
Younger Daughter
A Case: I Hate and I Love
Directed by Chino Odimba/Miranda Cromwell
Marlene
Top Girls
Directed by Amy Cudden
Natalie Goodman
Next To Normal
Directed by Karoline Gable
Lyubov Ranevskaya
The Cherry Orchard
Directed by Caroline Leslie
Mademoiselle
The Provok'd Wife
Directed by Emily Jenkins
Chorus / Messenger
The Bakkhai
Directed by John Baxter
D'Avolos
Love's Sacrifice
Directed by Rodney Cottier
Helen
On Approval
Directed by Jenny Lipman
Helen
Under the Blue Sky
Directed by Penny Cherns
Professional theatre, TV, film & radio
Jane
Perdition County
Directed by Raphael Crombez (Colonel Pictures) 
Mary
The First Time
Directed by Will Dolan (Firewood Pictures)
'A'
Potemkin's People
Directed by Sam Haygarth (Edinburgh Fringe)
Sophie
Boys
Directed by Barney McElholm (Playbox)
Ensemble
Gutterhead
Directed by Toby Quash (Ustinov Theatre School)
Portia
The Merchant of Venice
Directed by Mary King (SYC, Playbox)
Eligibility
Eligible to work in the UK & New Zealand and Australia.
RP (Native), Lancashire (Rhotic)*, General American*, French*, Cockney*, Essex, Australian, New Zealand
*Certified to a Native Standard by James Gitsham
Ballet, Historical Dance, Flamenco, Cha Cha, Tango, Waltz, Show Dance
BGSC Level Four (Specialisation) Group Fight in c18th Small Sword: Distinction with Examiner's Gold Star
BGSC Level Four (Specialisation) c18th Small-Sword & Cloak: Distinction with Examiner's Gold Star
BGSC Level Three (Advanced) Sabre, Sword & Buckler: Distinction; c18th Small-Sword: Distinction with Examiner's Gold Star
Cycling, Running, Swimming, Yoga
Singing, Ukulele (Self-taught)
LAMDA BA (Hons) Professional Acting, 2017-2020
LAMDA Fight Night Winner (Jubilee Trophy – Best Stage Fight, 2019)
Ustinov Theatre School UK, 2015-2017