T'ai Hartley
Height

6'1"

Hair

Brown

Eyes

Hazel

Voice

Baritenor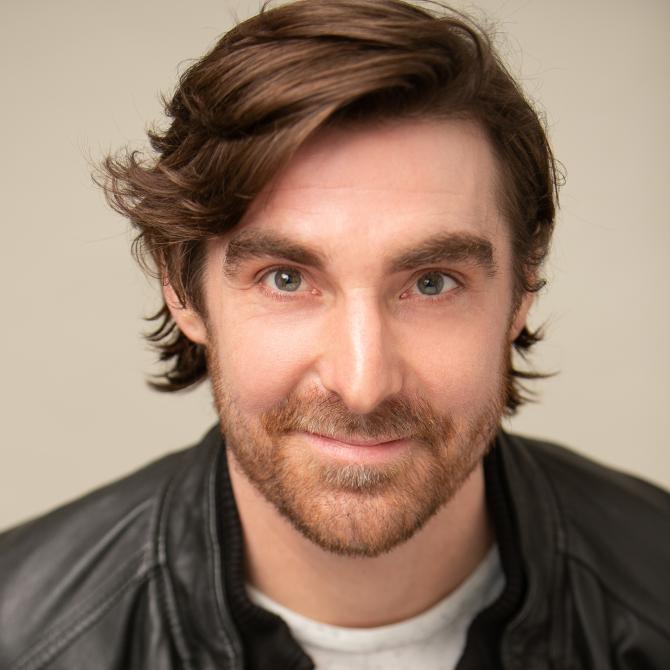 In place of our regular live showcase, we have brought together a Digital Showcase to feature the skills and talents of our graduating year. 
Here you can explore T'ai Hartley's digital showreel, which includes theatrical and screen scenes, self-created work made during the Covid-19 lockdown, audio reel and a short film written and directed by professional film-makers.   
Across the 12-week period of lockdown, all graduating students on the two year and three year acting courses collaborated with a dramaturg to develop and create their own self-created piece.
The MFA Acting students created pieces that ranged from Mockumentaries, monologues to drag shows. These were personal responses to the prompt of why you, why now, who for? Dramaturged and creatively supported by Lauren Mooney and Laura Bridgeman.
Audio reel
Click the link below to listen to T'ai Hartley's audio reel. 
Check back soon as we'll be adding a link to our series of audio-drama pilots made with our creative partner Audible. You can read more about our audio work during the Covid-19 lockdown here. 
Sam
Still here (short film)
Directed by Alex Warren
Pontius Pilate/Uncle Pino
The Last Days of Judas Iscariot
Directed by Sam Curtis Lindsay
Franz Lafayette
Appropriate
Directed by Gretchen Egolf
Polonius / Priest
Hamlet
Directed by Tatty Hennessy
Vershinin
Three Sisters
Directed by Caroline Leslie
Seamus
Baby Boom
Directed by Chris Bush & Kate Wasserberg
Belvile
The Rover
Directed by Amy Cudden
Bosola
The Duchess of Malfi
Directed by James Kerr
Paul
Damascus
Directed by Penny Cherns  
Professional theatre, TV, film & radio
Cassio
Othello
Directed by George Mount (Seattle Shakespeare Co)  
Man
The Man and Mel (Short Film)
Directed by Seejon Thomas (Zero4 Productions)
Aiden
Papa Was A Rodeo
Directed by Stewart J. Zully (Pasadena Playhouse) 
Adam
Followed (Short Film)
Directed by Nikil Nagaraj
Sean
Friends in The City (Pilot)
Directed by Cashalà L'Shauntyelle
One Eyed Ben  
One Eyed Ben (Short Film)
Directed by Seejon Thomas (Zero4 Productions)
Ensemble Member  
Peter Pan
Directed by Gregg Gilmore (UMO Ensemble) 
Various
American Family
Andy Paris (Edinburgh 2011) 
Hamlet
Hamlet
Directed by Stephen Wangh (Naropa University) 
Macbeth
Macbeth
Directed by Veronica Santoyo (Naropa University) 
Orsino
Twelfth Night
Directed by Tracy Peterson (Shakespeare Northwest)
Siddhartha  
The Siddhartha Project
Directed by Wendell Beavers (Naropa University)
Sebastian
Raised in Captivity
Directed by Abe Manion (Let Live Theatre)
Eligibility
Eligible to work in the US
General American [Native], RP, New York, Southern American United States  
Historical Dance, Ballroom
BGSC Level Three, [Advanced] Group Medieval Fight, Longsword [Distinction]
BGSC Level Three [Advanced] Staff [Merit]
Running, Rowing, Yoga, Snowboarding, Swimming
Full clean driving licence 
LAMDA (MFA Professional Acting, 2018-2020) 
Naropa University (MFA Contemporary Performance, 2011-2013) 
Western Washington University (BA Theatre Arts 2004-2008) 
Filmmakers Award for Outstanding Performance for The Man and Mel (Film Invasion L.A., 2019) 
Irene Ryan Nomination for The Importance of Being Earnest (WWU, KCACTF)