Written by
Max Kolaru
Directed by
Linda Miller
Location
The Linbury Theatre
Dates
 Tuesday 23 August at 7pm
 Wednesday 24 August at 2pm
 Wednesday 24 August at 7pm
The running time is 1 hour.
About the show
24 Grenfell Storey's is a play about the Grenfell atrocity that gives a fictional account of the perilous journey of a survivor; with the anger and neglect of a grieving community given powerful lyrical voice.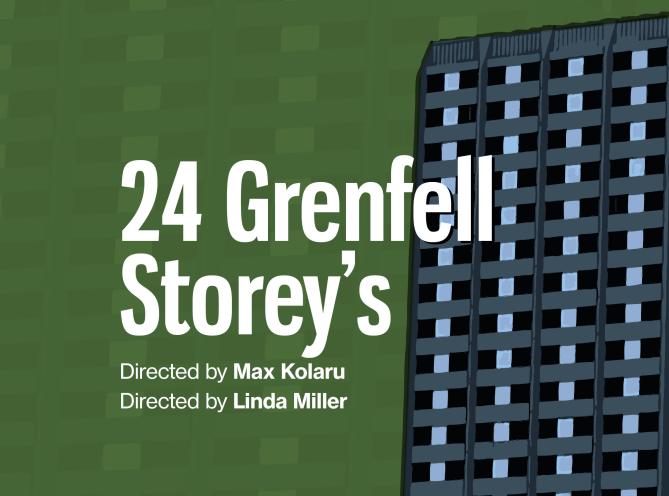 About the director, Linda Miller
Linda is a director from Birmingham of Jamaican heritage. She trained as an actor at Arts Ed before coming to study at LAMDA. Linda is interested in new writing that centres underrepresented communities. She is drawn to contemporary stories, stories from the diaspora that explore race and identity - but not exclusively.
Linda has taught, directed and facilitated workshops at RADA, Arts Ed and E15 drama schools. Her specialist skills include: the Laban/Malmgren - Movement Psychology - movement for actors, actor coaching and dramaturgy.
As a director credits include:  
His Life Matters - Black Lives Black Words, The Bush 
Beyond the Canon (part one) - Vanbrugh Theatre, RADA 
Divide and Rule - Duffield Studio, NT 
The Wrong Way - Bunker without Borders Festival, Bunker Theatre 
Much Ado About Nothing - Camden People's Theatre 
Assistant directing credits include: 
The LeftOvers, We Anchor In Hope, The Welkin and 5 Guys Chillin.
Max Kolaru's work has received rehearsed readings at prestigious theatres, including Royal Court Theatre (Shredder, 2008) Soho Theatre (Mirror, 2010, Take Me 2 Manhattan, 2012) Tristan Bates Theatre (Bracewell Road, 2010) Young Vic/Talawa Theatre (Take Me 2 Manhattan, 2011) Bush Theatre (Father's Day, 2015, Neighbourhood Project, 2016) Finborough Theatre (49 Balloons, 2016) Bush Theatre (Traffick Jam, 2016).
Shortlisted for theatre awards, including, three times shortlisted for the Alfred Fagon Award (MeanTime, 2006, Take Me 2 Manhattan, 2010, Traffick Jam, 2016). And shortlisted for the Verity Bargate Award (MeanTime, 2007) Brockley Jack Theatre Write Now (Box Chicken, 2014) BareBones (Moments of Fallin', 2010).
Longlisted plays, for the Bruntwood Prize (Take Me 2 Manhattan, 2013) Alfred Fagon Award (Not Cricket, 2015, 24 Grenfell Storey's, 2017). 
Max has had attachments with the National Theatre (2018-2020) the Royal Court Theatre (2008) and Clean Break Theatre (2010). In recognition of Max's abilities as a writer, Max has also been one of the Royal Court Theatre's Super Group and Critical Mass Writers, as well as a Soho Theatre Hub writer. 
Max's short play Father's Day, was also part of the Black Lives, Black Words, evening of plays, premiered at the Bush Theatre in 2015, through Artistic Directors of the Future:
Featured in Black Lives, Black Words, published by Oberon books, 2017: 
Max also established the literary review blog: Cook n Curry.
In between all that Max re-trained as a Barrister and was called to the Bar in 2020 and is currently seeking pupillage!
Contains racist language, suicide and flashing lights.
Creative Team
* LAMDA staff member or visiting artist
Director 
Linda Miller
Movement Director
Rakhee Sharma*
Designer 
Marcio Sorrentino*
Lighting Designer
Daisy Simmons
Sound Designer
Marie Zschommler
Production Team
* LAMDA staff member or visiting artist
Production Manager 
Tom McCreadie 
Stage Manager 
Lucy Mewis-McKerrow*
Chief Electrician 
Jorge Clarkson
General Technician
Jacob Eckardt