Kate Bowen's
Close Quarters
Writer
Kate Bowen
Director
Emily Aboud
​Location
The Carne Studio Theatre
Dates
Thursday 9 February at 7:30pm
Saturday 11 February at 7:30pm*
Monday 13 February at 2pm
Tuesday 14 February at 7:30pm
Wednesday 15 February at 2pm
The running time is approximately 2 hours plus an interval.
*This will be a relaxed performance. Find out more.
About the show
Stationed on the tense border between Estonia and Russia, Cormack, Findlay and Davies are the first generation of women to ever serve in the British infantry. They've aced physical tests only five per cent of female soldiers can pass – they've been trained to shoot, fight and kill. But everyone around them questions whether they should even be allowed to serve. And now they're about to be tested to their limits.
Kate Bowen's taut, funny and powerful play follows three pioneering young women in the world's most dangerous workplace. 
By arrangement with Nick Hern Books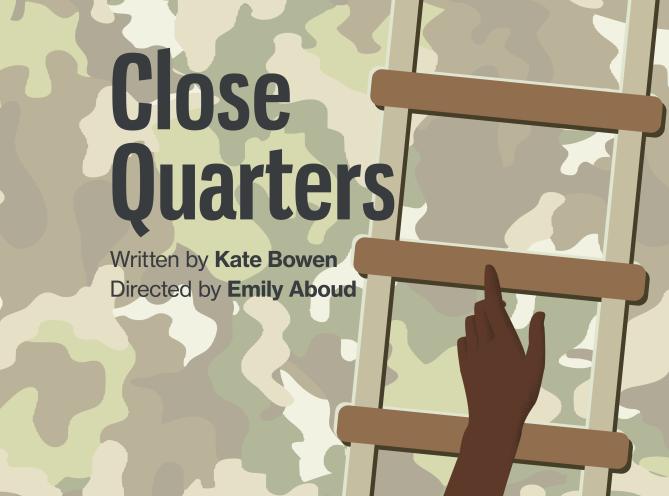 The company would like to thank St Benedict's School, Ealing, for their kind loan of CCF equipment.
Kate Bowen is a Glasgow-based writer and producer working in theatre and television.
Her play Close Quarters premiered at Sheffield Theatres in 2018 in a co-production with Out of Joint (later known as Stockroom). It was named by The Observer as one of their top ten theatre productions of that year. 
She was a 2012 recipient of the annual New Playwrights Award (Playwright's Studio Scotland) and participant in the 2013 Traverse 50 programme at the Traverse Theatre, Edinburgh. She was awarded a place on the Channel 4 Playwrights' Scheme in 2016, a Starter for Ten residency from the National Theatre of Scotland in 2017 and to be part of the BBC Writersroom Scotland's first Drama Writers Group in 2018.
Her short plays have been performed at The Traverse Theatre (The Prize Fighter, audio play) Glasgow's Play, Pie and a Pint (The Lawyers) and on STV (Super Sunday, a Five Minute Theatre piece for National Theatre of Scotland).
Emily Aboud is a theatre director, a film director and a writer of mixed heritage, born and raised in Trinidad and Tobago, based in London. 
She won the Evening Standard Future Theatre Award in 2021. She is an Associate Artist at the Bush Theatre and Artistic Director of Lagahoo Productions. 
She was shortlisted for the JMK Award in 2021. She was also shortlisted for the Genesis Future Directors Award and the Old Vic 12 in 2020.​
Her directing credits include SPLINTERED, (also writer Edinburgh Fringe 2019, Soho Theatre 2022), Pink Lemonade (Bush Theatre 2021, Edinburgh Fringe 2019), The Fairytale Revolution (Theatre503), British Book (Roundhouse 2021), BOGEYMAN (CPT, 2021), Exceptional Promise (Bush Theatre), Salty Irina (Ovalhouse), What We Talk About when We (Don't) Talk about Race (Theatre503), Hopes, Dreams or Goldfish (Bunker Theatre) among others.
She has worked with The Gate Theatre, The Bush Theatre, The Hampstead Theatre and Theatre503. She has worked internationally, directing and assistant directing pieces in Trinidad & Tobago as well as throughout the UK.
A teacher and facilitator, she has led workshops for Talawa, GRAEAE and the Bush Theatre. She has also directed drama school productions at Central School of Speech and Drama, ALRA South and Italia Conti.
She also works as a writer and columnist for the Trinidad Guardian, writing feminist articles under the pseudonym, lagahoo.
She also performs regularly as a drag king, TriniDad & TooGayThough across the UK and Trinidad & Tobago. Performing in The Yard, VFD, The Glory and EartH Hackney as a finalist for the Man Up competition, the largest drag king competition in Europe
Explores challenging topics and themes including war, gender, sexism, death and misogyny, with strong language, sexual references, use of replica firearms, sudden loud noises, and use of blood.
Booking
Booking is now open. Once you have booked a ticket, you will receive an email confirmation. Read up on our latest audience guidelines here.
Members of the industry: secure your complimentary seat by emailing the Box Office​​​ on [email protected]
Pricing and concessions 
Tickets cost £14, but we have £7 concessions tickets available to Hammersmith & Fulham residents, schools, students, or people who are over 65, under 18 or are on Job Seeker's Allowance. You'll just need to provide proof of your eligibility when you collect your tickets at the Box Office. We offer a complimentary ticket for carers, to book please call the box office on 020 8834 0500. If you belong to our Pathways Programme or work with any of our Pathways Partners you are entitled to complimentary tickets. Please contact the box office to book.
Accessibility 
If you have any additional requirements, you would like us to be aware of, please contact box office on 020 8834 0500. 
Booking your tickets 
Book your tickets online or by calling our box office on 020 8834 0500. 
Industry booking 
If you're a member of the industry, please email [email protected] to book your tickets. 
Ticket collection for in-person tickets
There is no need to collect tickets. You will be ticked off an attendance list on arrival. 
Refunds 
Unfortunately, all tickets are non-refundable.
Creative Team
* LAMDA staff member or visiting artist
Director
Emily Aboud*
Designer
Nicky Bunch*
Musical Director
Luke Byrne*
Assistant Director
Martha Barnett
Voice Director
Gurkiran Kaur*
Movement Director
Jackie Kibuka*
Lighting Designer
Avery Elliott
Sound Designer / Production Sound Engineer
Poppy Morley
Fight Director
Yarit Dor*
Costume Supervisor
Niamh Turton*
Costume Assistant
Tabitha Stock*
Captain Anna Sands
Tilly Botsford
Private Clare Davies
Laura Brady
Private Sarah Findlay 
Marion Githegi
Sergeant John Adeyemi
André Larnyoh
Private Alison Cormack 
Laura Prendergast
Corporal Brian Armstrong
Shannon Smith 
Stage Manager
Kit Fowler
Deputy Stage Manager
Sophia Markou
Technical Stage Manager
Ghoti Fisher
Production Manager
Stephanie Leeson
Chief LX
Summer Collier