Bertolt Brecht's
The Caucasian Chalk Circle
Translated by Frank McGuinness
Writer
Bertolt Brecht
Translated by Frank McGuinness
Director
Vik Sivalingam
​Location
The Sainsbury Theatre
Dates
Monday 13 February at 7:30pm
Tuesday 14 February at 7:30pm
Wednesday 15 February at 7:30pm*
Thursday 16 February at 2pm
Thursday 16 February at 7:30pm
The running time is approximately 2 hours and 15 minutes including an interval.
*This was a relaxed performance. Find out more.
About the show
In the heat of civil war, a mother abandons her son, and the responsibility to rear the child falls upon Grusha, a servant girl. She sacrifices everything in order to respectfully raise the young boy as her own, but when the biological mother returns a debate arises as to who the rightful mother of the boy is.
This is a fresh and powerful translation of Brecht's incendiary masterpiece by one of the most respected translators in modern literature.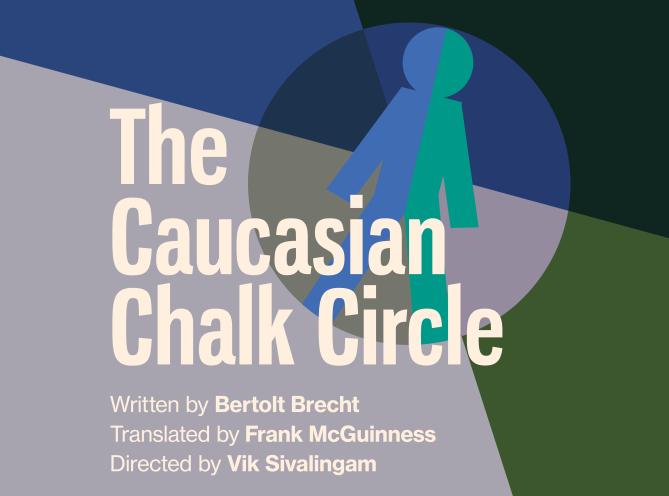 Bertold Brecht (1898-1956) is one of Germany's best-known playwrights. His social critiques, including The Caucasian Chalk Circle, Mother Courage and Her Children and The Threepenny Opera, resonate with modern audiences and continue to be frequently performed.
Frank McGuinness was born in Buncrana, Co Donegal. He has written extensively for the Irish theatre, both original scripts and translations. His awards include the London Evening Standard Award for most promising playwright for Observe the Sons of Ulster in 1985, and a Tony Award for his 1997 adaptation of Ibsen's A Doll's House. He has published several volumes of poetry and wrote the screenplay for Pat O'Connor's 1998 film version of Friel's Dancing at Lughnasa. He is a writer-in-residence at UCD. He lives in Dublin.
Vik received his MFA in Theatre Directing from Birkbeck, University of London and his PG Award in Teaching Shakespeare from The University of Warwick (in association with the Royal Shakespeare Company).
Vik has been associated with LAMDA since 2015 as a freelance director. In his current position, he directs and teaches across a range of LAMDA's acting programmes. Public productions directed include Rotterdam, In Arabia We'd All Be Kings, Wild Honey, Posh, Macbeth and Romeo and Juliet. Professional directing credits include the UK premieres of The Ice Cream Boys by Gail Louw, There or Here by Jennifer Maisel, Home by Sam Art Williams and Half and Half- The Curry Musical by Tim Reilly. International directing credits include Much Ado About Nothing in NY and The Tempest at the Rio Olympics.
Contains themes of death, justice, marriage, moral dilemmas, politics and poverty.
Photos: SRTaylor Photography
Creative Team
* LAMDA staff member or visiting artist
Director
Vik Sivalingam*
Designer
Ruari Murchison*
Musical Director
Luke Byrne*
Voice Support
Jeremy Finch*
Lighting Designer
Fintan McGuigan
Sound Designer
Marie Zschommler
Fight Director
Sam Behan*
Costume Supervisor
Chrissy Maddison*
Young Worker, Armoured Rider, Innkeeper, Laverenti (brother), Landlord, Farmer 3, Soldier 1
Tyler Cameron
Expert, Nanny (Maro), Older Lady, Aniko, Lawyer 2
Kitty Castledine
Old Man (Aleko), Soldier (Simon), Simon Chacava, Ironman
Cameron dos Anjos
Tractor Woman, First Doctor, Peasant Woman, Singer, Soldiers, Old Woman, Lawyer 1
Naia Elliott-Spence
Old Man (L), Fat Prince, Soldier, Guests, Stable Lad, Other Soldier
Ibraheem Hussain
Soldier Kato Wachtang, Architect 1, Third Woman, Singer, Merchant Woman, First Woman, Soldier 3, Old Woman
Jazz Jenkins  
Singer, Armoured Rider, Corporal, Peasant, Refugee (Grand Duke), Prince's Nephew, Farmer 2
Oliver John
Grusha, Musicians, Young Woman
Lucy Karczewski
Musicians, Architect 2, House Servant, Azdak
Jacob Mechan
Girl Tractor Driver (L), Wife (Natella), Second Woman,
Mahaila Palmer
Musicians, Governor, First Man, Jessup, Shauva
Travis Phillips
Peasant Woman (L), Second Doctor, Cook, Younger Lady
Jade Dharma Roberts
Wounded Soldier (L), Adjutant, Second Man, Monk, Singer, Farmer 1
Kieton Saunders-Browne
Peasant Woman, Singer, Second Woman, Jessup's Mother, Soldier 2, Irakli (Bandit)
Annie Taylor
Old Peasant, Rider, Groom, Old Man, Peasant , Stableman, Soldier 1, Old Man
Moses Walsh
Stage Manager
Jasmin Meara-Wall
Deputy Stage Manager
Natasha Shirley
Assistant Stage Manager
Peter Johnston
Elaine Redshaw
Production Manager
Jen Garland
Chief LX
James Imber
Deputy LX / Programmer
Jacob Eckardt
Production Sound Engineer
Ash Orhan-Pennell
Production Carpenter
Jorge Clarkson
Lighting Crew
Izzy Buchanan
Callum Duncan
George Rogers
Sound Assistants
Simon Fleming
Elisabetta Perrotta
Construction Crew
Helena Fitzgerald
Aidan Gibson
Anya Williams
Photos: SRTaylor Photography