E. V. Crowe's
The Sewing Group
Writer
E. V. Crowe
Director
Sophie Dillon Moniram
​Location
The Linbury Theatre
Dates
Wednesday 8 February at 7:45pm
Friday 10 February at 7:45pm
Saturday 11 February at 2:15pm
Monday 13 February at 7:45pm*
Tuesday 14 February at 2:15pm
The running time is approximately 1 hour and 25 minutes.
*This was a relaxed performance. Find out more.
About the show
A woman arrives in a rural village in pre-industrial England. Her desire is to sew and learn from their simple way of life. But the group soon begins to suspect she is not who they thought she was.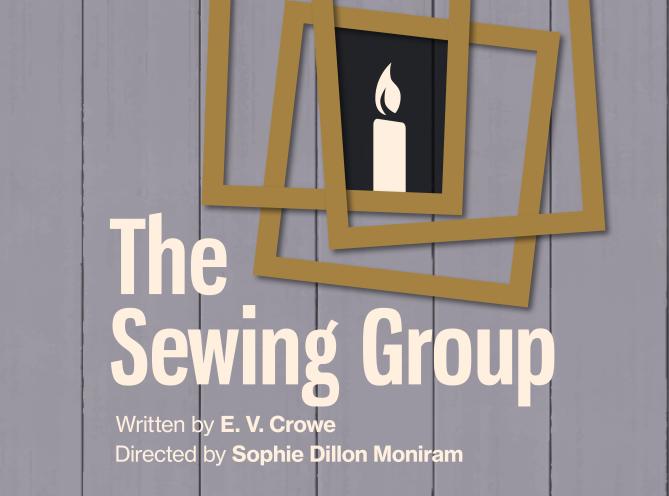 E. V. Crowe is a graduate of the Royal Court Young Writers' Programme Super Group, and a writer for Film, TV, Radio and Dance.
Her first play, Kin, was nominated for the Most Promising Playwright at the Evening Standard Awards. Her second Royal Court play, Hero, was part of the Olivier Award-winning season in the Theatre Upstairs. Her third play for the Royal Court, The Sewing Group, was performed in the JTU in November 2017 and her most recent play, Shoe Lady, was performed in the Theatre Downstairs in March 2020.
Sophie Dillon Moniram is a director for theatre, screen and audio works. She is passionate about international writing and diversity. Sophie makes theatre that is life affirming; that reminds us we are larger than the individual story we are living. She makes work about freedom.

She was on attachment at The Old Vic Theatre as an Old Vic 12 Director in 2018. Through her attachment she developed a new play written by Omar El-Khairy. She has also worked at the Old Vic as Associate Director to Adrian Lester on The Greatest Wealth, a series of monologues celebrating 70 years of the NHS, curated by Lolita Chakrabarti. 

Prior to beginning her directing career she trained on Mountview Academy's Theatre Directing MA after studying Philosophy at Southampton University.  Most recently she has directed audio pilot The Falling for Audible, and has worked as staff director at The National Theatre on The Ocean at the End of the Lane and The Visit.

Through her commitment to diverse new work, she directed Black Theatre Live's national tour of a new play The Diary of a Hounslow Girl by Ambreen Razia (commissioned and supported by Ovalhouse). The show was nominated for Best Stage Production at The Asian Media Awards 2016. Following its success the production re-toured with House Theatre and was performed at Southbank Centre.
Explores some challenging themes including death, grief, subtext of child neglect, and contains sudden fire and use of replica firearms.
Creative Team
* LAMDA staff member or visiting artist
Director
Sophie Dillon Moniram*
Designer
Delyth Evans*
Composer
Sarah Llewellyn*
Voice Director
Francoise Walot*
Movement Director
Ana Beatriz Meireles*
Lighting Designer
Stephanie Siraut
Sound Designer / Production Sound Engineer
Ciara Brady
Fight Director
Yarit Dor*
Costume Supervisor
Caitlyn Keaney*
A
Rosa Collier
E
Kat Dulfer
C (Maggie)
Tobi Martins-Ojo
B
Ezra Saifie
D (Sally)
Niamh Marie Smith
F (Mac)
Kaustubh Vaidya
Stage Manager on the Book
Charlotte Owadally
Technical Stage Manager
Ronan McKenna
Production Manager
Cara Dickens
Chief LX
Summer Collier
Photos: SRTaylor Photography