William Shakespeare's
Troilus & Cressida
Writer
William Shakespeare
Director
Nick Bagnall
​Location
The Sainsbury Theatre
Dates
Saturday 3 September at 7:30pm
Monday 5 September at 2pm
Tuesday 6 September at 7:30pm*
Wednesday 7 September at 2pm
*This performance will be live-streamed.
Please note that the date of the opening night and the times of the performances have changed.
The running time is approximately 2 hours 30 minutes, including an interval.
About the show
A tragic love pursued in the midst of a pointless war. The Trojans and Greeks are at war following the Trojan prince Paris' abduction of Helen, the most beautiful woman in the world, from her Greek husband Menelaus. 
Seven years into the siege of Troy, young lovers Troilus and Cressida swear they will remain true to each other. But when Cressida is sent to the Greek camp in exchange for a captured Trojan general, the couple are put to the test. Can their love survive the corrupting influence of war?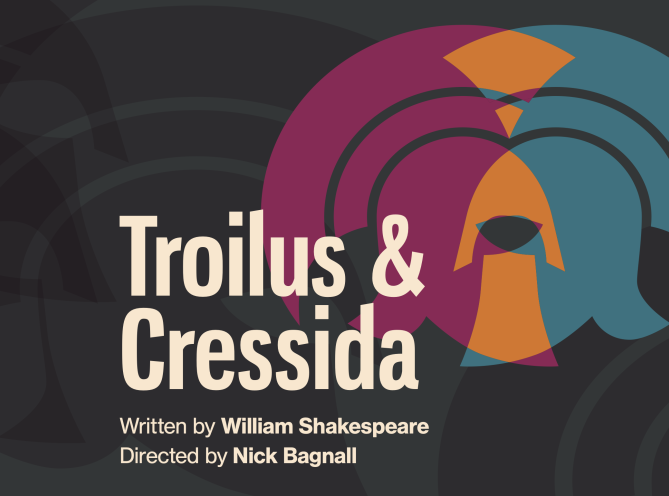 Troilus & Cressida is one of William Shakespeare's later plays. Written around 1602, it was possibly performed in 1602-03 – although there is no record of the performance, and the play was not published until 1609. Its genre has also been under debate, with the play being characterised as a history play when published, and alternating between a tragic and comedic tone.
Recent productions include: Our Lady of Blundellsands, Sweeney Todd, The Conquest of the South Pole, Romeo & Juliet, A Clockwork Orange and The Big I Am – a reimagining of Peer Gynt, all at the Liverpool Everyman; and Edward II at Shakespeare's Globe.
Previous work includes: The Odyssey: Missing Presumed Dead, A Midsummer Night's Dream, The Electric Hills (Liverpool Everyman); I Am Not Myself These Days (Edinburgh & UK Tour); The Last Days of Troy, Britannia Waves the Rules (Royal Exchange, Manchester); Love Labour's Lost, The Two Gentlemen of Verona, Henry VI parts 1, 2 and 3, The Death of King Arthur, Sir Gawain and the Green Knight (Shakespeare's Globe); A Christmas Fair, A Midsummer Night's Dream (Milton Rooms, Malton); Fragile (Belgrade Theatre); Betrayal (Crucible Theatre); A Separate Reality (Royal Court); By Jeeves (Landor); Billy Liar (West Yorkshire Playhouse); Guys and Dolls (Arts Theatre, Cambridge); Entertaining Mr Sloane (Trafalgar Studios); Burning Cars (Hampstead Theatre); Mongoose (Assembly Rooms, Edinburgh); Promises and Lies (Birmingham Rep); Bolthole, 'Low Dat (The Door, Birmingham Rep); The Ruffian on The Stair (Old Red Lion).
Nick trained at the Guildhall as an actor and has worked extensively in most major theatres in the country. He was formerly joint artistic director of The Milton Rooms. Nick was the Associate Director of the Liverpool Everyman & Playhouse between 2014 and 2019.
Contains violence, scenes of a sexual nature (consensual and non-consensual), scenes featuring partial nudity, weapons, flashing lights and haze.
Gallery
Photos: Zoë Birkbeck
Creative Team
* LAMDA staff member or visiting artist
Director
Nick Bagnall*
Designer
Ioana Curelea*
Fight Director
Kev McCurdy*
Additional Fights
Joseph Reed*
Movement Director
Gemma Payne*
Lighting Designer
Fintain McGuigan
Sound Designer
Callum Watson
Voice Coach
Gurkiran Kaur*
Intimacy Director
Robbie Taylor Hunt*
Ulysses 1 / Patroclus 2
Claire Adams
Aeneas / Cassandra / Servant to Paris
Vivian Allvin
Domedes / Priam / Helen / Servant to Troilus
Kylie Brady
Hector / Calchas
Caitlyn Calfas
Agamemnon / Andromache / Antenor
Aubree Chanel Dixon
Thersites / Prologue / Deiphobus
Francesca D'Souza
Cressida 1 / Nestor 2
Carly Hendricks
Troilus 1 / Paris 2 / Servant to Diomedes
Rachel Kitts
Pandarus 2 / Alexander / Helenus / Margarelon
Mélia Lisette
Ulysses 2 / Patroclus 1
Katherine Lyle
Pandarus 1 / Ajax
Jenna Marie Miles
Troilus 2 / Manelaus
Eleanor O'Meara
Troilus 3 / Paris 1
Marianna Panagiotakis
Cressida 2 / Nestor 1
Calli Taylor
Achilles
Anastasia Thiras
Production Manager
Ewen Roberts
Production Assistant
Tom McCreadie
Stage Manager
Emily Compton
Deputy Stage Manager
Alyssia Jones
Assistant Stage Manager
Josette Shipp
Charlotte Owadally
Chief LX
Jorge Clarkson
Technician
Jacob Eckardt