Lucy Kirkwood's
The Welkin
Writer
Lucy Kirkwood
Director
Gemma Brockis
Location
The Sainsbury Theatre
Dates
Thursday 7 April at 7:30pm
Saturday 9 April at 7:30pm
Monday 11 April at 2pm
Tuesday 12 April at 7:30pm*
Wednesday 13 April at 2pm
* This performance was a relaxed performance. Find out more.
The running time is approximately 2 hours 45 minutes, including an interval.
About the show
'Rural Suffolk, 1759. As the country waits for Halley's Comet, Sally Poppy is sentenced to hang for a heinous murder. When she claims to be pregnant, a jury of twelve matrons are taken from their housework to decide whether she's telling the truth, or simply trying to escape the noose.
With only midwife Lizzy Luke prepared to defend the girl, and a mob baying for blood outside, the matrons wrestle with their new authority, and the devil in their midst.'
By arrangement with Nick Hern Books.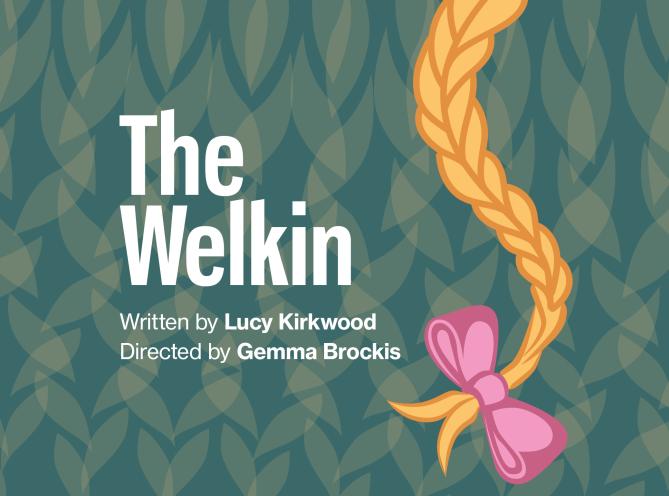 Lucy Kirkwood is a British playwright and screenwriter whose plays include: Mosquitoes (National Theatre, 2017); The Children (Royal Court Theatre, 2016); Chimerica (Almeida Theatre & West End, 2013; winner of the 2014 Olivier Award for Best New Play, the 2013 Evening Standard Best Play Award, the 2014 Critics' Circle Best New Play Award, and the Susan Smith Blackburn Award); NSFW (Royal Court, 2012); small hours (co-written with Ed Hime; Hampstead Theatre, 2011); Beauty and the Beast (with Katie Mitchell; National Theatre, 2010); Bloody Wimmin, as part of Women, Power and Politics (Tricycle Theatre, 2010); it felt empty when the heart went at first but it is alright now (Clean Break & Arcola Theatre, 2009; winner of the 2012 John Whiting Award); Hedda (Gate Theatre, London, 2008); and Tinderbox (Bush Theatre, 2008).
She won the inaugural Berlin Lee UK Playwrights Award in 2013.
Gemma is a London-based director and performer. She is a founder member of SHUNT (2000-2014). She has created shows for the RSC (as writer/director) and for the National Theatre (with Shunt Collective). Her work with Silvia Mercuriali (as Berlin-Nevada) has toured internationally.
Contains scenes of a violent and distressing nature, including domestic abuse and miscarriage, descriptions of hanging and sexual assault, child death, and strong language.
Director
Gemma Brockis
Assistant Director
Linda Miller
Designer
Hannah Wolfe
Movement Director
Sophie Shaw
Lighting Designer
Jahmiko Marshall
Sound Designer
Owen Crouch
Hannah Rusted / Katy Luke
Anita Adam-Gabay 
Frederick Poppy / Mr Willis
Jordan Barton 
Mr Coombes 
Daniel Bradley 
Sarah Smith
Josie Capone 
Judith Brewer 
Catherine Chalk 
Peg Carter / Lady Wax
Abbey Gillett
Ann Lavender
Victoria Grant
Charlotte Cary 
Angela Jones
Sarah Hollis
Mackenzie Larsen 
Mary Middleton 
Alina Lew
Elizabeth (Lizzy) Luke 
Rebecca Lewis 
Sally Poppy 
Kathrine Payne 
Helen Ludlow
Maddy Strauss 
Emma Jenkins
Alyssa Rayomie Tibbs
Kitty Givens
Sabrina Wu
Alice Wax
Eartha Holloway
Company Manager
Josephine Lea Fadani
Production Manager
Brent Tan
Stage Manager
Claudia Penna Rojas
Deputy Stage Manager
Olivia Dunne
Assistant Stage Managers
India Mae
Natasha Shirley
Chief LX
Emily Compton
Deputy LX / Programmer
Marcus Grove
Lighting Crew
Chloe Alexander
Summer Collier
Kit Fowler
Charlotte Owadally
Production Carpenter
Stephanie Siraut
Deputy Production Carpenter
Alyssia Jones
Production Sound Engineer
Kirsty Robson
Deputy PSE / Stream
Avery Elliot
Sound Assistants
Jacob Eckardt
James Imber
Construction Crew
Ciara Brady
Abhinav Mishra
Poppy Morley
Ash Orhan-Pennell
Costume Supervisor
Emmy Tobitt
Costume Assistants
Sesselja Fanneyjardóttir
Elsa Carazo Trejedor