Anthony Neilson's
The Wonderful World of Dissocia
Writer
Anthony Neilson
Director
Sarah Meadows
Location
The Sainsbury Theatre
Dates
Monday 30 May at 7:30pm
Monday 6 June at 7:30pm
Tuesday 7 June at 2pm
Wednesday 8 June at 7:30pm
Thursday 9 June at 2pm
The running time is 1 hour 40 minutes.
About the show
In search of a lost hour that has tipped the balance of her life, Lisa Jones visits a surreal wonderland where she meets insecurity guards, a deviant scapegoat and a singing polar bear, all desperate to keep her there. The Wonderful World of Dissocia turns theatrical convention on its head in this tragicomic journey into the underworld of mental illness.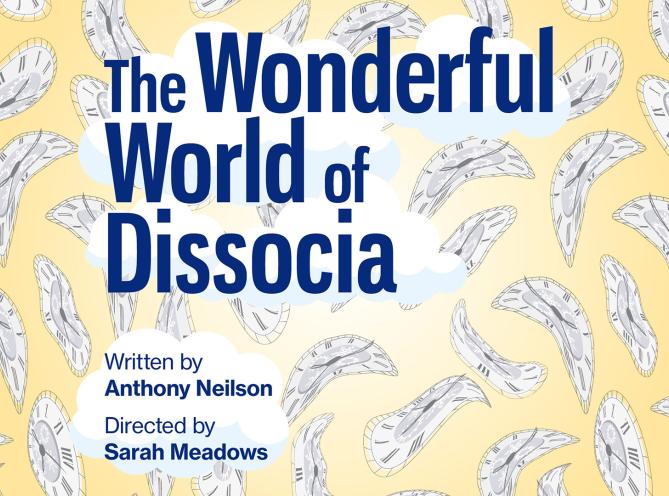 As Writer/Director for Screen, commissions include low budget feature film PSYCHICS for Emu Films/Film4 and original tv drama series DISCONTENT for Endor Productions. Anthony's debut feature film which he wrote and directed, THE DEBT COLLECTOR, was Winner of the Fipresci International Critics Award (Dragon Pictures/Film 4).  As a Writer, he has developed multiple original series for tv including SPILSBURY (Stone City/BBC) and written episodes of SPOOKS (Series 9 & 10), (Kudos/BBC). As a Director he directed two episodes of I HATE SUZIE (Bad Wolf/Sky).
Theatre credits as Writer/Director include: THE TELL-TALE HEART (National Theatre), THE PRUDES (Royal Court), ALICE'S ADVENTURES IN WONDERLAND (Edinburgh Lyceum) UNREACHABLE (Royal Court), THE HAUNTING OF HILL HOUSE (Hammer Films/Sonia Friedman/Liverpool Playhouse), NARRATIVE (Royal Court); GET SANTA! (Royal Court); RELOCATED (Royal Court), GOD IN RUINS (Soho Theatre); REALISM (National Theatre of Scotland/Edinburgh Lyceum); THE WONDERFUL WORLD OF DISSOCIA (Tron/Edinburgh Lyceum/Theatre Royal Plymouth/Royal Court/national tour); THE SEANCE (National Theatre Connections); THE MENU (National Theatre); THE LYING KIND (Royal Court); EDWARD GANT'S AMAZING FEATS OF LONELINESS (Theatre Royal, Plymouth and Headlong Theatre Company national tour); STITCHING  (Traverse/Bush); THE CENSOR (Finborough/Royal Court); THE NIGHT BEFORE CHRISTMAS (Finborough); PENETRATOR (Edinburgh Festival/Finborough/Royal Court); NORMAL: THE DUSSELDORF RIPPER (Edinburgh Festival/Finborough); THE YEAR OF THE FAMILY (Finborough); WELFARE MY LOVELY (Traverse).
Directing credits include, for Theatre: THE BIG LIE (Latitude Festival), THE DRUNKS (Courtyard Theatre) both for the Royal Shakespeare Company; THE DEATH OF KLINGHOFFER – Herald Angel Award(Edinburgh International Festival/Scottish Opera)and a revival of MARAT/SADE for RSC.
For Television: I HATE SUZIE (Bad Wolf/Sky Atlantic).
Sarah began her career in Manchester and worked as Assistant to the Executive Producer and Artistic Director John McGrath (National Theatre Wales, Manchester International Festival) at Contact Theatre. Sarah directed many productions across the North West and worked at theatres such as The Library, The Lowry and Bolton Octagon before relocating to London.
Sarah is Artistic Director at Longsight Theatre who develop and produce exciting new work. Sarah has worked across many new writing development schemes and is a highly skilled dramaturg. Sarah has recently curated work at Theatre 503 with Lisa Spirling and was curator and chair of The Kings Cross Award for New Writing.
Sarah has worked and trained with directors such as Sir Richard Eyre, John McGrath, Mike Alfreds, John Burgess, Rikki Beadle-Blair MBE, Daniel Aukin, Lindsey Turner and Stephen Unwin.
Contains scenes of a distressing nature and adult themes, descriptions of sexual abuse, offensive language and misogyny.
Creative Team
* LAMDA staff member or visiting artist
Director 
Sarah Meadows*
Assistant Director
Joe Warwick
Designer 
Amy Jane Cook*
Music for Original Songs & Music Direction
Luke Byrne*
Movement Director
Sophie Shaw*
Lighting Designer
Luca Panetta 
Sound Designer
Hattie North
Intimacy Co-Ordinator
Mary Malone*
Voice Coach
Atticus Osborn*
Passenger 3 / Biffer
Joe Boylan
Lisa
Elinor Crawley
Oathtaker / Polar Bear
Patrick Flannery
Laughter / Oathtaker Attendant
James Lyon
Guard 2 / Musician
Hari Mackinnon
Inhibitions / Vince / Oathtaker Attendant
Calum Maclean
Passenger 1 / Jane / Britney / Dot
Yasmine Meaden
Passenger 2 / Goat / Nurse 2
Shaun Mendum
Passenger 4 / Ticket / Oathtaker Attendant / Dr Clark
Ashley O'Brien
Nurse 1
Brandie Peterson
Victor / Dr Faraday
Peik Sirén
Passenger 5 / Argument / Oathtaker Attendant / Nurse 3
Florian Sixten
Guard 1
George Solomou
Stage Manager
Mark Morris
Deputy Stage Manager
Emily Huxley
Assistant Stage Managers
Ciara Brady
Jas Meara-Wall
Production Manager
Maria Dedio
Chief LX
Murong Li
Deputy LX / Programmer
Tom Smith
Production Sound Engineer
Jas Fuller
Deputy PSE / Stream
Sam Tate
Production Carpenter
Ewen Roberts
Deputy Production Carpenter
Marie Zschommler
Lighting Crew
Jacob Eckardt
Jennifer Garland
James Imber
Ash Orhan-Pennell
Natasha Shirley
Sound Assistants
Jorge Clarkson
Poppy Morley
Construction Crew
Erin Blake
Summer Collier
Cara Dickens
Lily O'Connor 
Charlotte Owadally