Audio Performance
Learn the core skills required for audio performance which can be applied to audiobook recording, voiceovers and radio drama. You'll be taught by expert practitioners who've worked with Audible and the BBC, and will develop the tools you need to confidently approach audio performance independently.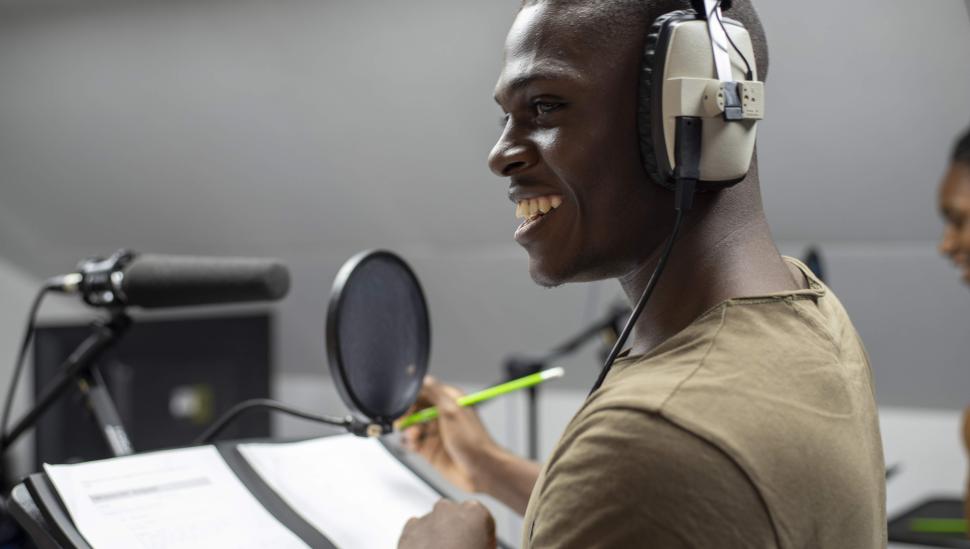 Location
In-person
Application fee
£21
Deposit
£75
Course Fee
£725
Course length
1 week
Course date
Monday 10 July - Friday 14 July
10:00 - 5:30pm [BST]
Applications for this course are now closed.
Is this course for me?
Whether you're an actor looking to improve your skill set and approach to audio performance, a writer looking to ultimately record an audiobook, or anyone who delivers audio performance as part of your work, the techniques and practical approach of this course can be applied to your specific aspirations.
Specific acting experience is not required for the application.
In order to train on this course, you should have a level of English that is approximately IELTS 6.0 or equivalent English Language experience.
You can apply for this course through LAMDA directly.
Fee: £725
Application fee: £21
If you are offered a place on this course you will need to pay a deposit of £75 within five days of the date of your offer email to secure your place. You will then need to pay the remainder of the course fee within 28 days at the latest.
Please see below for information about our cancellation / refund policy:
About the course
This course offers training in acting and voice techniques for audio performance. You'll be working with expert practitioners who have worked with the BBC and Audible. During class, you will learn key techniques for radio drama, audiobooks, drama scenes and commercials. You won't put together a voice reel on this course, instead you'll leave with new found practices to allow you to excel in your work.
What will I be doing?
Learn key techniques for audio performance suitable for a number of specialisms
Learn microphone technique
Learn how to mark up scripts and books
Leave with a solid process for approaching audio performance independently