Syllabus Support Courses
Explore our range of half day courses and find something right for your LAMDA teaching journey.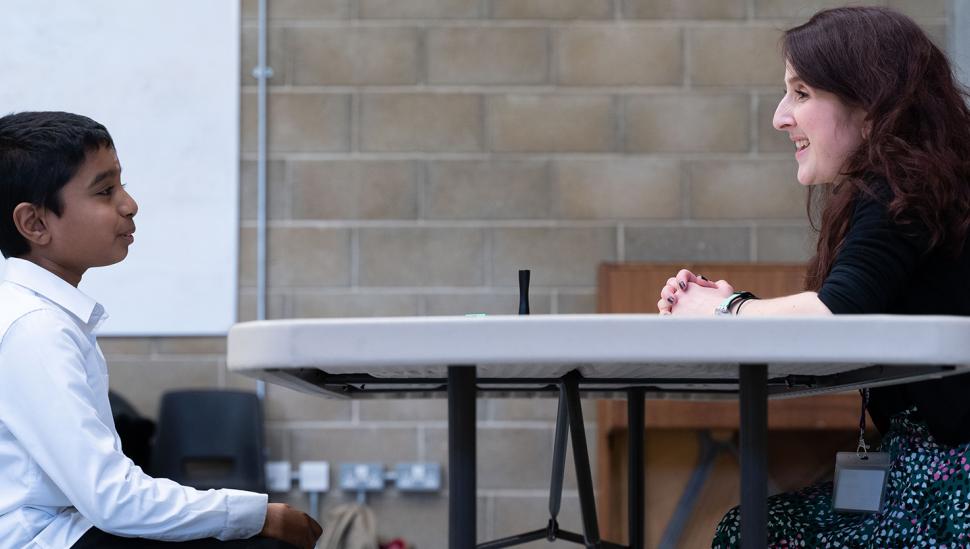 Location
Online or in-person
Course dates
Monday 26 February 2024
Tuesday 27 February 2024
Tuesday 12 March 2024
Wednesday 13 March 2024
Tuesday 26 March 2024
Tuesday 14 May 2024
Thursday 16 May 2024
Tuesday 21 May 2024
Workshop fees
In-person workshops
£65.00 per half day session
Online workshops
£49.00 per half day session 
Accreditation
These courses are not accredited by the CPD
All about the workshops
These short, ½ day workshops are punchy and efficient, and get straight to the heart of your questions around our most popular Syllabi. Whether you are a complete novice and looking to dip your toes in, or you are a seasoned LAMDA teacher and want new inspiration, we have you covered.
Each half day workshop is based on one specific syllabus. Facilitators will introduce each syllabi and their respective assessment criteria. Delegates will then engage in discussion around how to navigate the criteria through exercises with their learners that not only prepare them for their exam, but also develop transferable skills to other learning environments.
Find a workshop
For an online course, attendees will be sent a Zoom link to join the session after the course has been booked.
If you need assistance, please email [email protected]
These syllabus support courses can be taken by anyone interested in LAMDA Exams. There are no requirements beforehand- much like our 5-day courses- and can support first time teachers, or teachers branching out into other syllabi and wanting assistance. They are also suited to those who have been teaching LAMDA for a long time and would like fresh inspiration for their classroom.  
We aim to keep these courses bespoke to the delegates participating in them, so there are a limited number of spaces available. Apply now to secure your place, or if you'd like to check in on availability then send our exam courses team an email.
Each half day will be broken into 4 sessions- below is an approximate structure of each: 
Session 1: Introduction to LAMDA Examinations 
Session 2: Specific Syllabus Introduction: The session will provide insight into the examination requirements and how to evaluate the appropriate stage that will challenge, but not overwhelm the Learner.  
Session 3: Preparing Learners for their Examination: This session provides information about the key skills relevant specifically to their examinations. Delegates will have the option to join in short simple practical activities to support their teaching.  
Session 4: Practical Activities, and/or Preparing Learners for Group Examinations: 
The workshops finish with a Q&A session.
You should have a level of English that is approximately IELTS 6.0. Although English language tests aren't mandatory, we recommend that if you are a non-native English speaker and you do not have IELTS 6.0, then you must have equivalent English language experience. 
You do not need any prior experience with teaching LAMDA Examinations. We welcome all ranges of experience.
Course Fee:
In-person workshops (currently unavailable):
£65.00 per half day session
Online workshops:
£49.00 per half day session 
These courses are not CPD accredited.
Please see the below information for our Cancellation/Refund Policy. 
For cancellations received more than 48 hours before the start date of the course: a full refund.
No refund will be available for bookings cancelled within 48 hours of the event.
If numbers for a session are low, we may cancel the sessions with 2 weeks' notice. You will be notified via email and offered a deferral to the next available session, a full refund, or a transfer to a different concurrent session. This is to ensure that every group receives the benefits of group discussion.
If you are interested in either of these courses and have a large number of delegates to apply with, please contact our exam courses team via email, they will be happy to discuss your needs and assist you.
What will I learn?
How LAMDA Examinations are created, as well as a history of LAMDA 

New methods on navigating the assessment criteria

Valuable insight into the specific syllabi
If you have any questions about the course, or would like to speak to someone before making an application, please email our exam courses team via this email and they will be able to assist you.