Writer
Alistair McDowall
Director
Emma Baggott
​Location
The Carne Studio Theatre
Dates
Monday 5 December at 7:30pm
Tuesday 6 December at 7:30pm
Wednesday 7 December at 2pm*
Wednesday 7 December at 7:30pm
Thursday 8 December at 7:30pm
*This will be a relaxed performance. Find out more.
The running time is approximately 1 hour and 50 minutes.
About the show
Ollie's sister is missing. Searching Manchester in desperation, she finds all roads lead to Pomona, an abandoned concrete island at the heart of the city. Here at the centre of everything, journeys end and nightmares are born.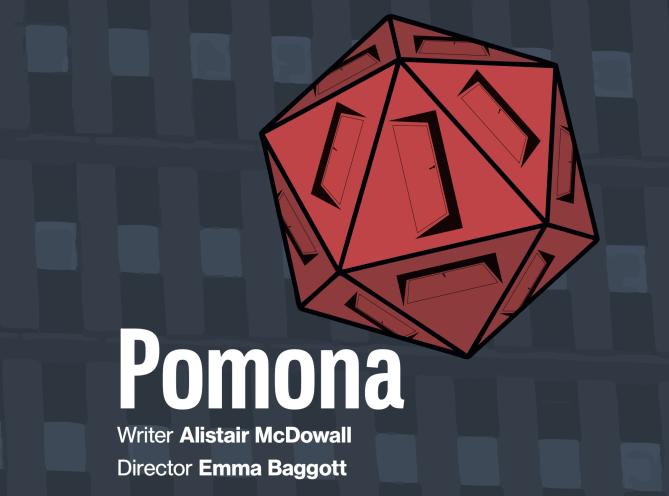 Alistair McDowall grew up in the North East of England. Plays include: The Glow (Royal Court Theatre 2020); all of it (Royal Court Theatre 2020); Zero for the Young Dudes! (National Theatre Connections 2017); X (Royal Court Theatre 2016); Pomona (RWCMD/Gate 2014; Orange Tree Theatre/Royal Exchange/National Theatre 2014/5); Talk Show (Royal Court Theatre 2013); Brilliant Adventures (Royal Court Young Writers' Festival 2012; Royal Exchange, Manchester and Live Theatre, Newcastle 2013) and Captain Amazing (Live Theatre, Newcastle and Edinburgh Fringe 2013; UK tour 2014). He is a MacDowell fellow, and a recipient of the Harold Pinter Commission. His work has been translated and produced internationally.
Emma is a freelance theatre director. She trained at Goldsmiths, UoL and at the Young Vic. 
Recent directing credits include: The Wonderful World of Dissocia (Theatre Royal Stratford East); Face the Music: The Social Care Workers Play (Almeida Theatre); Neville's Island, Misfits, Stiletto Beach (Queens Theatre Hornchurch); The Things We Leave Behind (Lyric Hammersmith); Dennis of Penge (Guildhall School of Music and Drama); Mr Burns, X, The Christians (LAMDA); She is Fierce (The Swirl, RSC); Leaving, How To Kill Your Mother, Copper & Steel (The Bunker); Normal (Styx)
Credits as an Associate and Assistant Director include: As You Like It (Royal Shakespeare Company); This House (Headlong/National Theatre); The Village (Theatre Royal Stratford East); The Sound of Yellow, Victoria Station, One For The Road (Young Vic); McQueen (Theatre Royal Haymarket).
Emma is a guest director at LAMDA, RWCMD, Guildhall School, The Brit School and Theatre Academy London. She is an associate artist at National Youth Theatre and a mentor director for National Theatre Connections. Emma has facilitated workshops for organisations such as National Theatre, Young Vic Theatre, RTYDS, NYT, Arts Ed, University of Kent and Goldsmiths College. Emma taught and directed at The Brit School for six years. Emma teaches because she is passionate about empowering artists from all walks of life to find and hone their voice. 
Contains violence, blood, kidnapping/abduction, death, forced pregnancy, human trafficking, and references to pornographic content, sexism, sexual assault, suicide, and abuse.
If you would like more detailed information about the content of this production, please contact [email protected] 
Creative Team
* LAMDA staff member or visiting artist
Lighting Designer / Chief LX
Cara Dickens 
Sound Designer
Murong Li 
Gale
Lysa-Marie Asiedu-Yeboa
Ollie
Ayse Babahan
Keaton
Larissa Crafford-Lazarus
Charlie
Joshua Ely
Moe
Rohan Rakhit
Zeppo
Kaustubh Vaidya
Fay
Zoe Zak
Stage Manager on Book
Poppy Morley
Technical Stage Manager
Anya Williams
Production Manager
Jasmin Meara-Wall 
Production Sound Engineer
Sam Tate