Acting in English
Suitable for both experienced actors as well as beginners, this engaging course will help you access your full potential when acting and working in English as your second language.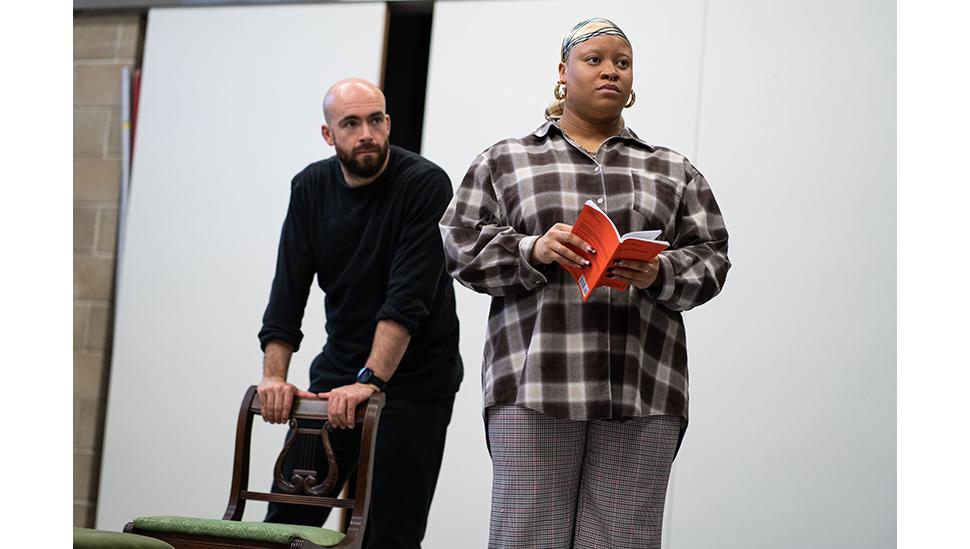 Location
In-person at LAMDA
Deposit
£195

Course Fee 
£1,895
Course length
Three weeks

Course Date
Monday 17 July - Friday 4 August
Course Time
10:00-5:30pm [BST]

Application Deadline
Friday 7 July at 3pm [BST]

Applications for this short course are now closed.
Is this course for me?
If you consider English your second language and you are a professional actor, currently training in acting or considering becoming a professional actor, then this hands-on, practical course is perfect for you. This is an intensive three week programme designed to provide a complete training in acting in English. With support from industry experts, you'll develop your own practice whilst learning within a cohort of passionate international actors.
You should have a level of English that is approximately IELTS 6.0. Although English language tests aren't mandatory, we recommend that if you are a non-native English speaker without a Level 6 IELTS, then you must have the equivalent English language experience.
You can apply for this course through LAMDA directly.
Course Fee: £1,895
If you are offered a place on this course you will need to pay a deposit of £195 within five days of the date of your offer email to secure your place. You will need then to pay the remainder of the course fee within 28 days at the latest.
Please see below for information about our cancellation / refund policy.
All about the course
Language is an essential part of our identity and is a key part of an actor's toolkit. When working with English as your second language, it can sometimes feel like a barrier - especially if we are self-conscious in pressured situations, such as auditions or in performance. This three-week course will develop your language and acting skills, whilst exploring how words and language can be used to create characters and express emotions, all in a safe and supportive environment.
This course is designed for people who consider English their second language. Using the dynamic and practical tools of drama training, this unique course will improve your communication skills and build your confidence. You will work with a group of people from across the world and will be able to form great connections, share your experiences, learn from each other, and explore the rich cultural offering of London and its surroundings.
Taught by the same tutors and industry professionals that teach our full-time acting courses, class work will involve rehearsing short scenes, enabling you to use your languages skills with greater fluency and efficiency, practical pronunciation exercises, and physical work to connect breath and voice to your body. You will learn about the joy of the rhythm of the English language both in contemporary text as well as set text and poetry, and get lots of opportunities to share work or perform in front of your peers.
The course concludes with an 'open rehearsal' of these scenes, attended by your tutors and fellow students. You'll also have the opportunity to experience London's theatre scene on a trip to see a performance with your coursemates.
This course is not validated by a higher education institution (HEI). It is one of LAMDA's own range of non-accredited courses. Once you've completed the course you will receive a LAMDA short course certificate.
What will I be doing?
Each day will be different, but you can expect the teaching to take shape in any of the following formats:
Vocal work and warm ups
Approaches to developing characters and analysing scripts
Movement
Improvisation
Audition technique and self tapes
Opportunity to see a performance in London with your coursemates
Who will be teaching this course?
This course will be taught by Anna Barkan and Jeremy Finch.
Meet Anna Barkan
Anna Barkan is a Russian/British actor trainer, actor and director. She studied acting at the prestigious Vakhtangov Theatre School in Moscow and at the Guildhall School of Music and Drama in London. For over 20 years Anna worked as an actor on Stage, Film and TV in Russia and the UK and formed CHAIKA Theatre company where she produced premiers of lesser-known Russian classics in original translations. Anna is also a co-founder of The Drama Academy which specialised in Theatre for young actors aged 8 to 18 in the UK, USA and Russia. Anna is a practitioner whose work is rooted in the Stanislavsky Method and the Michael Chekhov Technique. Anna holds an MA in Actor Training & Coaching from the Royal Central School of Speech and Drama in London, where her research included working with International multilingual casts.
Anna has taught at LAMDA across the courses of BA, MA, MFA Acting and MA Directing, as well as working with International students in the Summer School and being on the audition panels. Among recent projects Anna directed at LAMDA are 'The Cherry Orchard', 'Three Sisters', 'The Seagull' by Anton Chekhov, 'The Lower Depths' by Maxim Gorky, 'A View from the Bridge' by Arthur Miller, 'A Raisin in the Sun' by Lorraine Hansberry and 'The Changeling' by Thomas Middleton and William Rowley.
Meet Jeremy Finch
Born in Newcastle, Jeremy read English at Cambridge University before training as an actor at RADA. 
He was directed by Tom Hanks in Band of Brothers (HBO); he has sung the title role in Candide at ENO and in Kobe and Tokyo, Japan; played Paul in Company at the Sheffield Cucible; Joe Gillis in the RUG UK National Tour of Sunset Boulevard, Seymour in Little Shop of Horrors at the West Yorkshire Playhouse, Anthony in Sweeney Todd at the Leicester Haymarket,  Ben in Lady in the Dark at the National Theatre, Enter the Guardsman at the Donmar Warehouse and My Fair Lady at the Theatre du Chatalet in Paris. He is a member of the Shakespeare Revue company performing bespoke shows for clients and businesses in London, Stratford, Florence and on board The Minerva for Swann Hellenic travelling round Europe, the Mediterranean, the Black Sea and Latin America.
He has an MA in Professional Voice Practice from Royal Birmingham Conservatoire. Since 2016 he has been teaching Voice, Text and more recently Singing  at LAMDA; he also teaches at RADA, London Studio Centre, privately and at Drama Studio, London.
He is an Improvisor, a Yoga teacher, a Pilates Matwork Instructor and is currently studying h to becoming a TRE (Tension and Trauma Releasing Exercise) provider.