4 week Shakespeare Summer School
This summer short course is a practical, in-depth exploration of Shakespearean text and is suitable for students of all abilities.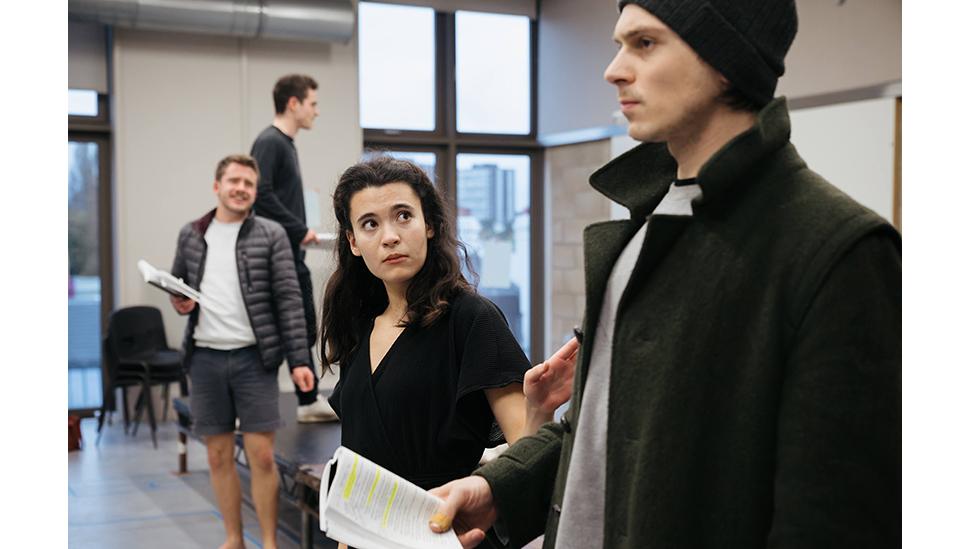 Location
In-person at LAMDA
Course fee
£3,050 for UK & International applicants

Application fee £21
​​​
Course length & date
Four weeks, starting Monday 17 July - Friday 11 August 2023.
Application deadline: Friday 7 July 2023 at 3pm [BST,UK]. This deadline maybe subject to change if the course is full ahead of this date, a waiting list made be used.
Is this course for me?
This is an intense burst of training that offers practical techniques and approaches for working as an actor with Shakespeare's texts.
The course also includes an overnight field trip to Stratford-upon-Avon which includes the opportunity to watch a show performed by the RSC and a visit to Anne Hathaway's cottage. Students will also have the chance to visit the Globe Theatre, on London's South Bank, take part in a workshop and watch The Comedy of Errors.
The course is taught by LAMDA teachers and directors who offer unparalleled insight and knowledge into his plays. This course is great if you don't have much previous acting experience and want to learn more about Shakespeare.
Where you'll visit while on the course
Acting experience is required, but it does not have to be professional, nor does it have to be with classical text.
You should have a level of English that is approximately IELTS 6.0. Although English language tests aren't mandatory, we recommend that if you are a non-native English speaker without a Level 6 IELTS, then you must have the equivalent English language experience. This may be assessed via telephone call by the Admissions team.
You can apply for this course through LAMDA directly. We advise you to apply early, as places are limited.
Fee: £3,050
Application fee: £21
If you are offered a place on this course you will need to pay a deposit of £310 within five days of the date of your offer email to secure your place.
You will then need to pay the remainder of the course fee within 28 days at the latest. 
Accommodation fees for this course are additional to the tuition fees.
Please see below for information about our cancellation / refund policy.
An external student housing provider is available in West London for those booked on either the four-week or eight-week Shakespeare summer courses as LAMDA does not have its own on-campus accommodation.
Rooms are on a first-come, first served basis and you must be over 18 – please contact [email protected] for further information once you have a confirmed place on the course.
The accommodation fees for this course are in addition to the tuition fees mentioned on this page.
All about the course
You will be taught by industry professionals that will support you in developing the practical skills and techniques you'll need to perform the works of Shakespeare.
This course also includes an over-night trip to Stratford-upon-Avon, where attendees will watch the Royal Shakespeare Company's performance of As You Like It, directed by Omar Elerian ​​​​in a playful new production. You'll also take a tour of Anne Hathaway's cottage, where Shakespeare's wife-to-be grew up and see original furniture and explore the cottage gardens.
​​​The course has the perfect balance of being both creative and practical. You will take part in workshop rehearsals in which a piece of Shakespeare will be brought to life and shared in an internal performance, as well as learn technical elements through voice classes, which will cover the technique required to speak and project Shakespeare. In addition, you will also learn text analysis, which will to help demystify the play text and teach you how to approach any Shakespeare piece.
This course not only offers classes on Shakespeare, but also classes in music, voice, movement, and stage combat, all tailored to improve vocal and physical application for working with Shakespeare text. All of the above offers a glimpse into what LAMDA training on full-time courses looks like. At LAMDA we believe in the joy in interrogating the many complexities that surround the classical canon, and we will together explore historical context of Shakespeare and his contemporaries then, as well as look at its relevance now.
This course happens alongside the 8-week Shakespeare Summer School with applicants from all over the world, so there will be a vast LAMDA community to benefit from during the time of the course.
What will I learn?
You will have classes in music, acting technique, voice, movement and stage combat.
You will be introduced to methods and approaches to analyse and understand Shakespearean texts, so that you can approach any piece with confidence in the future.
You will understand how to bring Shakespeare pieces to life with detail and a strong focus on storytelling
You will gain insight and feedback from our expert teachers and directors who will empower you every step of the way and help you de-mystify the works of Shakespeare & his contemporaries.