Lucy Kirkwood's
Mosquitoes
Writer
Lucy Kirkwood
Director
Sara Aniqah Malik
​Location
The Linbury Theatre
Dates
Thursday 9 February at 7:45pm
Friday 10 February at 2:15pm
Saturday 11 February at 7:45pm*
Monday 13 February at 2:15pm
Tuesday 14 February at 7:45pm
The running time is approximately 2 hours 40 minutes.
*This will be a relaxed performance. Find out more.
About the show
Alice is a scientist. She lives in Geneva. As the Large Hadron Collider starts up in 2008, she is on the brink of the most exciting work of her life, searching for the Higgs Boson. 
Jenny is her sister. She lives in Luton. She spends a lot of time Googling. 
When tragedy throws them together, the collision threatens them all with chaos. 
By arrangement with Nick Hern Books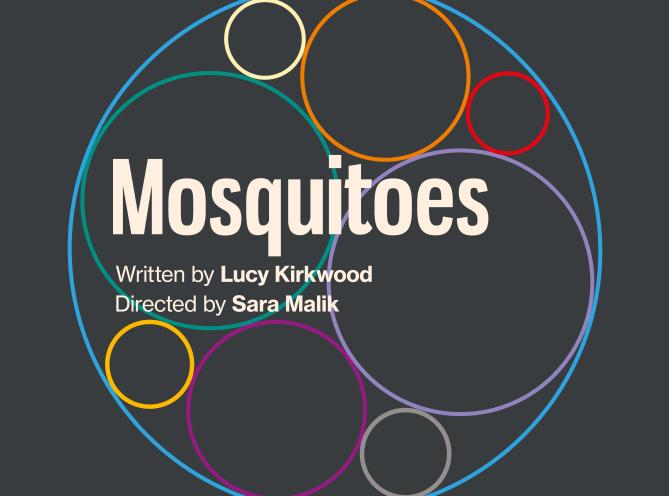 Lucy Kirkwood is a British playwright and screenwriter whose plays include: The Welkin (National Theatre, 2020), Mosquitoes (National Theatre, 2017), The Children (Royal Court Theatre, 2016), Chimerica (Almeida Theatre & West End, 2013; winner of the 2014 Olivier Award for Best New Play, the 2013 Evening Standard Best Play Award, the 2014 Critics' Circle Best New Play Award, and the Susan Smith Blackburn Award), NSFW (Royal Court, 2012), small hours (co-written with Ed Hime; Hampstead Theatre, 2011), Beauty and the Beast (with Katie Mitchell; National Theatre, 2010), Bloody Wimmin, as part of Women, Power and Politics (Tricycle Theatre, 2010), it felt empty when the heart went at first but it is alright now (Clean Break & Arcola Theatre, 2009; winner of the 2012 John Whiting Award), Hedda (Gate Theatre, London, 2008), and Tinderbox (Bush Theatre, 2008).
She won the inaugural Berlin Lee UK Playwrights Award in 2013.
Sara Aniqah Malik is a London based Theatre and Film Director making work with a political drive.​
Her work interrogates the racial and gendered structures around us in order to imagine a better future, with a particular focus on incorporating live music. 
​Sara has directed and assisted as venues such as The Wardrobe Theatre, Bristol Old Vic, Donmar Warehouse, Gate Theatre, Royal & Derngate.
​Sara is the current Resident Assistant Director at the Donmar Warehouse and Associate Director at the Watermill Theatre. 
She is one of the directors of Diversity School Initiative, a charity seeking to support and enhance diversity in UK drama schools. 
Explores challenging topics and themes including suicide, child death, grief, childbirth, mental illness, bullying, drug abuse and attempted drug overdose, alcohol, mental and physical abuse, and contains use of slurs, mention of miscarriage, unconsensual spread of nude images, and flickering lights.
Booking
Booking is now open. Once you have booked a ticket, you will receive an email confirmation. Read up on our latest audience guidelines here.
Members of the industry: secure your complimentary seat by emailing the Box Office​​​ on [email protected]
Pricing and concessions 
Tickets cost £14, but we have £7 concessions tickets available to Hammersmith & Fulham residents, schools, students, or people who are over 65, under 18 or are on Job Seeker's Allowance. You'll just need to provide proof of your eligibility when you collect your tickets at the Box Office. We offer a complimentary ticket for carers, to book please call the box office on 020 8834 0500. If you belong to our Pathways Programme or work with any of our Pathways Partners you are entitled to complimentary tickets. Please contact the box office to book.
Accessibility 
If you have any additional requirements, you would like us to be aware of, please contact box office on 020 8834 0500. 
Booking your tickets 
Book your tickets online or by calling our box office on 020 8834 0500. 
Industry booking 
If you're a member of the industry, please email [email protected] to book your tickets. 
Ticket collection for in-person tickets
There is no need to collect tickets. You will be ticked off an attendance list on arrival. 
Refunds 
Unfortunately, all tickets are non-refundable.
Creative Team
* LAMDA staff member or visiting artist
Director
Sara Aniqah Malik*
Designer
Delyth Evans*
Musical Director
Luke Byrne*
Assistant Director
Anna Hampton
Voice Director
Molly Parker*
Movement Director
Kwami Odoom*
Lighting Designer
Stephanie Siraut
Sound Designer / Production Sound Engineer
Ciara Brady
Intimacy Director
Christina Fulcher*
Costume Supervisor
Caitlyn Keaney*
Video Designer
Katie Edwards*
Natalie 
Reba Ayi-Sobsa
Journalist / Sonographer
Ayse Babahan
Jenny
Nadine Ivy Barr
Alice
Georgia Brown
Gavriella Bastianelli / Policewoman / Guard
Lysa-Marie Asiedu-Yeboa
Henri / Cameraman
Roy Mas
Luke
John Rice
The Boson / French Scientist / Lyn Evans
Michael Tcherepashenets
Karen
Zoe Zak
Stage Manager
Erin Blake
Deputy Stage Manager
Josette Shipp
Technical Stage Manager
Enna Stephens
Production Manager
Cara Dickens
Chief LX
Summer Collier